I started working in city-subsidized, Washington, DC child care centers in 1995 and I couldn't believe how depressing they were. Located in decrepit strip malls, strewn with broken glass outside, parents walked their toddlers into these small, overheated spaces. Television blaring, children sitting on the floor, staring blankly at Elmo, they looked abandoned. Teachers sat in the back on break, the smell of microwave popcorn choking the room. Children were crying from their cribs, others wandered aimlessly around the room, with little to do. There were few books, and the toys were old, many broken leftovers. I was appalled. I wasn't sure I could keep going back. But this was my job.
For nine years I ran an early learning arts and literacy program called Inner City-Inner Child, which took new books, artist teachers and professional development programs to the city's poorest child care centers. Washington's elite has never seen these parts of DC.
In time, I really loved this job. I got to know the teachers, the centers' directors and the kids. The teachers really wanted what was best for the children, but, quite honestly, had no comprehension on how to provide it. Many of them had no more than a high school education, had grown up quickly themselves, having children and families before they had really become adults. I remember during many a circle time when would I would ask a question about a book we had just read, only to be interrupted by a teacher, excited she, too, had the answer.
But the needs of these children were so great, the poverty so pervasive, that even what we provided was only a drop in the bucket. What these teachers really needed was serious professional development and training. A program that would teach them about child development, developmentally appropriate interactions, formative and cognitive assessments and education readiness for 4-year-olds. Most of these children lived in dire poverty, had very little language acquisition, and were no more ready for kindergarten than their toddler siblings. What these teachers had in training was not enough to combat such adverse conditions. They weren't really qualified to be Pre-K and early childhood teachers; they were qualified to be baby sitters.
According to the most recent research, poverty's role in the life success of children is daunting. According to Nobel Prize winning economist James Heckman, these adverse family conditions such as joblessness, homelessness, depression and violence "are major producers of cognitive and behavioral deficits that lead to adverse teenage and adult social and economic outcomes."
It is these toxic adverse conditions, says Jack Shonkoff, MD, Center for the Developing Child at Harvard University, which disrupt brain development and potentially inhibit children from learning. Because, he says, when the brain is developing, stress inhibits the formation of connections between brain cells and restricts blood flow to the brain.
"It literally disrupts brain architecture," says Shonkoff.
This is why I was really excited about DC School Chancellor Michele Rhee. She was one of the first from DCPS to say and recognize publicly that quality Pre-K was critical. And it was even more critical for DC's kids, 85 percent of which qualify for free and reduced price lunch. The current DCPS combination of abject poverty and lack of quality Pre-K teachers was a prescription for human capital loss. To visualize the enormity of the task of reforming DCPS, recognize that only 8 percent of eighth graders were reading on grade level when Rhee arrived, and yet a majority of teachers had received annual satisfactory reviews.
But Rhee recognized this, saw the "toxic" stress these children were suffering from. She knew she had to get these four year olds into quality programs and fast, or she was going to lose them. In just three years she's made huge gains in Pre-K:
Since 2007, DCPS has added more than 1,300 preschool, pre-Kindergarten, and Head Start seats across all eight wards.
For 2010-2011, this will mean 25 new classrooms across 18 schools, and represents an increase of 225 preschool seats and 200 Pre-K seats over 2009-2010.
Already in the 2010-2011 school year Kindergarten enrollment has increased by 9% over the last school year.
Rhee's last three years in DCPS have been notable and noteworthy. She has implemented controversial merit pay and teacher evaluation systems, and recruited aggressively for some of the best educational talent in the country. And as Education Trust's Kati Haycock says, "No matter what you think about the politics, DC Public Schools are having real results." Prior to 2007, less than a third of elementary students were performing math at grade-level; after two years close to half of DCPS elementary students are proficient in math and reading. Secondary students have achieved double-digit growth demonstrating tremendous progress.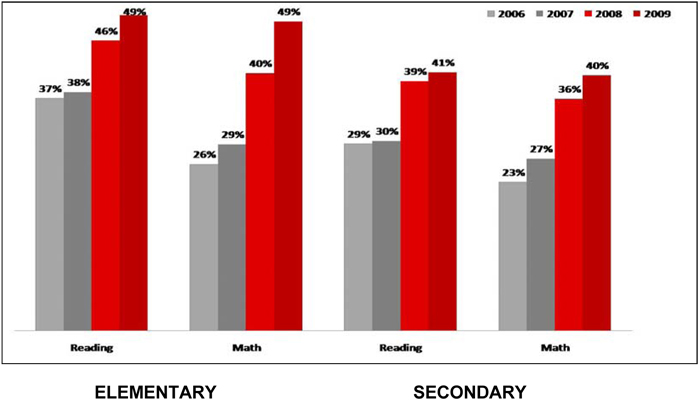 Just this last week, I talked to my old boss from Inner City-Inner Child, Connie Zimmer. She said when she went to one of the DCPS elementary school/Pre-K centers this past week, she talked to some teachers. The word on the street, the teachers said, is that Mayor-elect Vincent Gray will bring back a number of teachers who were recently fired, many of whom scored too low on their evaluation to stay on.
"Come on now," Connie said to them. "You know they weren't very good teachers."
"Yeah, we know," they told her. "But they need a job."
Related
Popular in the Community