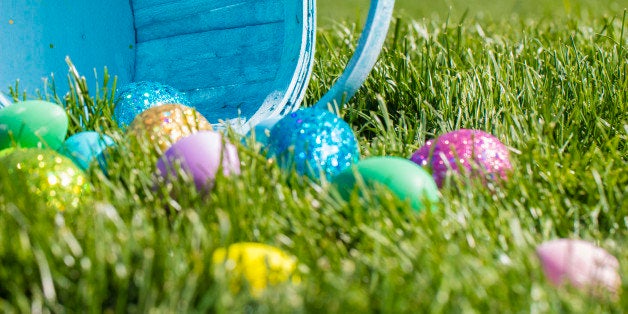 It's that time of year again: time for our annual preschool Easter Egg Hunt! We can hardly wait for the fun to begin, but first we have to take care of an issue. Our staff debated whether or not we should handle this issue with a real letter, like this one, or a passive aggressive Open Letter posted on the internet for all to see. Public shaming is super popular right now, and we do pride ourselves on being current and "hip." Plus we're always happy to see our school's name in the news! (Excluding the duct tape/toddler incident last year that was settled out of court.) But ultimately, we decided to handle this privately because we highly respect our families, and we need you on our side when we jack up tuition next month.
Now, let's put on our listening ears and get down to business!
Due to the rather "ugly incidents" that transpired during last spring's Egg Hunt, it has become necessary for us to now take certain precautions. Specifically, precautions regarding the items parents use to fill the plastic eggs for our children. Being allowed to do this should be regarded as a privilege, not a right. This isn't one of those hippie schools where kids named Waterlily and Hambone eat pot cakes during snack time and make Jerry Garcia portraits out of hemp sticks. For the love of god, we have a parking lot filled with Lexus SUVs and second wives, people, and we need to act like we do.
You see, as we learned far too late last year, there seem to be a few "trouble-making mothers" who apparently find it amusing to go to a "grodie biker bar that's like, so nasty and filled with Wal-Mart shoppers" the night before the Egg Hunt, get "totally sh*tfaced," then "load up the mothereffin' Eastey eggs" so chaos can then ensue at the preschool's expense. What is the world coming to, we ask ourselves during those quiet times when we're scraping paste and Ethan P.'s vomit off our shoes. What indeed.
But this year, we truly hope these inconsiderate renegades--and don't think for a second that we don't know who you are, ladies, because you pay enough tuition for us to have a former Mossad member on payroll--will not take this rather tacky route again and instead, fill the eggs with lollipops, jellybeans and other items that represent the Spirit of the Bunny. (But no Jesus-y stuff, please! This is a secular hunt!)
Listed below you will find items that SHOULD NOT, under any circumstance, be used to fill the plastic eggs used for our special event. For most of you, this list is simple common sense; for some, it is a dare. But we can't implore you enough to help us make this a wonderful day for the children while finally reassuring the state that our school does not need to be investigated or red-flagged by a special committee again. Together, we can do it!
NOT TO BE USED AS EGG FILLERS:
Slightly used nicotine patches
Harley-Davidson-brand thong underwear
Hair Extensions/Possum Fur
Bandages from recent plastic surgeries
Cocktail Napkins covered in unemployed men's phone numbers
"Saw it once in a porno and it seemed fun items"
Piercings that appear to have been forcibly removed from the piercee
Tattoo Parlor BOGO coupons
The address to the local methadone clinic written in crayon
The preschool administration thanks you for your cooperation and understanding in this matter. We know that you want only the best for your children, and that's why we have no doubt that this year, you mothers will fill the eggs with happiness, with joy and with fun!
But we're still going to fingerprint each and every one of you skanks before the hunt begins to cover our ass.