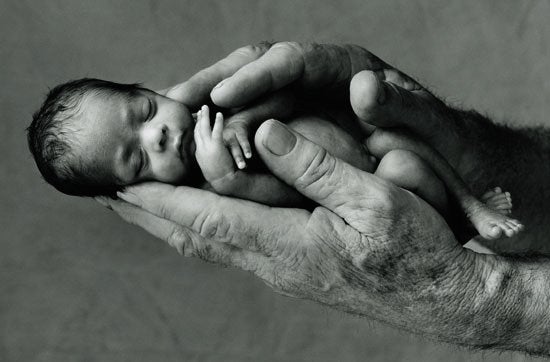 In my role as Global Advocate for the United Nations Foundation's Shot@Life initiative, I try not to be overwhelmed by almost insurmountable statistics. In these days that seem to constitute increasing global turmoil and worry, it's easy to feel powerless by facts such as every 20 seconds a child dies from an entirely preventable disease, or everyday almost 800 women die in pregnancy or childbirth.
Let's bring our focus back to stories of individual people in order to feel a human connection; one person relating to another, and step-by-step, we can all begin to move forward. Let's link hands in a chain of help and hope... each one of us doing just one thing to help just one other person. The effect may then become viral, and change will begin to happen.
In New York last month, following the launch of the Shot@Life initiative in Atlanta, I attended a reception in support of "Born Too Soon: The Global Action Report for Preterm Birth" in support of Every Woman Every Child and was stunned at the news that each year some 15 million babies in the world -- more than one in 10 births -- are born too early, imposing a heavy burden on healthcare and social systems in developing countries. In fact preterm birth is the second largest cause of death globally for children under five (after pneumonia) this despite the fact that with inexpensive treatment, 75 percent could survive.
I'd like to share a personal story, which began with an image I created in 1993, of a tiny baby named Maneesha, who at the time weighed just 2.2 pounds. Maneesha was born prematurely at 28 weeks (weighing 680 grams -- a little under 1.5 pounds). The day the image was taken was the first time Maneesha's parents had seen her disconnected from all of her essential medical equipment, and she was just about to finally go home. It was very moving for me to take this image, created in an anteroom to the neonatal ward that had been Maneesha's home for so long. To me the image demonstrated inner strength, the as yet unseen potential of such a tiny life. It signified hope.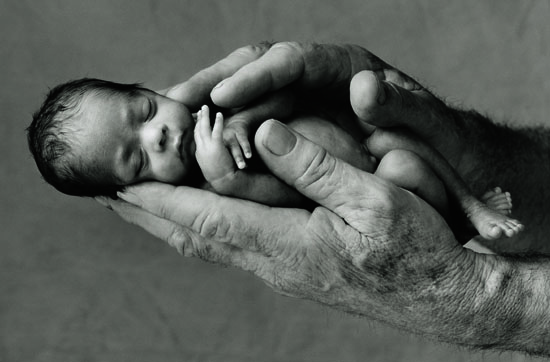 Jack holding Maneesha (2.2 pounds), December, 1993.
Over the years since, I have stayed in touch with Maneesha and her family, and recently at The Grace Unit at The Children's Hospital at Westmead, in Sydney, I photographed Maneesha again, as a beautiful healthy 16-year-old, this time holding a tiny preemie baby named Gabriella, who weighed 2.2 pounds (exactly the same weight as Maneesha all those years ago). Gabriella had been born prematurely at 27 weeks, weighing 550 grams (just over one pound). It was the first time that Maneesha had revisited a Neonatal Intensive Care Unit since her days as a tiny baby, and she was extremely moved to see tiny Gabriella in her humidicrib. That day Gabriella's father told me it was the first time since her dramatic early birth, that he had seen his little daughter's face without the cover of medical tape. What an emotional day it was for us all; my studio team, the medical personnel, and in particular Gabriella's mom and dad, who had tears streaming down their faces.
After the shoot, Maneesha wrote a personal note for Gabriella to read in the future. She said, "Dear Gabriella, miracles really do exist. All you need to do is just look in the mirror. Love always, Maneesha."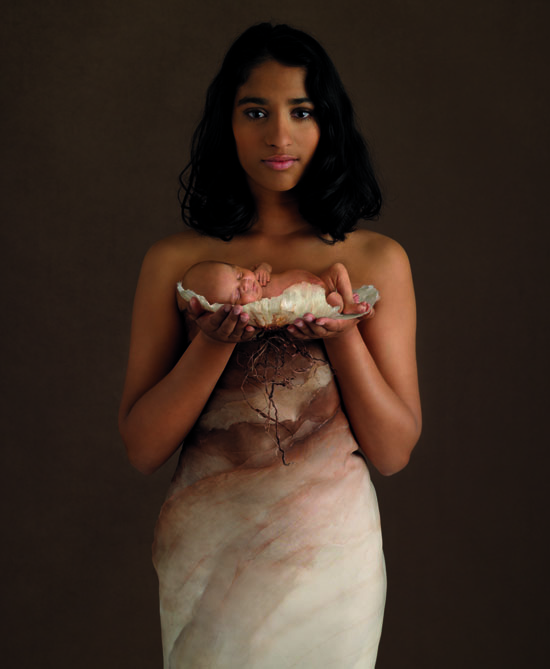 Maneesha (16 years) holding Gabriella (10 weeks old, weighing 2.2lb)
What a beautiful end result to a one-on-one photograph, creating another one on one opportunity to help another newborn's life. Almost every one of the 15 million premature infants born each year has a name. If, sadly, some did not survive, they are loved, cherished and remembered by their families. If they did survive, it is with thanks to the wonderful work being carried out in hospitals all over the world by dedicated, caring and skilled medical personnel. Each and every one of these babies are people, individuals just like Maneesha and Gabriella. Fortunately for Maneesha and Gabriella, they were born in circumstances where medical assistance was readily available; otherwise both would possibly have been just one more statistic.
Many are already recognizing their own power to make a difference, and heeding the call to action set forth by the "Born Too Soon" report. Individuals, governments, NGO's, and the business community have pledged to implement more than 30 new and expanded commitments towards the prevention and care of preterm birth, joining more than 200 existing commitments in support of Every Woman Every Child.
We can all join them and help if we remember this simple fact; each premature baby is one person, who needs just one other person's help. One person helping another. We can change the world if we all pull together.
It doesn't get more hopeful than that.
Afternote: Footage from this shoot can be viewed in the documentary "New Beginnings" available now on iTunes.
Related
Popular in the Community