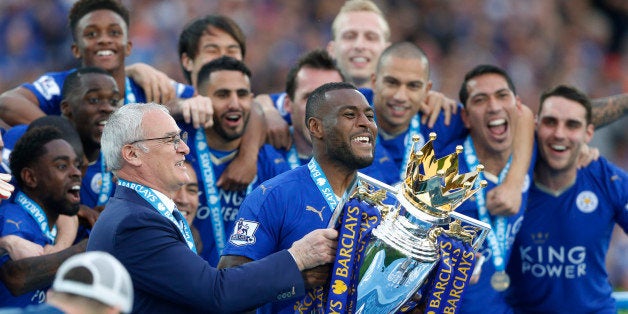 Leicester City's championship season is hard to put into perspective for American fans just now discovering the English Premier League with its greater television exposure and accompanying marketing money allocated to this side of the Atlantic. Yes, the Foxes sat in the relegation zone late in the 2014-15 season--their first in the Premiership after a ten-year absence spent in the second and third tiers of English football. Yes, the club had 5000-to-1 odds of winning the league in 2015-16. But even these facts don't seem to fully capture this English made-for-Hollywood story.
One way of quantifying the season is to look at how the twenty Premier League teams performed in relationship to each club's wage scale. Adjusting this season's table by points won per million pounds spent in wages, according to figures provided by Fox Sports,* yields the following ranking (each club's position in the table shown in parenthesis):
Club // Points // Wages (Million Pounds) // Points per Million Pounds
Bournemouth (16) 42 25 1.680
Leicester (1) 81 48.5 1.670
Watford (13) 45 29 1.551
Southampton (5) 63 59.5 1.059
Swansea (12) 47 51 .922
Norwich (19) 34 37 .919
West Ham (7) 62 69.5 .892
Crystal Palace (15) 42 54.3 .773
Stoke (9) 51 72.3 .705
Spurs (3) 70 110.5 .633
Everton (11) 47 74.7 .629
W Bromwich (14) 43 68.5 .628
Sunderland (17) 39 71 .549
Newcastle (18) 37 75.8 .488
Liverpool (8) 60 152 .395
Arsenal (2) 71 192 .370
City (4) 66 193.8 .341
United (5) 66 203 .325
Villa (20) 17 65.1 .261
Chelsea (10) 50 215.6 .232
We see the drastic inequity of the league's financial structure between the few haves and many have-nots. Four clubs have wages in excess of 192 million pounds (USD 277.68 million), with Chelsea topping out at the equivalent of USD 311.8 million. To put this in perspective, only two Major League Baseball teams had payrolls of more than $200 million on Opening Day 2016: the Dodgers ($253.6M) and the Yankees ($227.9M).

Whereas Major League Baseball has a relatively even distribution of big-market, mid-market, and small-market clubs and has seen 11 different teams competing in the last 10 World Series, the Premier League is a comparative oligarchy. Beneath the Filthy-Rich Four, only two others clubs (Liverpool at 152M and Tottenham at 110.5M) had payrolls above 100M. While Tottenham ranked sixth in wages spent, it was such a distant sixth that Spurs' actual wages were closer to that of the league's lowest-spending team, Bournemouth (25M), than to Chelsea's. The clubs with the three lowest wages--Norwich City (37M), Watford (29M) and Bournemouth (25M)--each had total wages less than the difference between the clubs with the fourth- (Arsenal, 192M) and fifth-highest (Liverpool) wages. Pity poor Norwich, who sit in the top third of our chart based upon return on investment yet were relegated after finishing 19th in the league table. The fate of these Canaries speaks to the conditions of the coal mine.
Since the inaugural Premier League season in 1992-93 until this year, only five different clubs had won the title. Throwing out the 1994-95 outlier season from Blackburn (who now compete in England's second-tier, the Football League Championship, after having been relegated in 2012), this leaves Chelsea, Manchester United, Arsenal, and Manchester City--not coincidentally, the teams with the four highest wages today. Compared to Major League Baseball, often criticized for its financial inequity, the Premier League had become not just an oligarchy but an outright plutocracy.
That Leicester broke down the door on just 48.5 million pounds makes their historic accomplishment all the more incredible. Watford are to be commended for finishing mid-table and Bournemouth for avoiding relegation. But it's quite another thing for a club to put a target on its back by reaching the top of the table in Match 13, never dropping below second beyond that point, and holding onto first for the last 16 matches.
At New Year's, Arsenal sat atop the table, and most commentators assumed Leicester would succumb to the pressure of punching above its weight. Many wondered if Leicester would finish even as high as 4th to qualify for the play-off round for next season's Champions League--normally an unimaginable goal in and of itself for a club that had to do a Dunkirk the previous season just to remain in the league. But come the final month of this season, Tottenham was the only mathematical challenger left in Leicester's storybook script.
When Tottenham drew with Chelsea at the contentious "Battle at the Bridge" in Match 36, assuring Leicester of the title, the headlines declared Leicester had "beaten Tottenham" to the title. It was, of course, a false narrative. Leicester had stood tall all season and had fended off all challengers. Tottenham, no one's preseason pick to finish in the Top 4 this season, wrote a few storybook chapters of their own as they went on a mid-season run. Spurs improbably reached second in the table at the beginning of February, where they stayed until the final week of the season, and locked up automatic Champions League qualification for the first time in club history. (They qualified for the CL play-off stage by finishing 4th in the Premiership in 2010.) All this was achieved while playing the entire season with just one true striker on its roster, Harry Kane, the first Englishman in 16 years to win the Golden Boot as the league's top scorer, despite not scoring his first goal until his club's seventh match. Together, Leicester and Tottenham had 8 of the 11 players named to the Premier League Team of the Year as the two clubs paid out a combined 159M in wages, significantly less than that of Arsenal alone.
The clubs that have normally occupied the Champions League spots these past several seasons are also the ones who spent the most wastefully this season according to our chart. Only Aston Villa, relegated from the league after a disastrous season, join Arsenal, Manchester City, Manchester United, and shameful Chelsea among the league's five most wasteful spenders with the fewest points per pound. To those paying attention, it spoke volumes that both Arsenal and Chelsea supporters seemed to define their clubs' seasons in relation to Tottenham, the league's youngest squad. When Spurs had two key midfielders suspended for the last few matches and subsequently surrendered the second spot to Arsenal by a single point, Arsenal players (including, for some reason, goalkeeper Wojciech Szczęsny, who didn't even play for the club after being loaned down to the Italian league in 2015) and supporters (such as ESPN's resident Arsenal fanboy) suddenly treated it as an occasion to take victory laps. Meanwhile, Chelsea, the defending league champions, had mounted disinterested campaign throughout the season and would scramble to finish 10th. The clever taunt that targets Chelsea's contingent of bandwagon supporters might have been directed toward the club's players themselves when they suddenly woke themselves up to play a bitterly contested match with Spurs on May 2. Chelsea managed to salvage a 2-2 home draw, which their supporters celebrated as if they had won the FA Cup.
Ironically, these same supporters--dreading the possibility of another London club winning the league--had rallied around Leicester and its manager Claudio Ranieri, who was unceremoniously fired by Chelsea back in 2004. When Ranieri was named manager of Leicester last summer, the New York Spurs supporters club tweeted: "Chelsea fans wondering who the new Leicester boss, Claudio Ranieri, is: your manager up until 2004, or right before you became a Chelsea fan."
If you had listened to Arsenal supporters the past few seasons, you invariably would have heard them bemoan the limits of their budget compared to the other big clubs, and Tottenham is often lumped into this conversation for their supposed lavish spending habits in signing new players on the transfer market. But as Arsenal has crept up the wage ladder, nearly bumping into a Manchester City club that swims in oil, while also spending aggressively in the transfer market, Tottenham has lived on a comparatively tight budget while paving ground for its new stadium due to open for 2018-19. In fact, Spurs are the only club among this season's twenty PL teams to have turned a net profit on the transfer market over the past five seasons. Even Leicester spent a net of 55M, which technically places them in the top half in the league for transfer fees. But when you consider the ROI this season's kings got from such players as Jaime Vardy (signed in 2012), Riyad Mahrez (2014), and Ngolo Kante (2015), one has to speak of their spending in Moneyball terms, contrasted with the big spenders that can pay to pave over their mistakes. The top five biggest net spenders on the transfer market during that period? Manchester City (313.5M in fees), Manchester United (288.3M), Chelsea (220.2M), Liverpool (163.3M), and Arsenal (104M). Any surprise these clubs were also the only ones besides Tottenham and Leicester to finish Top 4 in any season during this span?
I still find it hard to put Leicester's season into perspective for fans who are just now catching onto European football, but perhaps this will most vividly convey their achievement: Imagine forming a Major League Baseball super-division next season comprised of the Mets, Nationals, Cubs, Dodgers, Giants, and Yankees, along with a AAA minor league team such as the Buffalo Bisons...and then watching the Bisons grab first after the All-Star Break and run away with the division. It wouldn't happen in two hundred years. But it did in the Premier League this season.
Now eyes turn toward next season. One wonders how Leicester will hold up competing on the twin fronts of the league and in Europe, something they did not have to cope with this season. They also did not have to worry about the FA Cup after Spurs knocked them out in a thrilling two-match affair in January. The pair have faced off 7 times across Premier League, FA Cup, and League Cup matches over the past two seasons, with Spurs winning 3, Leicester taking 2, and two draws. This is something MLB, NFL, NHL, or NBA fans used to the uniformity of scheduling might not grasp: the concurrence of different competitions can lead to drastically different match totals between clubs in the same league. Leicester played 42 matches across all competitions in 2015-16; Spurs played 53.
Spurs, meanwhile, are now freed from the poisoned chalice of matches in UEFA's secondary competition, the Europa League. This is another way the oligarchy maintains the status quo; as a club makes its way up the ladder and knocks on the door of the Top 4, a fifth-spot finish means the club will spend many a week the following season stuck on a Thursday-Sunday schedule--something statistically shown to hurt a club's league performance due to the two-day recovery period--while playing a draining schedule that might send it into the farthest reaches of Eastern Europe, sections of which may or may not appear on an official map. Tottenham has been in the Europa League for the past five seasons, something most commentators argue has worked against the club's efforts to break into the Top 4--especially in one or two seasons when the difference between a win and a draw in a single league match would've made the difference. The future looks bright for Tottenham, perhaps brighter than it does for lovable Leicester, as Spurs move forward with the youngest squad in the Premiership and its locked-in manager Mauricio Pochettino, who just signed an extension through the 2020-21 season.
As for the Bournemouths, Watfords, and Swanseas of the league, will they remain competitive or fall into the relegation zone next season? Will Chelsea's moneyed stars, having failed to qualify for either European competition, focus on the Premier League for a full season? Will Arsenal find room on the shelf next to all those fourth-place trophies? And what of Liverpool, this year's Europa League and Football League Cup runner-ups, who will go into their first full season under manager Jürgen Klopp?
This summer's transfer window will go a long way toward determining whether the oligarchy will re-establish itself next season.
*Irregularities can exist when it comes to public reports of wages spent. For example, the Total Sportek site lists Leicester's total wages at 48.3M, which would move them up to the top of our adjusted chart here by the narrowest of margins. Also, as Fox Sports notes, "Manchester City may look to have a decreased wage bill on face value, but in reality [due to bonus structures in various players' contracts] they will be forking out more than any club in England - and probably Europe."
REAL LIFE. REAL NEWS. REAL VOICES.
Help us tell more of the stories that matter from voices that too often remain unheard.