Today, I get to exclusively premiere All Hail The Yeti's controversial political music video Feed The Pigs. All Hail the Yeti's SOUND is my kind of sound. I am totally going to be blasting Feed the Pig in the car, and when I'm at a red light, I'm going to sloooowly turn my head and smile at the person in the car next to me. Muahaha.
Oh, so Feed The Pigs is a previously unreleased single from the band. Back in April, All Hail The Yeti released their full-length album, Screams From A Black Wilderness, via Minus Head Records. The album is based on classic, spooky horror stories and presents a different story with each track. Screams From A Black Wilderness is produced by Matt Hyde, known for his prior work with renowned groups such as Deftones, Slayer, and Soulfly.
All Hail The Yeti frontman and small business owner Connor Garritty (Timeless Tattoo) gives us insight into the inspiration behind Feed The Pigs and his thoughts on being a small business owner in America and what changes he would like to see. Check out Connor's passionate answers:
What inspired you to get political with the Feed the Pigs video?
Writing Feed The Pigs came very naturally for us; one of the least stressful and yet one of the most important songs we have ever written. We have always been very conscious of the world around us, especially the environment. With everything that is going on around us right now I felt that this song needed to be heard. The imagery is nothing that we fabricated, this is real life, all you have to do is click away! So inspiration wouldn't be the word, it is more of a wake-up call! Our society needs to clue in to what is going on! Change has to start right now! I don't think there is much time left for this generation! Everyone has lost sight of what is really important in life, because we don't need cell phones, computers, Instagram, Twitter, TMZ to be happy! This planet is dying right under our feet and we are too embarrassed to admit that it is our fault! One person can make such a difference, Feed The Pigs is just our plea to society to open their eyes and help!!
As a small business owner and someone who has lived in both Canada and the United States, what are your hopes for change in the US?
I moved to the States before I opened my studio so I'm not educated on what it is like to be a business owner in Canada. What I do know is that it is time for small businesses to be a priority again. Mom and pop businesses were once a thriving thing here and made this country what it is today! It is unfortunate that it became too expensive to keep things in America and I hope that changes soon! I always support a local business before some big chain or foreign company! If everyone in this country did the same it would make a big difference for people like me. I hope that Americans start to see the reality of this as well! Big corporations like Walmart and Target etc., don't care about the people, they only care about big profit and to me that is a problem! Stop shopping there and stop ordering products from China! Once again it is about every person doing something to be able to make a difference! IT HAS TO START NOW!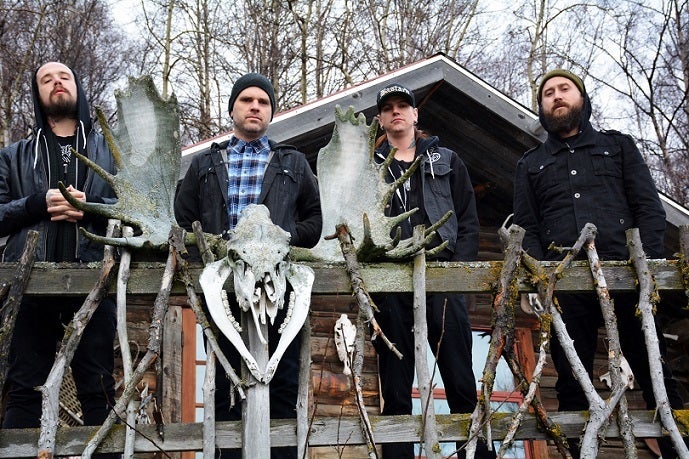 And, which issue is most important to you and how has that shaped your political views?
While I have issues with many topics, I think the one that needs addressing the soonest is the state of our planet. Mother nature is pissed off and she has every right to be. Humans have raped and pillaged this planet to no end and I fear that now it is too late to fix! The polar ice caps are melting, glaciers are receding, the tides are rising and a sea of plastic floating in our oceans. Animal species are being killed off by greedy rich people for insignificant bragging rights! I am by no means saying everyone has to go vegan and start wearing hemp clothing; I respect anyone's choices as long as they do not directly affect me or the world I live in. I do think that it comes back to the same thing as I said before - if we keep everything local we can make a significant difference very quickly. If we gather our produce from local farms, buy farm raised livestock we can make such a huge impact. We need to cut out the giant factory farming and GMO raised fruits and vegetables. I have started to try and do my part as small as that may be. All Hail The Yeti wrapped up their touring on Max and Iggor Cavalera's Return to Roots tour this past October.
ALL HAIL THE YETI current line-up:
Ryan "Junior" Kittlitz - drums
Related
Popular in the Community