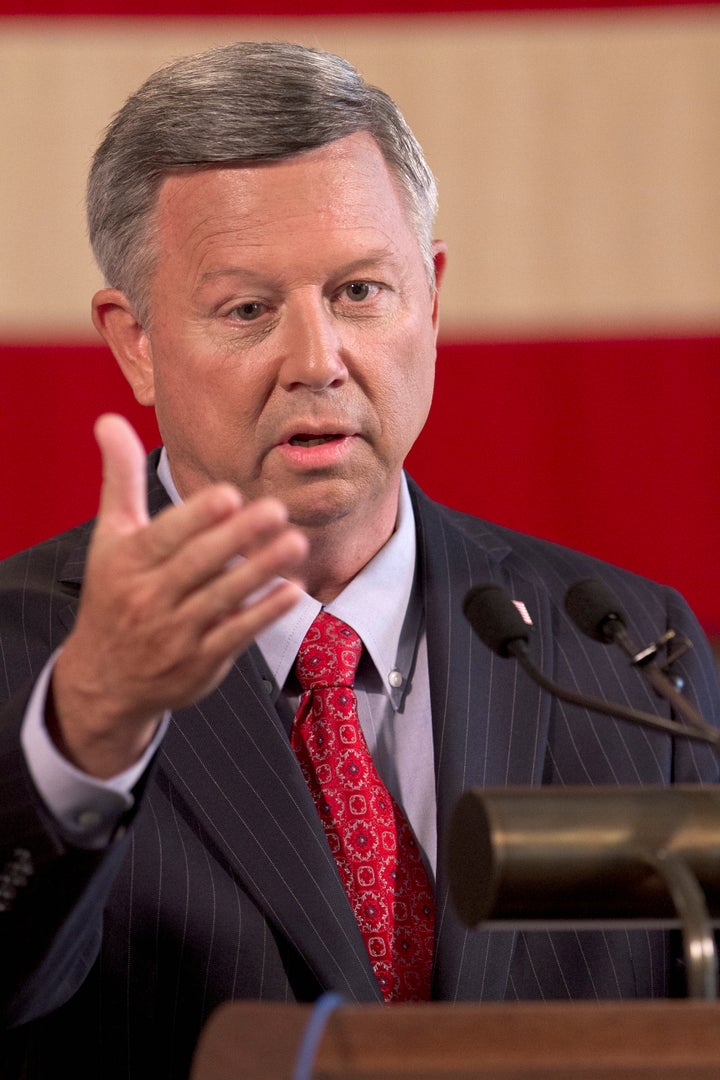 WASHINGTON -- Nebraska Gov. Dave Heineman (R) has signed every anti-abortion bill that has crossed his desk since he was elected, including one that bans abortions after 20 weeks of gestation -- the most restrictive in the country -- based on the belief that fetuses at that age can feel pain.
But when it comes to providing prenatal care for undocumented immigrants and their unborn children in Nebraska, Heineman is drawing the line.
The Nebraska state legislature is on the verge of passing a bill that would provide state-funded prenatal care to undocumented immigrants. The bill has divided Republicans, some supporting the bill based on their anti-abortion beliefs, and others opposing it and prioritizing a tough stance on immigration. Heineman said in a statement last week he will veto the bill because it would make Nebraska "a magnet for illegal aliens."

Nebraska's major anti-abortion advocacy groups, including Nebraska Right to Life and Nebraskans United for Life, have endorsed the bill and asked Heineman to sign it. But in a meeting with some of those groups in March, Heineman suggested that billionaire Warren Buffett assume the cost burden of undocumented immigrants' prenatal care instead of the state.
"I think he's trying to look at it as an expenditure for the state that at this time is being so careful about economics," Ann Marie Bowen, president of Nebraskans United for Life, told HuffPost. "He said it's just over the top for the budget at this time. He was looking at the concern that there are going to be people who are going to find other ways to fund their prenatal care, and he suggested Warren Buffett could come up with the money to help women through their pregnancy."
Heineman's spokesperson, Jen Rae Hein, said that while she could not confirm the exact words he used, the governor did point out at the meeting that that "if there are individuals that are supportive of prenatal care for people here illegally, they're certainly welcome to provide that care with their own funding."
LB 599 would make unborn babies of undocumented mothers eligible for Nebraska's Children's Health Insurance Program, which is 70 percent reimbursed by the federal government. For decades, the state provided prenatal care to low-income women, mostly illegal immigrants, through Medicaid, but the state ended the policy in 2010.
Advocates for the bill argue that babies born in America are natural citizens, and that the bill actually saves taxpayers from the eventual costs of the long-term health problems and disabilities of children who were not properly cared for in the womb.
"It's the fiscally responsible thing to do," said Jennifer Carter, director of public policy for Nebraska Appleseed, a health advocacy non-profit for low-income families.
The Nebraska legislature approved the bill by a vote of 30 to 16 in two out of three procedural votes -- the third is scheduled for Wednesday. The legislature needs at least 30 votes to override Heineman's veto and enact the policy.
State Sen. Mike Flood (Norfolk) strongly supports the bill and is anti-abortion. "The unborn child should not be punished for the actions of his or her parents," he told his colleagues during floor debates last week. "We should protect the life of an unborn child whenever possible."
Six other anti-abortion lawmakers, including state Sen. Tony Fulton (Lincoln), the sponsor of Nebraska's mandatory ultrasound bill and a supporter of the 20-week ban, voted against the bill. "Is the government the only mechanism by which this care can be provided?" Fulton asked.
Nebraska Right to Life drafted a stern letter to those six state senators on Monday, asking how they can call themselves anti-abortion and oppose this bill.
"It is sad and alarming that we have come to this point where some of the major pro-life leaders in the Legislature are choosing to put the illegal immigration issue and who pays for what, over the life and health of babies in the womb," the letter said. "When did it become important to pick and choose which babies deserve prenatal care and which babies don't, by virtue of whose womb they reside in? How is it ever right to say that some babies are more deserving than others?"
Heineman responded in a statement on Monday.
"This is an issue of fairness," he said. "Hard-working Nebraskans pay their taxes and obey the laws. Illegal aliens who don't pay taxes and don't obey the laws should not be receiving taxpayer-funded benefits."
Calling all HuffPost superfans!
Sign up for membership to become a founding member and help shape HuffPost's next chapter
BEFORE YOU GO