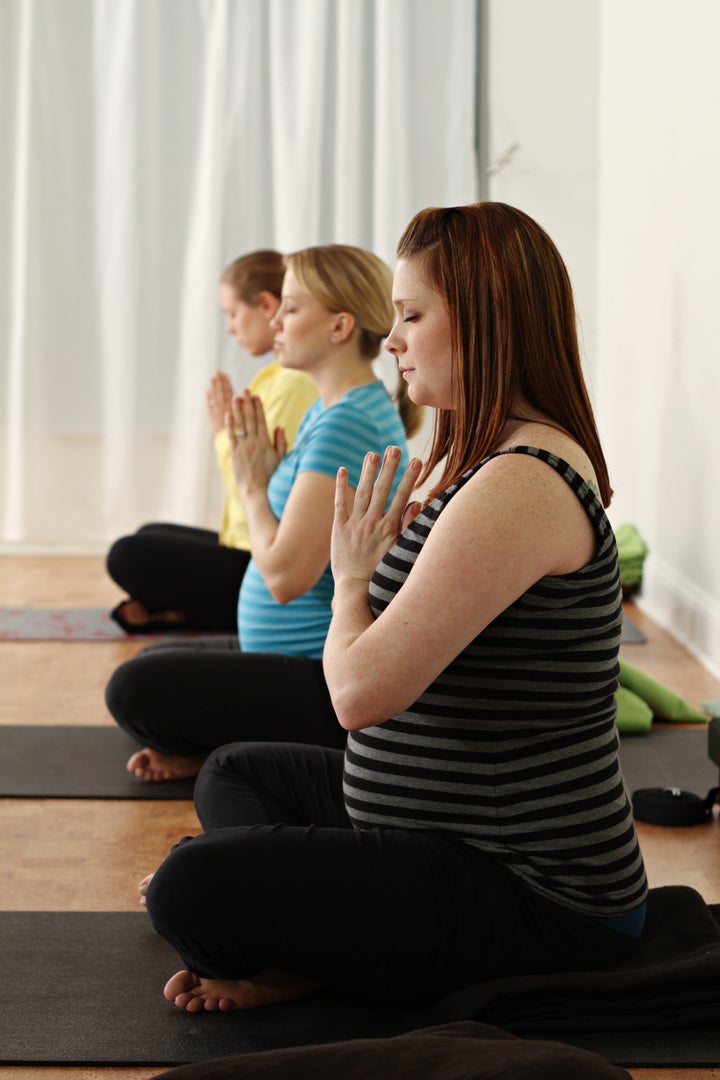 It's no secret that yoga is one of the best things you can do to relieve stress. The relaxation-inducing practice has been shown to lower stress levels, fight depression and reduce inflammation, among other health benefits. And for mothers-to-be, a prenatal yoga practice can not only relieve stress but also contribute to a healthier pregnancy.
Using gentle, targeted exercises that can be practiced during the first, second and third trimester, prenatal yoga classes generally focus on poses that strengthen and increase the flexibility of the muscles used during childbirth, while also increasing stamina. Scroll through the list below for five health benefits of prenatal yoga for expecting mothers.
1. Yoga Keeps Stress Levels In Check.
Hilaria Baldwin, yoga teacher and wife of Alec Baldwin, has spoken out about the stress-relieving benefits of yoga, which she says is helping her to unwind during her own pregnancy.
"The number-one thing in taking care of yourself in pregnancy is having low stress," Baldwin told Pregnancy Magazine. "It's really about being more in touch with your body, and yoga teaches that to you."
Virayoga founder and Art of Attention author Elena Brower says that the focus on breathing, in particular, can help moms-to-be decompress.
"When we practice when we're pregnant, it makes a space in our bodies that we need ... for the baby and for ourselves," says Brower. "Breathing helps us create that opening inside of ourselves. Breathing helps us to see that we don't have to react so quickly… Having that kind of space helps us be patient and helps us realize there's time for everything."
2. It Can Keep Mom & Baby Healthy.
Research has found that the health benefits of prenatal yoga are many, from a decreased risk of prenatal depression to improved sleep to decreased backpain and nausea, according to the Mayo Clinic. A 2012 study also found that prenatal yoga could help to prevent complications during pregnancy. The research, published in the medical journal Preventive Medicine, showed that pregnant women who practiced yoga for one hour, three times per week, were less likely to have low birthweight babies, pregnancy-related diabetes and high blood pressure.
3. It Can Help Expecting Mothers Prepare For Labor.
By facilitating deep breathing and building strength and stamina, a yoga practice an help prepare pregnant women for labor, Yoga Journal reports.
4. It Can Keep You In Shape.
Prenatal yoga, unsurprisingly, has come into vogue with celebrity moms as a way to stay fit during pregnancy -- and to make it easier to get back in shape post-baby. Kate Middleton is reportedly sticking to a yoga practice during her pregnancy (a source claims that the Duchess has an instructor come to the palace for private classes). The gentle exercises tailored specifically to the needs of pregnant women can be a good alternative to more high-intensity workouts that may not be advised for expecting mothers.
Like any other yoga class, regular sessions can help burn calories, as well as building strength and flexibility. Expecting mothers can choose classes of varying intensities, from vigorous to slower and more meditative, depending on their needs.
"I tried both being very physical and keeping up a usual practice when I was pregnant, and also being restful, spacious and restorative," says Brower of her own prenatal practice. "Both have a lot of merit."
5. It Can Help You Tune Into Your Body's Needs.
Carving out time for self-care through yoga can help women stay in tune with their bodies' needs and bond with their babies, according to Brower.
"The most important thing to keep in mind is that anything that turns our attention to ourselves is going to be healing for the body and really good for the baby," says Brower. "The baby can feel when we're really taking care of ourselves and really at ease. It happens as a chemical experience for the baby."
Brower recommends finding a prenatal teacher that you feel comfortable with, or trying poses in your home using video tutorials and online classes from YogaGlo.
"Take it really slowly and listen well so that at no point are you going against yourself," Brower advises. "You always want to be in a place of support for yourself when you're pregnant."
Tell us: Have you ever tried prenatal yoga? Did you find it to be beneficial? Share your thoughts in the comments or tweet @HuffPostParents.
Related
Before You Go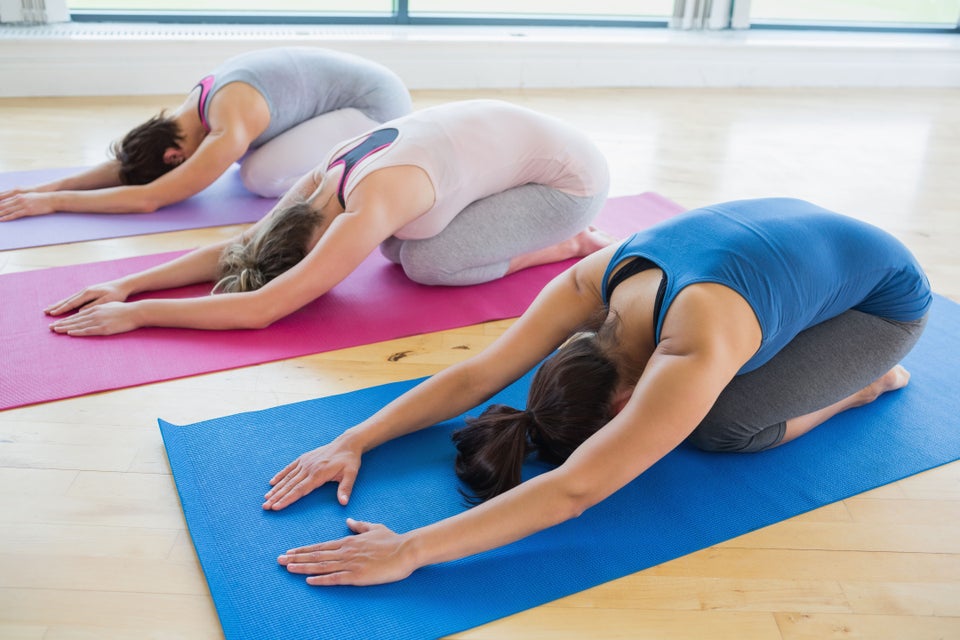 The 10 Best Yoga Poses For Stress Relief