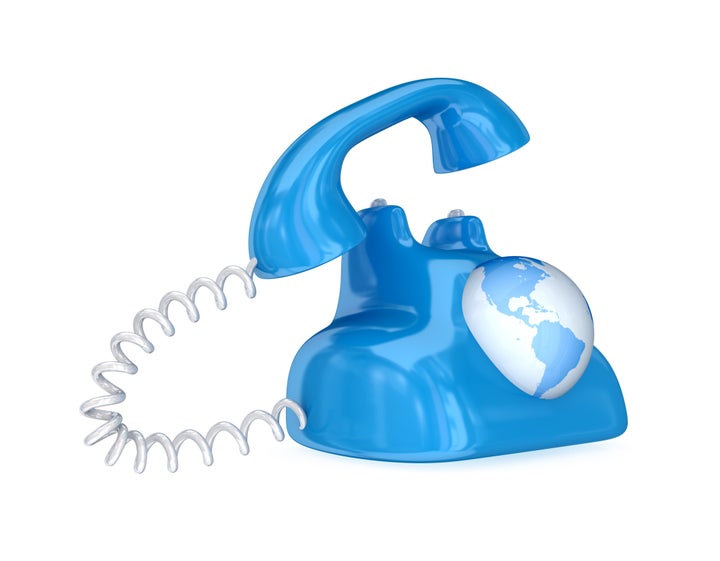 In the 30 years that Mary Meza has lived in the United States, she's developed at least two routines. Every week or so she buys a prepaid calling card and every Sunday, she uses one to call her mother in the Dominican Republic.
"But, I've never actually gotten the full value," Meza said in Spanish. "The minutes I'm able to use don't add up to the dollars I paid. And when you call customer service there is no one there to help you, never."
While prepaid calling cards have, for most Americans, gone the way of the dot matrix printer, for millions of people with friends and family abroad like Meza, the cards remain frequently purchased items. About 13 percent of the American population, or 40.1 million people, were born outside the United States and likely have family and friends living outside the country, according to Census data. Prepaid phone cards are often used by Hispanic, Asian and African immigrants because when fees and rates are clearly disclosed, they can provide an inexpensive connection to their community abroad, without a credit card. They eliminate hard-to-predict phone bills and can be used by people who lack at home Internet connections where cheaper calls can be made, industry analysts say.
But all too often, prepaid calling cards are difficult to use wisely, according to a new report released Tuesday by Consumer Reports. People who use the cards can find themselves lost in a morass of often undisclosed small fees, deceptive marketing, questionable packaging and surcharges that eat away at their call time but add up to big dollars for the companies behind the cards.
The Federal Communications Commission, a federal agency that regulates communications companies, is expected to issue an industry-wide advisory notice -- a formal buyer-beware statement about the prepaid calling card industry -- on Tuesday. The agency has also created a consumer guide and English and Spanish-language fact sheets to help those who purchase and use the cards, and it encourages consumers to contact the agency with complaints about specific prepaid cards.
Consumer complaints spurred the agency to bring enforcement actions against five prepaid card issuers in late 2011. The agency is seeking a total of $25 million in fines after it found a pervasive pattern of undisclosed fees, charges that eat into the advertised call time for which consumers have paid and other problems, said William Freedman, Deputy Bureau Chief, FCC Consumer & Governmental Affairs Bureau.
"One company advertised something like 1,000 minutes of talk time at a very low rate," Freedman said. "But the company failed to disclose the extra low rate only applied to the first phone call. So unless you had a single 2-hour conversation, you would be paying a much higher cost for every subsequent call. And that was just one company."
Consumer Reports examined more than 130 cards and found an array of problems. One company offered a $5 card with 20 hours of talk time to those calling Mexico City while a competitor charged $2 for a five-minute call to the same location. Other cards included an activation fee or daily maintenance fees that began sapping value the moment the cards were purchased or used.
In other cases, prepaid card companies marketed calls at one rate but charged consumers another, said Keith Gordon, a New York State assistant attorney general in the New York State Attorney General's Bureau of Consumer Frauds and Protection. The New York Attorney General financed the cost of the Consumer Reports analysis with proceeds from an enforcement action it brought against a prepaid calling card company last year.
Other companies allowed consumers to make a first call at the advertised rate then subsequent calls at what was usually a much higher and often undisclosed rate, Gordon said. And, at least one card advertised 1,000 calling "units" but only disclosed in fine print that the units amount to 2.5 hours of talk time. The disclosure was printed on the marketing posters that remain behind after consumers purchase the cards and take them home.
And, perhaps in recognition of the fact that most of the cards are purchased by immigrants, in-store displays and throw-away packaging for the cards often disclose fees and surcharges in a variety of languages. But, Gordon said, disclosures printed on the cards themselves are often printed in English only.
"That to me seemed intentional," said Gordon.
With many Americans using the Internet to make calls, some may wonder why prepaid calling cards are an issue of concern for consumer advocates and regulators, said Robert Tiernan, managing director of Consumer Reports, a nonprofit consumer research organization that also publishes product buying guides and a magazine.
"It turns out that this is a billion dollar business. It's very, very big," Tiernan said.
Actually, consumers spent about $3.3 billon in prepaid calling cards for domestic and international calls in 2009, according to a market analysis produced by ITC, a market research company, in 2010. And while the amount spent for domestic calls is dropping sharply, spending on international calls peaked at $2.2 billion in 2006. It is expected to fall to $2.1 billion in 2013, according the ITC report.
On average, prepaid calling-card consumers were able to use only about 60 percent of the talk time purchased for calls, according to the same ITC analysis. The rest was typically eaten up in fees and surcharges.
Maza, who thought that calling cards were a quick and low-cost route to frequent international calls, said she plans to sign up for some sort of at-home long distance plan.
Popular in the Community