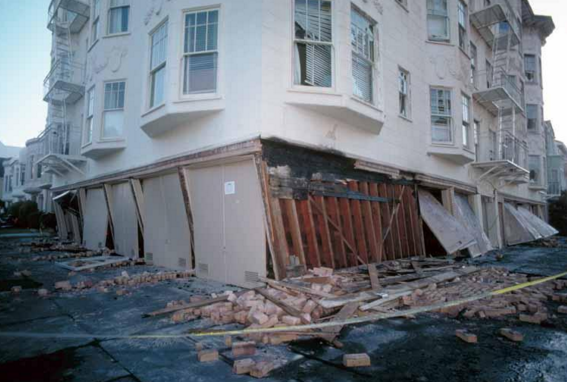 Insufficient shear walls on this soft-story structure caused catastrophic damage to this San Francisco residence after the 1989 Loma Prieta quake. Credit: U.S. Geological Survey/photo by J.K. Nakata.
The tragic April 2016 earthquakes and aftershocks in Japan (M6-M7) and Ecuador (M7.8) are prescient warnings that foretell our future and recall the past. Forty-five years ago on February 9, 1971 at 6AM, a magnitude 6.5 quake jolted Southern California residents from their sleep and morning commutes. I was a child when the temblor shook me from bed--a terror indelibly etched in memory. Extensive damage ensued to infrastructure, homes and buildings, affecting several medical facilities in Sylmar and the San Fernando Valley--just north of metro Los Angeles.
Roadways failed. Overpasses collapsed. Earth ruptured to the heavens. Over 80,000 residents fled near-total destruction of the Van Norman dam while officials raced to lower water levels, easing pressure on its banks. This moderate quake killed scores of people, injured thousands more, and unnerved millions from the violent shaking and powerful aftershocks. I wondered what more could be done to protect the public from nature's fury and vexing randomness.
With each new quake, improved instrumentation yields a better understanding of fault behavior, ground motion, structural response and failure mechanisms. Each quake also tests the limits of engineering know-how with new twists that belie yesterday's common wisdom. Despite Japan having one of the most advanced seismic early-warning networks, few seismologists anticipated that the 2011 M9.0 Tōhoku quake would lead to the world's worst nuclear catastrophe from natural causes. Cleanup from this singular event may take half a century. Yet only within the past few decades have scientists become more acutely aware of the devastating potential of the Cascadia fault in the Pacific Northwest--a massive subduction-zone fault capable of epic quakes that could inundate and level portions of the West Coast with a tsunami more destructive than anything previously envisioned.
In recent years, subsequent damaging quakes hit the Western US: (1989 M6.9 Loma Prieta, 1992 M7.3 Landers, 1994 M6.7 Northridge, and 2014 M6.0 Napa). And that's not counting a sextet of catastrophic M7.3 to M7.9 temblors that struck California between 1857 and 1952, including the historic 1906 San Francisco quake (M7.8). The elusive challenge is that scientists cannot yet predict precisely where--or when --the next catastrophic quake may strike. That leaves us banking on statistical probabilities and proactive preparation as our best protection. Notably, emerging early-warning technology and proactive structural monitoring can mitigate casualties from future events.
Having escaped personal injury or property loss from recent quakes, it's fitting that some decades later I arranged a chance meeting with Dr. Jesse Lawrence, then an assistant professor of geophysics at Stanford University. Jesse and I met at the Starbucks near campus to discuss the QCN (Quake-Catcher Network)--a rapid earthquake-characterization system that he co-founded in 2007. The National Science Foundation (NSF) funded the research project.
Jesse and his collaborative team helped to pioneer the use of low-cost accelerometers to create a dense network of sensors that can rapidly process the sensor data and characterize the tremor--foundational technology of an earthquake early-warning system. That meeting ultimately led me to Zizmos--an early-stage start-up in Palo Alto. Zizmos founder and CEO Gazi Yildirim, Ph.D., a Turkish Silicon-Valley entrepreneur, leads the charge to commercialize and improve upon the original QCN concept. Combining a hybrid of dedicated sensors and ubiquitous mobile devices, Zizmos early-warning technology mobilizes communities with better knowledge, forewarnings, and high-resolution shake maps. Reflecting on my childhood experience and desire to improve earthquake safety and preparedness, I became such a believer in Zizmos' humanitarian mission and use of modern technology that I ultimately joined the company as a board member.
It's no coincidence that in my day-to-day business I collaborate with architects, structural, civil and geotechnical engineers across the globe. We all share a common passion to improve structures for better seismic safety. According to USGS estimates, there's a 95% likelihood of a damaging quake in the greater Los Angeles basin within the next few decades. It's not a matter of if, but when.
Moreover, a large magnitude-seven or greater quake in any populated region such as Los Angeles or the Bay Area will cause billions in damage and potentially significant loss of life with untold numbers of injured and dislocated. Similar threats exist up and down the entire West Coast northward to Canada, as well as wide swaths of the Midwest and East Coast emanating from the New Madrid Seismic Zone. According to some estimates, 50% of the American population is within the impact zone of a potentially damaging earthquake that could strike at any moment. Are we ready?
With stricter building codes in play, including the 2014 Santa Monica mandate to improve building safety, building owners are in full swing to assess their structures and make the necessary retrofits to ensure public safety. One project recently conducted, for example, is the RoxSan seismic retrofit in Beverly Hills--an eleven-story medical facility. Using cost-effective crack monitors to track crack propagation, the engineering contractor--ZDX Industries--reinforced critical structural members in the parking garage and upper roof using epoxy injection and carbon-fiber-reinforced polymer (CFRP). A recent Buildera seismic-retrofit case study explains further technical details.
While safety awareness and structural preparedness are keys to mitigating future losses, many parents assume that public and private schools are seismically safe. Yet many remain at-risk--particularly certain private facilities subject to less stringent regulations compared to public institutions. We assume that critical infrastructure including airports, bridges, communication networks, highways, hospitals, public transit and utilities will remain standing and operational after a major event. But not all will.
It's only a matter of time before the next big one strikes the US without warning. Meanwhile, all property owners, including homeowners, should assess their unique situation, establish baselines, and monitor differential changes in foundations, walls and other structural members that could become weak spots for future shaking. Together with emerging early-warning technology from Zizmos such as eQuake™ that runs on iOS and Android smartphones, crowd-sourcing seismic safety puts us all one step closer to mitigating injuries and saving lives.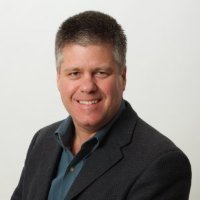 Greg Lowitz serves as a board member of Zizmos and is the founder and CEO of Buildera, based in Redwood City, CA. He earned a master's degree in engineering from Stanford University and has held executive-leadership roles with startups and leading Silicon Valley technology companies.
Zizmos is a 2015 Powerful Answers Award $1,000,000 Winner and is participating in the Powerful Answers Accelerator program at BootUp Academy. This program is designed to strategically accelerate companies' growth through intensive workshops and knowledge exchange sessions that provide best practices in business planning, product development, UX/UI design, global go-to-market strategies, communications, financing and growth hacking.
Popular in the Community