Today -- finally! -- is the day. After a horrific winter featuring the coldest recorded temperatures in the past 81 years combined with a flu vaccine of historic inefficacy, spring has finally shown up. The icicles have melted. An intrepid soul has been spotted wearing flip-flops on the A-train. And in a donated warehouse space in midtown Manhattan, the Sing for Hope Pianos are beginning to blossom.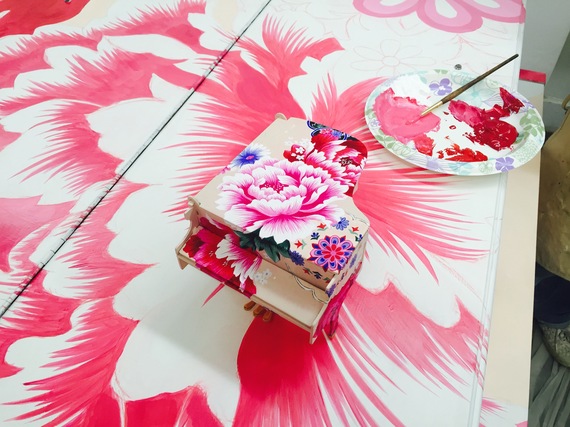 Detail of a Sing for Hope Piano created by volunteer artist Wen-Hua Chen, who has traveled to NYC from her home in Taipei to participate in the project.
The Sing for Hope Pianos begin their incubation in the darkest days of winter, with Volunteer Artist applications coming from as nearby as Chelsea and as far away as China. The submissions are as diverse as their zip codes, and are adjudicated by an outside panel of experts; this year's selection committee included leaders from the Whitney Museum, the Keith Haring Foundation, Christie's, Aspen Institute, Ardea Arts, Sahlman Fine Arts, and Chubb's Fine Arts Practice. These brave souls locked themselves into our conference room one snowy evening to plow through piles of applications in a spirited decision-making process that resulted in this year's SFH Pianos artist group.
With our Volunteer Artists selected, we begin sourcing pianos from all over the TriState area, moving them into our midtown Piano Art Studio Space. Our crack team of piano technicians rehabs the instruments, and our tireless SFH Pianos staffers coordinate myriad details of materials, moving, and logistics. Artists work alone, in groups, and in collaboration with our students from New York City public schools and patients from our partner healthcare communities. One by one, old instruments are brought to vivid new life: one as a brilliantly colored pianistic butterfly, one as a oceanic deep-dive, one with an exhortation in bold font by our Sing for Hope Youth Chorus students: "dream big, speak loud."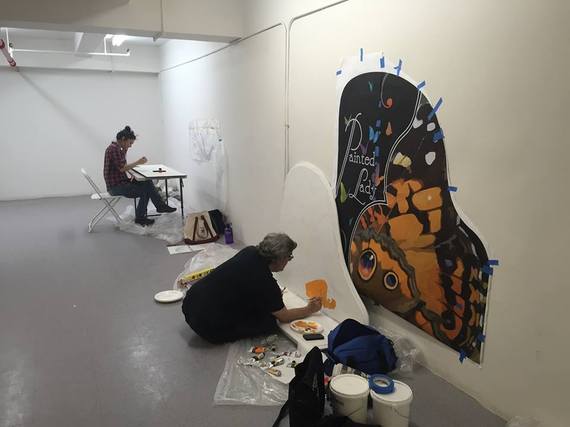 Volunteer Artists Stephanie Mead and Robert Padovano create scaled sketches on paper before beginning to apply paint to their pianos.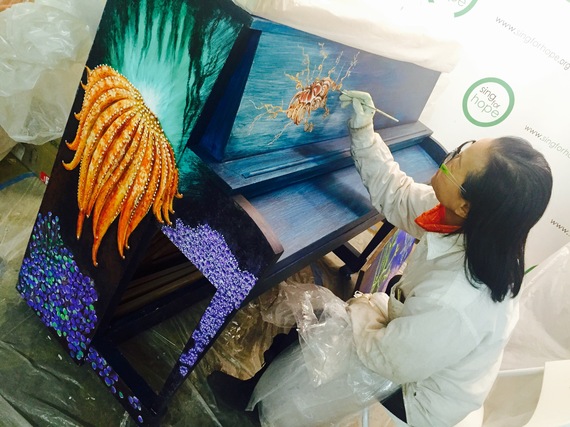 Izabel Lam channels the formal magnificence of marine life, saying that her piano is an homage to the fluid creative process and to "the greatest artist of all: Nature."
As the artists work on their 3-D canvasses in the studio, the Sing for Hope team meets with city agencies and visits potential sites throughout the five boroughs. We enroll communities in the effort, enlisting local "piano buddies" to cover the pianos with tarps in case of rain and report on missing keys and other occupational hazards during the pianos' two weeks on the streets. And in keeping with our arts outreach mission, we lay the groundwork to donate the pianos to under-served schools, healthcare facilities, and community-based organizations, where they become hubs for our year-round arts outreach programming.
This year's project is presented against a backdrop of increased need. Comptroller Scott Stringer's recent analysis of Education Department data showed that 20% of our urban schools have no arts teacher whatsoever, despite the proven benefits of arts education on entire school cultures. And the need for creative arts programming in our healthcare facilities is equally great. In the words of Mount Sinai Dean for Medical Education Dr. David Muller, "It's more than just the arts. It's compassion and humanity, because it's people who perform, not a television or an iPod or a radio, but an actual human being whose mere presence proves to our patients that they still matter, they are more than their diagnoses, they are still human beings surrounded by a world of culture and art and beauty."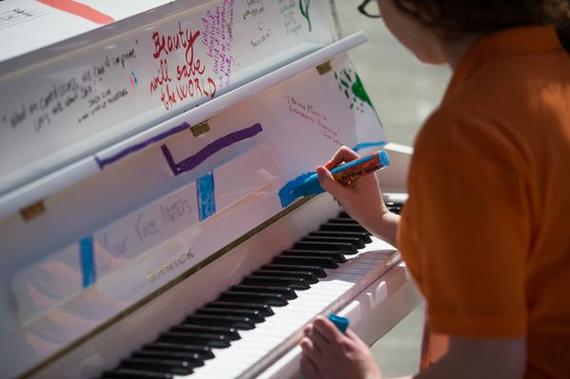 In addition to our NYC Sing for Hope Pianos, this year features a "bonus" street piano: a Skoll World Forum Sing for Hope Piano at Oxford University celebrating social entrepreneurs and their transformation of systems in need of change.

In this springtime season of budding and renewal, I often find myself humming a tune from La bohème, Mimì's first act aria with its soaring melodic line that rises in anticipation of spring: "quando vien' lo sgelo, il primo sole e mio, il primo bacio del April e mio..." ("when the thaw comes, the first sunlight is mine, the first kiss of April is mine"). That phrase embodies the sound of a fragile life hanging in the balance, a vulnerable soul dreaming of emergent light and warmth. For consumptive Mimì in her unheated bohemian garret in 1840s Paris, the arrival of milder weather would indeed have felt like the difference between life and death, a reprieve to live and love for another year. Her sunlit melody glows with the hope of wellness, connection, and a life fully lived. If our hearts soar (and later break) with hers, it is because we share this hope, and perhaps never more so than when the first spring shoots start to bud.
The Sing for Hope Pianos are a whimsical way of saying something deeply serious: art is a delivery system for human connection and for hope, especially for the most vulnerable among us. Access to the arts is a right, not a privilege. In a secular and/or polarized society, the arts have unique power to amplify the spirit, a word whose Latin root says it all: "spiritus," meaning breath, but also soul, courage, vitality. Respiration and inspiration.
As I write, the Sing for Hope Piano artists, our heroic army of harmony, are painting their "art for all" belief onto their piano canvasses. Once finished, the pianos will be launched into our communal spaces to inspire melodies, conversations, and random acts of musical kindness. Come June, Mimì's warm melody will be one of countless tunes brought to life in our city streets. If you crack your window and turn your head toward midtown now, you just might hear her song. Listen closely. Join us. Sing along.
A peek at the SFH Pianos process ~
Sing for Hope transforms lives throughout New York City by making the arts accessible to all. Through the volunteer service of over 1,500 artists - including opera singers, actors, jazz musicians, dancers, puppeteers, visual artists, and more - Sing for Hope brings dynamic arts outreach programming to under-resourced communities throughout NYC, igniting the spark of creative innovation in everyone from hospital patients to elder care residents to students of all ages. Get involved at www.singforhope.org.
Funding for the Sing for Hope Pianos is provided in part by Sing for Hope's Founders' Circle, including The Arnhold Foundation in loving memory of Sissy Arnhold, The Anna-Maria & Stephen Kellen Foundation, and Ann Ziff. Additional funding for the 2015 project is being provided by two crowdsourcing campaigns - Sing for Hope's first-ever Kickstarter and a concurrent crowdsourcing campaign run by The Lulu & Leo Fund - which together have garnered grassroots donations from more than 300 donors across the country.
REAL LIFE. REAL NEWS. REAL VOICES.
Help us tell more of the stories that matter from voices that too often remain unheard.