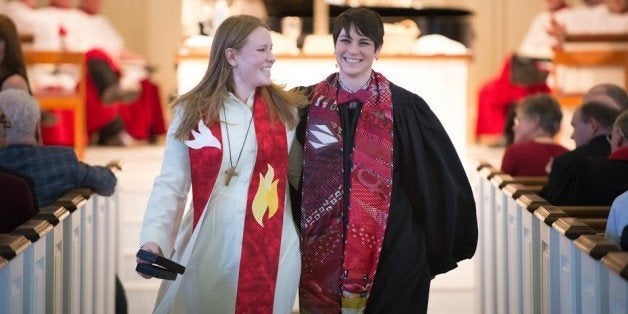 The last time these two women walked down the aisle together, they said, "I do."
This past Sunday, the lives of the Rev. Kaci Clark-Porter and the Rev. Holly Clark-Porter intertwined in perhaps an even more extraordinarily spiritual way, as the couple walked down the aisle at Wilmington, Delaware's First and Central Presbyterian Church to become ordained Christian ministers.
The ordination came just days after the Presbyterian Church (U.S.A.) announced a change in its constitution that embraced a more inclusive definition of marriage, defining it as being between "two people" instead of between a man and a woman. With this change, PC(USA) becomes the largest Protestant group to offer a nationwide welcome for LGBTQ couples.
Kaci and Holly Clark-Porter may well be the first same-sex couple to be jointly ordained into the denomination. Reached for comment, Rev. Toya Richards Jackson, PC(USA)'s director of communications, couldn't definitively say that the Clark-Porters are the church's first jointly ordained same-sex couple, since officials don't keep these statistics on hand. But Jackson couldn't point to any other examples of same-sex clergy couples currently working in the denomination.
Sunday's ceremony will be remembered as a historic moment for the church, but for Kaci and Holly, it was the end of one long chapter of their lives and the beginning of another.
Holly blesses the Eucharist bread.
Holly told The Huffington Post that she couldn't have imagined celebrating that day without her wife and best friend by her side. She hopes the spiritual connection they share will prevent both of them from suffering from the "five-year burnout" she says some pastors experience.
"Our ministries are so connected," Holly, 29, said about her wife, who is 33. "I hope that we keep each other energetic and that we'll continue to hold each other accountable to our ordinations and fight for social justice together."
Kaci's and Holly's faith journeys have been strikingly similar from the start. They are both cradle Presbyterians who were raised in Texas, married and divorced their husbands, and decided to examine their faith by attending seminary. They met at the Austin Presbyterian Theological Seminary in 2009 and decided together to come out to their families.
Holly's family had a somewhat harder time coming to grips with the news.
"It didn't go well at first," she recalled. "But my parents worked really hard, so hard, and did a lot of research and heart work. And now they are my friends and they champion and they love us."
Kaci and Holly Clark-Porter at their covenant blessing ceremony.
It's these kinds of experiences that the Clark-Porters hope will bring inspiration and encouragement to the LGBTQ community in their neighborhood.
The couple got married in Manhattan in 2011. They moved to Delaware because Holly had an opportunity to work for its presbytery, or regional governing body -- in fact, it was Holly who first interviewed for the job at First and Central Presbyterian. The church had set aside a special position for her. When it came time for the interview, however, she started panicking and realized that this more formal position wasn't the right fit for her bubbly, free-spirited personality -- but that it fit Kaci's character perfectly.
So, like a soldier stepping in for her companion on the battlefield, Kaci went in Holly's place to interview for the job. She is now an associate pastor at First and Central, as well as the church's first openly gay clergy member.
Her wife is the pastor of the Big Gay Church, a community for queer Christians. The members of the church gather for worship one Sunday a month. But a good portion of Holly's ministry also consists of having personal meetings with LGBTQ Christians and their parents.
"We sit at coffee shops and talk about each of the verses the people use to hurt queer people," she said. "And some people struggle really hard just hearing those verses, and even if I tell them all about the history and the interpretation, it takes a long time for them to understand that they are good."
Kaci said she's noticed that when people come to her asking for advice about reconciling faith and sexuality, what they really seem to want is reassurance.
"They want to hear from a person in the church who speaks with a little authority that God loves them or that God loves their child," she told HuffPost. "That's a real gift and an honor to be able to offer that."
The community blesses the couple during their ordination ceremony.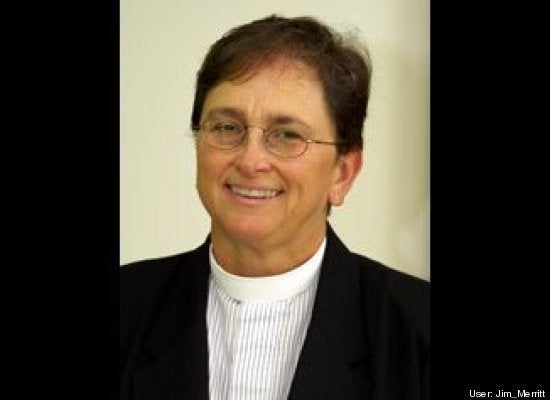 Most Inspiring LGBT Religious Leaders