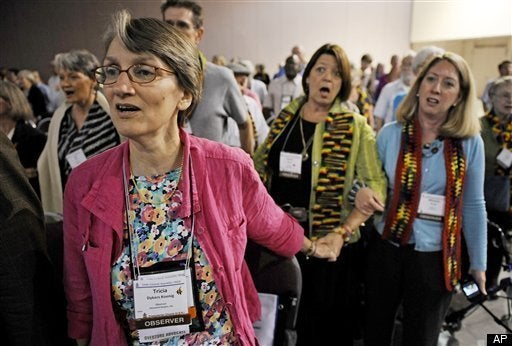 "And what does the Lord require of you but to do justice, and to love kindness, and to walk humbly with your God?" (Micah 6:8)

Today we bear witness to a historic moment in my church, the Presbyterian Church (USA), and for our nation.

Since late 2010, ministers and elders across the country have been gathering in 173 different regional presbyteries to vote on whether or not to allow openly gay and lesbian people to become ordained ministers. With over half of the presbyteries now voting "yes," our church has taken a bold step towards inclusion that brings the third largest Mainline Christian denomination more in line with the teachings of Jesus Christ; that His love embraces all.

What makes this moment even more significant is that unlike the Episcopal Church, the United Church of Christ and the Evangelical Lutheran Church in America which all adopted similar policies through top-level governing bodies alone, the Presbyterian Church (U.S.A.) requires one additional step: ratification by a majority of the individual presbyteries. We have seen ministers and elders in presbyteries like Central Nebraska, Eastern Oklahoma, Middle Tennessee and North Alabama cast the majority of their votes for inclusion. Everyday clergy and lay leaders in areas that have traditionally skewed older, and more conservative -- many of whom voted "no" in previous years when this question was brought to them -- have voted "yes" this time.

I see this vote as one indication of a moral awakening in America. I say moral awakening because many people of faith across the country and world are opening their eyes to the many wonderful gifts and the faithful service that lesbian, gay, bisexual and transgender believers bring to our many religions.

As a minister who, ever since I was put on trial by my church for marrying a same-gender couple, has felt called by God to open up a heartfelt dialogue with those conflicted about or opposed to inclusion, I have seen this moral awakening first hand. I have witnessed people's minds changed by God in different ways. Just look at the witness that Rev. Arlo Duba and Rev. Randall Tremba provide to see the type of transformation that is occurring across the country.

So why is this so important for progressives of faith and for the country at large?

With 76% of Americans identifying themselves as Christian, it's critically important that progressives of faith give witness and show how Scripture supports the full inclusion of lesbian, gay, bisexual, and transgender people into our churches, communities, and civil institutions. This historic moment for the Presbyterian Church (U.S.A.) didn't come in a vacuum. It came after thousands of individual, honest conversations and a deep study of the written Word of God.

The moral awakening of mainstream Christianity won't continue without thousands more conversations like those. As a start toward those thousands more such conversations, I want to say with humility and respect to those who did not vote the way I did: I may not agree with your point of view or interpretation of Scripture, but you are my neighbors and I love you. Scripture tells us that we are "all one in Christ Jesus" (Galatians 3:28). With God's blessed guidance, we can go forward and do justice, and love kindness, and walk humbly with our God, stronger together than we could ever imagine.
Rev. Dr. Janet Edwards is a Presbyterian minister in Pittsburgh, PA, and currently serves as Co-Moderator of More Light Presbyterians, a national organization working toward full inclusion of LGBT people within the Presbyterian Church (USA). In 2008 Rev. Edwards was tried and unanimously acquitted by a church court for presiding at the wedding of two women. You can read more on her blog, TimetoEmbrace.com.
Calling all HuffPost superfans!
Sign up for membership to become a founding member and help shape HuffPost's next chapter