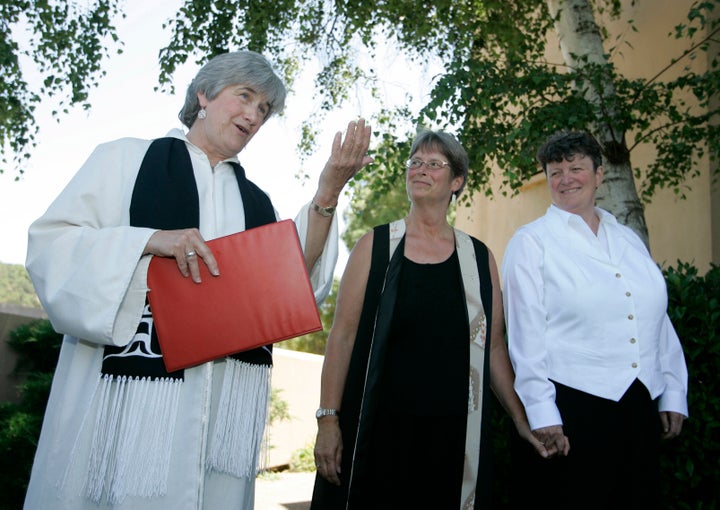 When thousands of members of the Presbyterian Church (USA) convene in Pittsburgh this week for their denomination's biennial gathering, they will debate more than 800 proposals on topics ranging from doctrinal statements to the church's role in aiding the nation's economic recovery.
But one of the most contentious social issues in the U.S. -- and one that has caused deep divisions within the 1.9-million member church -- is expected to dominate the discussion, which begins Saturday and ends July 7.
Four regional bodies, known as presbyteries, have submitted proposals that would change the definition of marriage from being between "a man and a woman" to a joining of "two people," opening the door for religious same-sex marriage ceremonies.
The church has long grappled with homosexuality, and has rapidly made changes in recent years. The proposals on same-sex marriage come a year after the denomination approved the ordination of non-celibate gay clergy. Several churches have left the denomination since. A few presbyteries have made proposals to the Pittsburgh meeting that would overturn the gay clergy ruling.
Church observers said it's unlikely that the meeting's 688 voting commissioners will reverse the gay clergy ruling. They also said it's unclear if the proposal to allow same-sex marriages will pass. Even if it does, the monumental vote would have to be approved by a majority of the church's 173 presbyteries to be final.
"One thing that could pass is having the assembly issue an 'authoritative interpretation' of the constitution, which would say ... 'It's OK for presbyterian ministers to officiate same-sex marriage if it is legal in the state where they are officiating,'" said the Rev. Brian Ellison of Parkville Presbyterian Church near Kansas City, Mo. That option has been proposed by five presbyteries and is supported by the Covenant Network of Presbyterians, a pro-LGBT organization for which Ellison was recently tapped to become the executive director. The proposal is also more appealing to some gay rights activists because it would not change the constitution, thus bypassing any need for approval from individual presbyteries.
While all Presbyterian Church (USA) congregations are affiliated on a national level, individual congregations differ widely on matters such as worship style and views on issues such as homosexuality. According to the Presbyterian News Service, at least 100 congregations have defected from the denomination in recent years as the church has liberalized its views on homosexuality. There are several smaller Presbyterian denominations, such as Presbyterian Church in America and Evangelical Covenant Order of Presbyterians, which lean more conservative.
Many additional conservative Presbyterian churches have also stayed within the denomination with hopes that they can change its course.
"The question is not one of love for all persons nor of civil liberty. We remain consistent in affirming both our love for all people and our commitment to equal civil liberties for all people," said leaders of Presbyterians for Renewal, an alliance of conservative church members, in a recent statement. "The question is whether in the church sexual practices specifically condemned in scripture will be condoned and, beyond that, affirmed as aspects of life that may be blessed by God."
Presbyterian Outlook magazine recently surveyed presbytery leaders and found that an average of 7 percent their congregations had left since January 2011 or were considering leaving. The executives said a vote to approve same-sex marriage could cause an additional 11 percent loss.
A church survey from February found that 51 percent of church members opposed same-sex marriage, while 34 percent approved, and the remainder were undecided. Among pastors, 41 percent approved of same-sex marriage, while 41 percent were against it. That's a significant change since a similar survey was done in 2005, when 13 percent of members and 35 percent of pastors favored same-sex marriage.
Besides same-sex marriage, another controversial issue church members will vote upon in Pittsburgh is the Israeli-Palestinian conflict.
The church's General Assembly Mission Council is proposing the denomination stop investing in three corporations -- Caterpillar, Motorola Solutions and Hewlett-Packard -- "until they have ceased profiting from non-peaceful activities in Israel-Palestine."
Ellison, also chair of the national church's Mission Responsibility Through Investment Committee, said the group is targeting Caterpillar because the company's bulldozers have been used in the demolition of Palestinian homes and in the building of the Israeli West Bank barrier. The committee wants divestment from Motorola Solutions because it said the company's communication technologies are used by Israeli forces. It recommends divestment from Hewlett-Packard because it said the company's products have been used by the Israeli Navy to coordinate its blockage of the Gaza Strip. Ellison said Hewlett-Packard also provides biometric scanners used at checkpoints.
The move by the investment committee has attracted strong criticism from Jewish groups, including the Anti-Defamation League. As of Tuesday, 21,000 American Jews have signed a letter to be sent to church leaders that asks them a to defeat the "counterproductive proposal." The letter, sponsored by the Jewish Council for Public Affairs and the Israel Action Network, an effort of the Jewish Federations of North America, said divesting from the three companies would damage "the relationship between Jews and Christians that has been nurtured for decades" and would promote "a lopsided assessment of the causes of and solutions to the conflict, disregarding the complex history and geopolitics."
There have also been discussions in other Protestant denominations, including the Evangelical Lutheran Church in America, the United Church of Christ and the Episcopal Church, regarding investments in businesses they believe profit from the Israeli-Palestinian conflict. An effort by members of of the United Methodist Church to divest from the same companies was defeated at the church's general conference last month.
The Episcopal Church, which will meet for its triennial general convention beginning July 5 in Indianapolis, is also slated to vote on blessings for same-sex marriage.
CORRECTION: An earlier version of this article stated that a survey that was cited came from Presbytery Outlook magazine. This has been corrected.
Related
Popular in the Community