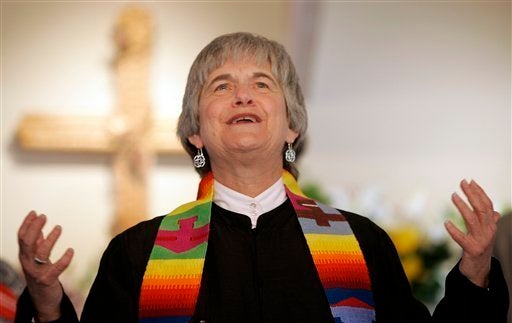 Less than four months after the Presbyterian Church (U.S.A.) made a historic and controversial move to ordain noncelibate, openly gay and lesbian clergy, a group of more than 2,000 disaffected ministers and lay people kicked off a conference Thursday that they say could lead to a breakaway church.
The Fellowship of Presbyterians plans to continue its meeting Friday to discuss how to reform a denomination that the group's leaders say has become "deathly ill" from declining membership, theological disagreements, increased bureaucracy and, most recently, the contentious debate over gay clergy.
"We have come off track, and Presbyterians have become a declining part of American life instead of a vibrant, growing part," said the Rev. John Crosby, who sits on the steering committee for the conference held near Minneapolis. "We have tried to create such a big tent trying to make everybody happy theologically. I fear the tent has collapsed without a center."
Crosby, who leads the 5,000-member Christ Presbyterian Church in Edina, Minn., is one of about a thousand pastors at the conference. The clergy, the elders and other lay people in attendance together represent about 830 Presbyterian congregations.
Some, such as Alan Wisdom of Falls Church, Va., were spurred to come because they disagree with their denomination's new policy on gay clergy.
With that policy, "we seem to have reached a watershed in the view of many people," said Wisdom, a 54-year-old member of Georgetown Presbyterian Church in Washington, D.C. "I would like to help and support other people who are trying to be biblically faithful in this situation."
But like many other attendees, Wisdom said he "remains committed" to his local congregation -- which he said is divided on the gay clergy issue -- and he is not interested in forming a new denomination or a joining a different congregation.
"The majority of people are not interested in leaving the PC(USA), but would like to find some way that we could still be in relationship with the PC(USA) even though we find ourselves in greater tension with it," added Wisdom, who is a lay person and is not attending on behalf of his congregation.
Leaders of the conference have floated such options as creating an informal network of traditional congregations and pastors, organizing regional groups of congregations -- what the church calls presbyteries -- that would be based not on geography but on social and theological leanings, or creating a "new reformed body" -- that is, a new denomination. Any significant structural change that included staying within the 2.8-million member Presbyterian Church (U.S.A.) would require approval from the denomination's General Assembly, which meets next June in Pittsburgh, and then from a vote by the individual presbyteries.
The new rules regarding gay clergy, which also apply to gay elders and deacons, went into effect in July after a majority of the presbyteries approved a change to the church's constitution in May. Presbyteries are not required to ordain gay candidates for the clergy, but the new amendment removed legal barriers to their ordination. The old text of the church's Book of Order banned noncelibate clergy who did not live "within the covenant of marriage between a man and a woman." The revised Book of Order does not mention gay clergy, but no longer requires chastity for non-married clergy.
While the majority of the 173 presbyteries voted for the change, at least 72 did not. The split has left Presbyterian leaders wondering if the more conservative congregations would defect.
While all Presbyterian Church (U.S.A) congregations are affiliated on a national level, individual congregations differ widely on matters such as worship style and views on issues such as homosexuality. According to the Presbyterian News Service, about 100 congregations have defected from the denomination in recent years, many of which leaned conservative.
Anticipation of this week's conference had been building since February, when Crosby and 44 other pastors of large churches released an open letter to denominational leaders calling for change. The letter said that the gay clergy issue "masks deeper, more important divisions within the PC(USA) ... around differing understandings of Scripture, authority, Christology, the extent of salvation amidst creeping universalism, and a broader set of moral issues." Hundreds of other pastors have signed the letter since then, especially after the vote on ordaining gay clergy.
In response to this week's conference, Michael Adee, executive director of More Light Presbyterians, a Minnesota-based church group that has pushed to allow openly gay clergy, sent a letter to supporters asking them to hold the conference attendees in their prayers.
"We are praying that God's extravagant love and a 'no boundaries gospel' will inspire and inform this gathering," Adee said in an interview. He added that every Presbyterian has gay and lesbian individuals in their congregation "who worship, pray and serve alongside them. Surely we can find ways to create space at God's table for all regardless of our human differences."
The Rev. Gradye Parsons, who holds the highest elected office within the church as stated clerk of the General Assembly, declined to comment about the conference. A spokeswoman said he would speak after it was over. In a previous statement, Parsons and other denominational leaders stressed that the Fellowship of Presbyterians is one of many groups interested in changing the church.
"This is indeed a rich time of ferment and deep discernment in the Christian Church and denominations like the PC(USA)," Parsons said, urging Presbyterians "to join in prayer and conversation, vision and leadership for the church in this exciting time."
Related
Popular in the Community