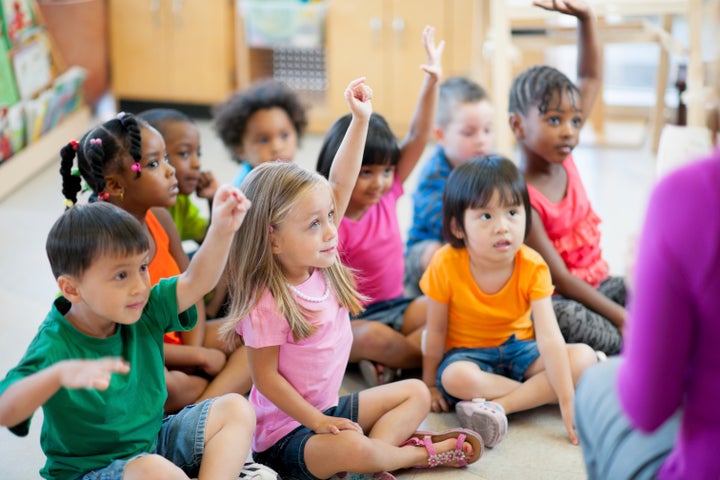 Slowly but steadily, states are making progress in the number of students they serve in high-quality, state-funded pre-kindergarten programs. However, this progress is uneven, and leaves out droves of impressionable learners.
On Thursday, the National Institute for Early Education Research at Rutgers University released its annual report on the state of preschool across America. The group has been tracking the number of children served by public preschool programs since the 2001-2002 school year. The latest report looks at the 2014 -2015 school year and presents an uneven picture of how the country is doing when it comes to serving little learners, although there are some bright spots.
After a massive dip in public funding for preschool programs during the Great Recession, funding has now surpassed pre-recession levels overall. The number of students attending these programs saw a modest increase, with over 37,000 new 3- and 4-year-old enrollees since last year. More state programs are meeting benchmarks for minimum quality standards, a checklist created by NIEER that includes requirements for maximum class sizes and staff-child ratios.
The report highlights states like New York -- which embarked on an aggressive push to fund statewide pre-K in 2014 -- and Michigan for progress. On the other hand, large states like Florida and Texas have "moved backwards," and enrollment in their programs have fallen. Overall, only 29 percent of 4-year-olds and 5 percent of 3-year-olds are enrolled in a state-funded preschool program.
"State pre-K is still far from where it needs to be to ensure that all children receive a high quality education during the year (or two) before kindergarten," says the report. "If young children are to receive the high quality education that leaves a sustained impact, state policies will have to change. Standards must be raised. Funding should be increased and stabilized. This will happen only if policy makers recognize that high quality pre-K is a necessity, not a luxury that can be passed over when the budget gets tight."
The map below highlights which states currently have the most 4-year-olds in state-funded preschool.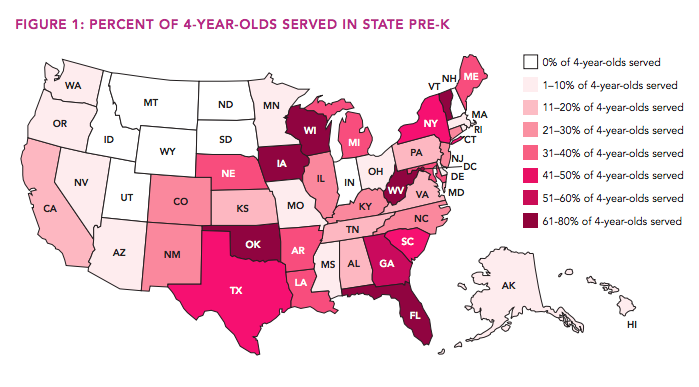 In addition to information about access and quality, the report includes details about which states are supporting dual-language learners and the teachers who work in early education. Early childhood educators tend to receive low pay compared to their peers who work in elementary schools. A report from the Center for the Study of Child Care Employment in 2014 found that these teachers -- who are often required to have a bachelor's or associate's degree -- only make six dollars more per hour than fast food workers. The average yearly salary of an early childhood educator who works in a public school program is $44,521, according to NIEER. The average yearly salary for an educator who works in a preschool program not housed in a public school district is $32,686. Elementary school teachers typically make $10,000 to $30,000 more than preschool educators.
States and cities have taken the lead in promoting universal preschool in lieu of federal action on the issue. But this week, presidential candidate Hillary Clinton outlined an ambitious plan to boost affordable child care. One part of her proposal would boost pay for early childhood educators.
Indeed, preschool -- when provided at the highest standards -- is shown to have long-lasting, positive effects. Students who attend high-quality preschool are more likely to graduate from high school. Despite the costs of these programs, evidence suggests they produce economic pay-offs.
Preschool, which often eludes low-income children in places without state-funded programs, could also be a tool to close achievement gaps. In April, NIEER director W. Steven Barnett told The Huffington Post that preschool could help close the "opportunity gap" that exists for young children.
"Think of it as a relay race: Winning the first lap does not guarantee you're going to win the race. But no one wants to be behind at the first hand-off," Barnett said. "What the national data shows is children of color and low-income children are far behind when they start kindergarten, and that gap — they never catch up."
Rebecca Klein covers the challenges faced in school discipline, school segregation and the achievement gap in K-12 education. In particular, she is drilling down into the programs and innovations that are trying to solve these problems. Tips? Email Rebecca.Klein@huffingtonpost.com.
Popular in the Community