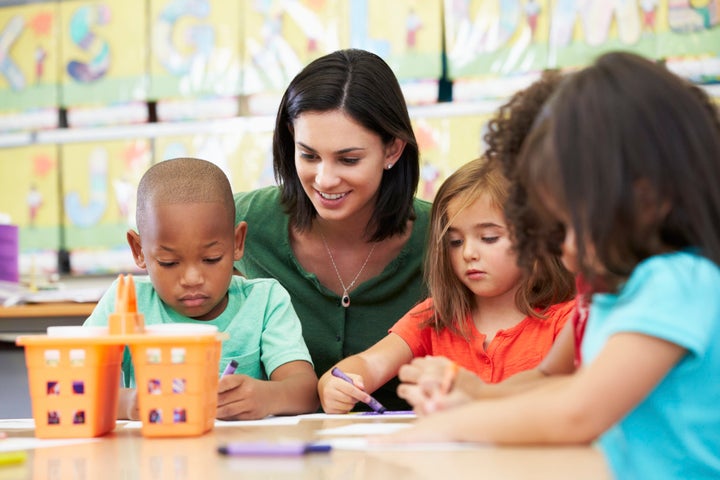 Preschool is important. But those tasked with educating the nation's littlest learners are not well-compensated for their efforts.
"If fast food workers deserve $15 per hour, then surely those teaching our most vulnerable children every day deserve significantly more," David Nocenti, Executive Director of the child care network Union Settlement, told the outlet in September.
Eighty-five percent of voters said they think it's "very important" or "extremely important" that early childhood educators are well-compensated. Over 90 percent of surveyed voters also said that they "play a critical role in helping children grow and develop."
The report's survey of early childhood educators paints a portrait of a group that is eager to serve. Over 90 percent of surveyed teachers said a love of children motivated them to go into education. However, teachers who have lower household incomes (less than $30,000) are less likely to say that they will stick with the profession. Indeed, over 50 percent of early childhood educators said that finding a job with sufficient salary and benefits was a major obstacle. Eighty-four percent of preschool teachers said that low pay is a big challenge facing their profession.
"I love working with children and their families. It is so rewarding to go to work every day and help set the stage for a child's future success and well-being," Eleanor Johnson, lead preschool teacher at Rosemount Center in Washington, D.C., said in a press release for the survey. "While there is a lot of passion in the field, there is also a lot of anxiety around the low pay and benefits and what it means for our future."