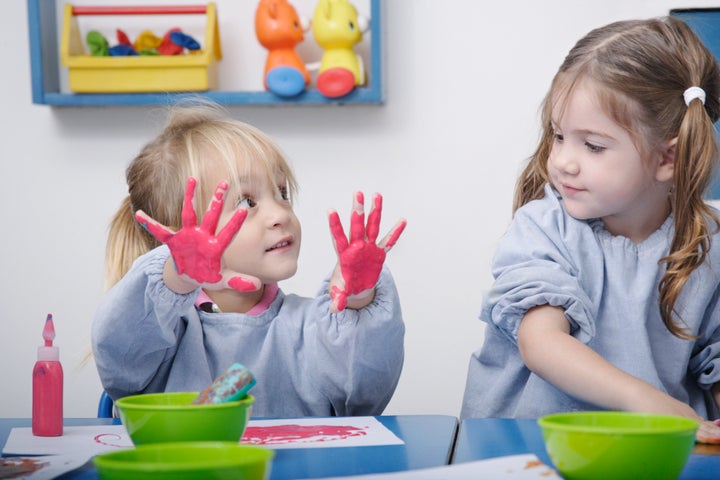 The National Council on Teacher Quality study of 100 teacher-preparation programs in 29 states, released Wednesday, found that most provide inconsistent and incomplete training for early childhood educators. Most of the studied programs are bachelor's or graduate degree programs -- considered the "gold standard" for preschool teachers -- but nonetheless fail to adequately prepare educators for preschool classrooms.  
Most of the programs studied by NCTQ focus on older children, and do not provide enough training for teachers who plan to work with the littlest learners, the report says. As a result, many early-childhood educators have not been trained in necessary areas, like early math concepts and developing language skills. Further, programs give scant attention to teaching future preschool educators how to create a safe and engaging classroom environment, which the study says may account for the high rates of preschool suspensions that disproportionately affect children of color. 
Only about 8 percent of programs evaluate educators for their ability to help children build vocabulary. About 56 percent of programs measure candidates' ability to help develop critical thinking skills in children. 
Because of limited training, "it's no wonder that increasing funding for preschool has yielded such mixed results," Kate Walsh, NCTQ president, said in a statement.
"What makes these results so frustrating is that while there is strong research that guides how preschool teachers should be prepared, yet these programs overlook so many of these fundamental and essential skills," Walsh said. "Given everything we know about the potential of preschool to address big problems like the achievement gap and helping children learning self regulation, we can identify no plausible reason for the absence of this content. It's benign neglect." 
The analysis comes on the heels of a report from the U.S. Department of Education and the Department of Health and Human Services about the low pay of early childhood educators. In 2015, the national median wage for preschool teachers was $28,570 -- about 55 percent of what kindergarten teachers earn. Many of these workers qualify for public benefits. 
"Despite research recognizing the importance of high-quality early education to healthy child development, and research that indicates that high quality providers and educators are the single most important factors in these early experiences, too many individuals within the early learning workforce earn low wages – sometimes at or near the Federal poverty line – even when they obtain credentials and higher levels of education," says the report.
The NCTQ report recommends that teacher-preparation programs focus more on early childhood education by offering a specific degree or add-on certification. It also recommends that programs offer specific courses on teaching emergent literacy and math skills, language development and early childhood growth. 
Calling all HuffPost superfans!
Sign up for membership to become a founding member and help shape HuffPost's next chapter
BEFORE YOU GO