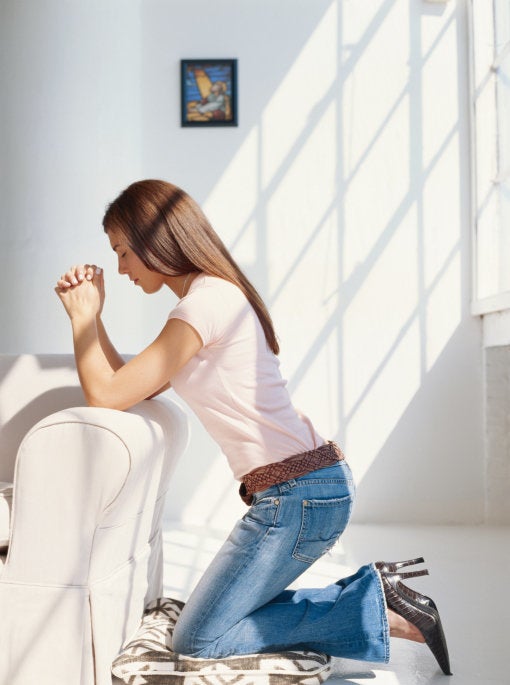 While suffering from chronic illness, do you question God's concern for you? Do you feel forgotten by him?
In March 1999, those thoughts silently ran through my mind as I sat alone in my backyard on a beautiful, sunny day in Mt. Pleasant, South Carolina. I had just been through radioactive iodine treatment for metastatic thyroid cancer. My husband was at work and my three young children were staying with friends and relatives for two weeks, because the radiation I received could actually harm them if they came near me. I also suffered from chronic vertigo, making me feel as if I were constantly on a boat.
I quietly asked, "God, have you forgotten me?" At 36, my strength and health were gone. How could that happen? After all, I had been an athlete in high school and studied nutrition in college.
But slowly, over the years, my strength and vitality had disappeared. I needed comfort from God in my suffering. I found that comfort in his Word.
It began with a simple greeting card.
Wonderful ladies from my family's church sent me a get well card with this Bible verse from Psalm 56 written on it: "You number my wanderings; put my tears into Your bottle; are they not in Your book?" Wow! God collected my tears in a bottle? Maybe he did really care about me.
Although I didn't have much energy for Bible study during that time, I would occasionally come across a verse that encouraged me. One particular verse helped me through the days when I was physically weak. Isaiah 33:2 reads, "O Lord, be gracious to us; we long for you. Be our strength every morning, our salvation in times of distress." I would pray, "Lord, be my strength today."
My experience with cancer and vertigo has made me realize there are many people suffering from chronic illnesses. In 2005, according to the Centers for Disease Control and Prevention, 133 million Americans--nearly one out of every two adults--had at least one chronic illness. It is projected that by 2020, about 157 million Americans will be afflicted by chronic illnesses (U. S. Department of Health and Human Services). I came to a greater realization that these people have questions for God and need his encouragement and comfort, too.
In Oct. 2003, after recovering from cancer, I decided to thoroughly read through the Bible from Genesis to Revelation. My intention was to find scripture verses that would bring God's comfort to people who suffer from chronic illness.
In my study of the Bible, I discovered God's words of encouragement to the sick and his instructions on how we should live, and recorded them in notebooks. Next, I did keyword studies on the Bible verses I had collected. Those keywords became the outline for my newly published book, Medicine from God: Scripture Verses to Encourage and Comfort the Sick.
In the Bible, I learned of God's goodness and great compassion. I was reminded of his everlasting love and concern for us. I discovered what the Bible says about why people get sick and die. And I was encouraged by reading of his power to heal and the strength he supplies.
Although there are many helpful Bible promise books, Medicine from God is unique. It is written specifically for those who are fighting illness or caring for a sick loved one. The verses in the book are compiled under topical chapter headings such as "Is God Good?" "Does God Love Me?" and "Does God Care About Me?" Other chapter headings include "Cry Out in Prayer," "Trust in God and Take Refuge in Him" and "Do Not Worry."
In 2007, while in the process of finding a publisher for the book, my husband and I found ourselves expecting another baby. The same season my firstborn went off to study at Purdue University, Grant came into our lives. He was born by emergency cesarean section Oct. 30, 2007. The doctors soon discovered that he had multiple physical problems due to a genetic condition called trisomy 18.
I believe that God had prepared me for the devastating news that Grant's disease was fatal--that the average life span of babies born with trisomy 18 is two weeks--yet we were blessed to have Grant with us for almost nine months. Grant and I used to listen to beautiful hymns and children's praise songs together, and I would sing along with them. I would tell him that one day he would no longer need a feeding tube in his nose, or be attached to an oxygen tank. I told him that one day we would walk and run together. I shared with him Isaiah 40:31: "But those who hope in the LORD will renew their strength. They will soar on wings like eagles; they will run and not grow weary, they will walk and not be faint."
The Bible verses I had collected in the unpublished manuscript of Medicine from God ministered to me during that difficult time. They taught me that our life and breath are in God's hands, and that we are to seek the Lord and love him regardless of our circumstances here on earth. His Word showed me that he is always with us to offer his strength and salvation, and to give us his love, comfort and healing.
While I encourage people who suffer from chronic illness to seek medical advice, I also encourage them to seek the Lord and his strength. My prayer is that Medicine from God will help readers draw closer to God, be reminded of his everlasting love, and be assured that he has not forgotten them.
Calling all HuffPost superfans!
Sign up for membership to become a founding member and help shape HuffPost's next chapter