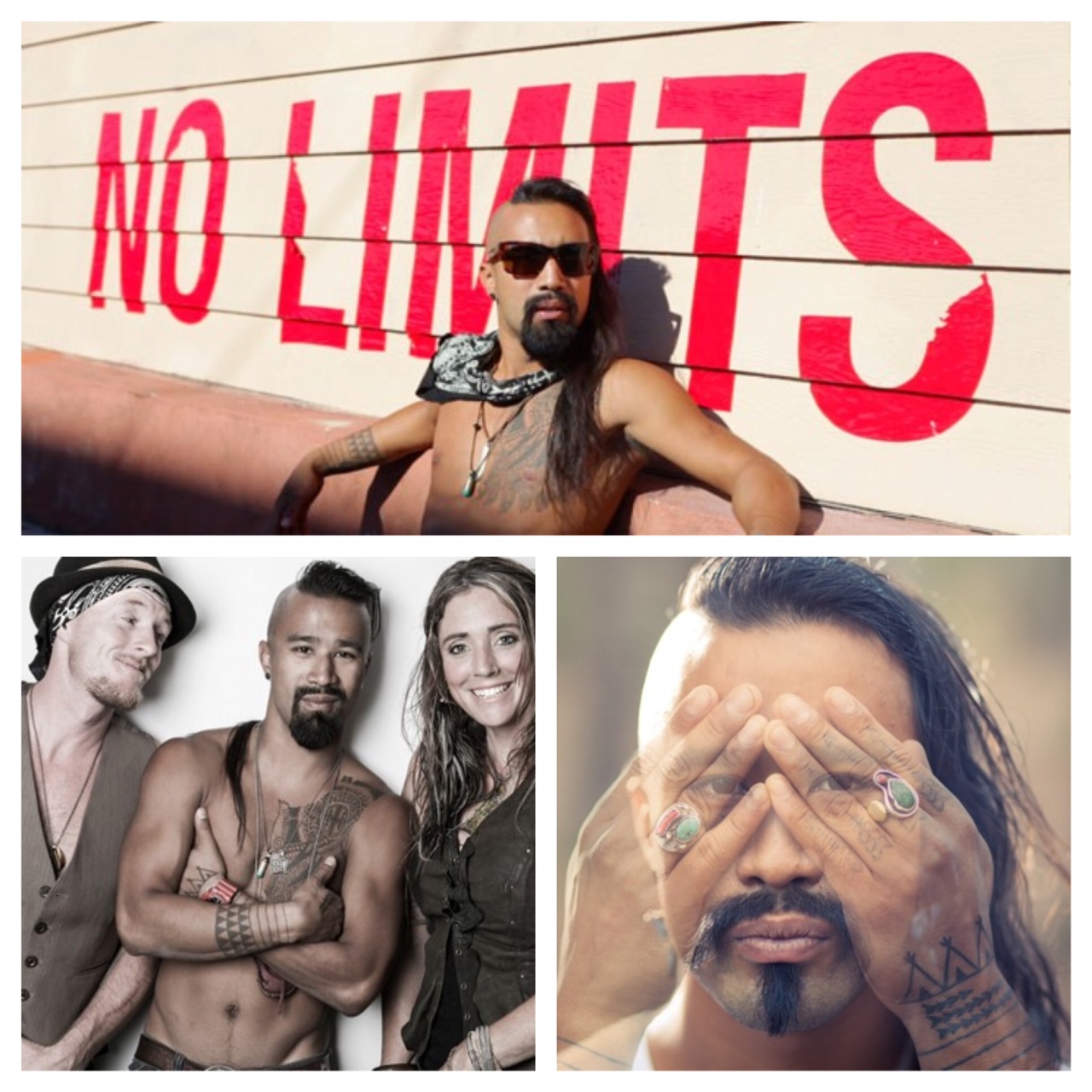 Nahko Bear and Medicine for the People
One of the reasons I love being able to contribute to the cultural conversation is having the ability to tell the story and journey of the overlooked or undiscovered artist. Which brings me to my recent rediscovery: Nahko Bear and Medicine for the People.
At the beginning of the year a wonderful young artist Elizabeth Fairy Rathbone sent me a YouTube link to perhaps one of the most beautiful and stirring videos I've seen in a very long time. While the visuals were absolutely breathtaking, the song grabbed me at my very core. I can still remember wanting to learn more about this indie-band with the strange name -- but then life, work and chaos happened.
It wouldn't be for another six or seven months that yet another fairy by the name of Alice Frank of the website ThatWeAre.com reintroduced me to the full spectrum of Nahko Bear's purpose, passion and mission. Not since being a little kid in Jamaica listening to Bob Marley have I felt so empowered and included. Therefore, after many false starts, missed communications (on my part) and hours of meditation as well as listening and taking my musical medicine, I proudly and excitedly share with you my interview with the musical prophet Nahko Bear.
1) How does it feel being the vessel for creating a new movement in music?
Very rewarding and a little surprising. I never planned to do this so it's been wild to watch it all unfold. It's a little daunting at times -- I step back and look -- take it all in -- listen and meet the families from all walks of life that have been effected by the music -- it makes me feel strong and get through my own stuff to know that even if I'm not there personally the music is there for people. It's a huge reminder to keep letting truth move through me so that it can help others be real with themselves. And I would hope that we remember that music can be real like this. Be honest, be raw, be fierce, and be brave.
2) Why do you think it's difficult for artists like you to break through to larger audiences?
Integrity. It's hard to walk your talk. The industry certainly takes its toll on rebel artists. It takes a strong individual -- whether with a team or not -- to weave the industry and the independent rebel side of these redemption artists into a perfect web. It's easy to take it to a certain level and be comfortable and/or feel like you can't go to the next level due to all the curves and slides of being a musician for life and such. It's a hardship that comes with the field. And I think material often falls away after time. You don't see a lot of artists moving farther into the legendary status because they often drop out after a few records and you just remember them by a few songs that made it to the masses. Your audience often will limit you to being a genre-based act too -- so if your sound starts to change you often get feedback and you either lose fans/family or you gain them. I think all things considered, if it's in your destiny to break through the veil to a larger community you have to have a purpose and you have to be unique. We don't see a lot of that anymore.
3) Selfishly I'm a little afraid of Medicine for the People becoming too mainstream -- but it feels inevitable... How do you intend to protect yourself from becoming swept up by the fame machine?

Integrity. Constant checking in with my elders and myself. This is more a social movement than anything. The moment I feel like I'm playing more shows for the machine (i.e. bars and festivals) and not doing enough activist based work (i.e. for environmental and social causes) is the moment I check myself before I wreck myself ha-ha. Taking time to be quiet and be with the ocean and the old language of the land and plants is a grounding meditation for me and I know I'll never lose that. I'm a self-made man and I intend to hold my sacred things close to me. I've been a rebel for as long as I can remember and I have enough elders and peers to keep me in check and remind me of what's important and why I am doing this. Although, I am only human, and I will make mistakes -- I look forward to the challenges ahead and pray often for clarity in leadership and bravery in this walk.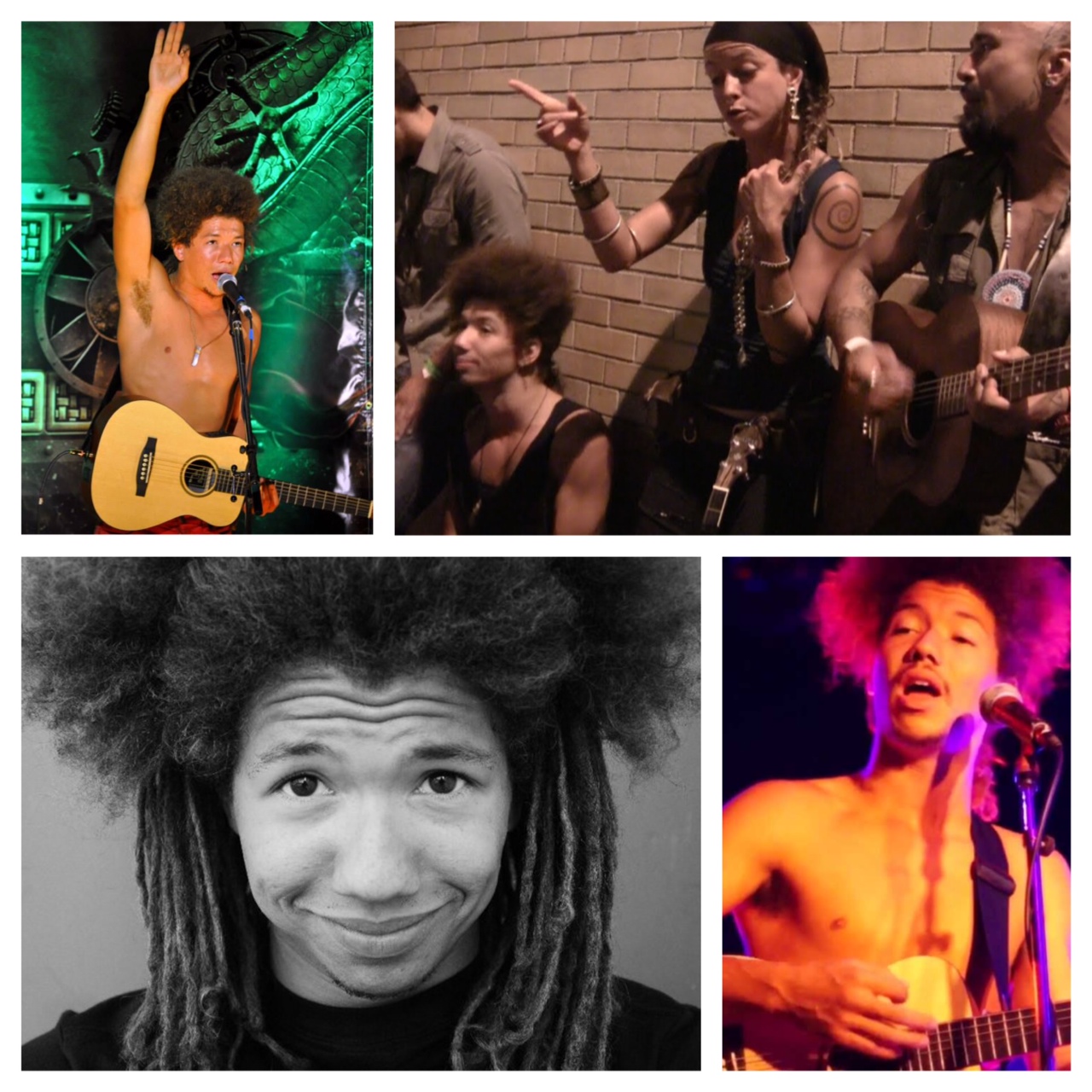 Dustin "Little Buffalo" Thomas
4) Tell me about your friendship and mentorship of young Dustin Thomas?
Little Buffalo, as we call him, has been a light, teacher, warrior, and deep brother for me. We have a lot in common and he is such an angel for working through them the way he has. He never ceases to amaze me with his grace and equal ability to drop the axe. A gentle buffalo, a fierce warrior. His ability to transcend age and time has been a huge quality that has helped me see myself clearer. We are team brown forever -- a powerful singer songwriter in the midst of a massive empowerment movement. We both stand out in a crowd and sing louder than anyone else ha-ha. In true proper rebel form we have a destiny together that is unchallenged. You can expect to see him a lot more in our movements. He's one to grow even bigger than this. Watch him and see him fly.
5) I appreciate the fact you and your group don't seem to be camera shy -- how did you figure out how important it is for you to document your journey?
I don't even know how that started, but it's definitely been natural. I was a music director for many years when I was a teenager and so I've always kind of been a theatre nerd at heart. We're all generally silly and obnoxious so it wasn't hard to throw a camera in there and record it. In fact, I was doing a lot of documentation before the band even came along. You can see heaps of videos on you tube of my ex and me traveling and recoding songs as they came to me. I just loved doing it. I've always had a pretty good taste for ridiculous moments to film ha-ha. And I love the way the visual tells the story to the songs.

6) The young filmmaker Grototote also seems to be a big part of documenting and memorializing your movement these days -- how did he come to the movement?
The first kids' workshops I ever did were in Volcano, a city on the big island of Hawaii. I guess hardly a city. I met Dom (Grototote) there. He was filming his dad, a mask maker, teaching at the four or five day workshop over spring break. I watched the video he did at the end of spring break and loved the way he saw the story to be told. His eye caught my eye. I mentioned to him maybe we could do a video if he liked the music. And just like that, I captured him for four days. Fed and housed him on my farm. It was really organic and I loved that he was cool with filming whatever I said would be fun/funny. We filmed the manifesto video completely unplanned one day after I had thought it would be cool to get people to sing it instead of me. He's a legend, hands down. Young kid doing amazing work. He's been through a lot in his life and he flows so well into our work. He was like an intern on our wild crazy big island touring. It's been beautiful to share our lives together and have him document it. We've got big work ahead.
7) The greatest thing about listening to your music is I never feel like a fan but I feel like I'm a part of something bigger -- what would you attribute this feeling to?
I think I'm a gatherer. I've been trying to find my family for a long time. And I'm trying to help other people feel like they have family through this music. For all the abandoned, vagabond, vagrant, home free kids out there. I don't want any separation between listeners and us. We're not at all typical y'know. We're personable people. And so is the music. It's real stories and real feelings and real suggestions towards solutions. I think that's why people feel it so deep. It's simple truths that we can all relate to. And you cant' help but grin and know you're a part of a special time in life as things are changing dramatically for us as a human race and for this planet as a whole.
8) As you appear to be a constant evolving being (like most of us) how would you describe Nahko Bear today?
Today I'm walking tall. It's been a long year of learning curves and ego checking and writing about it all. I'm ready for the next few months of travel and teachings they will bring. I'm praying for strength and guidance all the time. I'm strong, but feeling super ready for a break this winter. Time for recording another record and time just to recharge my spirit. I'm doing my pushups and checking my priorities so I stay healthy and on fire! There are so many places and people that need attention and love in this country and in the world -- I try to not be overwhelmed with that -- but, it's easy for me to feel heart sick for all of it -- so I have to keep transcending it all and stay strong in my walk and in what moves me in passion and rests me in reason.
9) The one song that haunts and inspires me is "So Thankful" -- especially the line "I never thought I would give thanks to rape but that's how I got here today." Can you explain this to me?
Yeah, that whole song is a true story of my family. My mother was raped by my father and I am a product of that incident. I still marvel at the trick of that song -- it being so catchy and kind of happy but the depth and rawness of the song is a heavy tune to tune/tap into.
Nahko Bear (Medicine for the People) Aloha Ke Akua
10) When I decided to do this interview I decided I would give myself permission to completely geek out -- especially in regards to the song Aloha ke Akua. For the past month or so I play it once in the morning (the album version) and once at night before bed I play the piano version. Oh yeah and like 20 times during the day. What the fuck gives with this song? Why is it so addictive? Did you add a bit more medicine in this one?
Ha-ha! Yeah I too am amazed how far that song went and how much it has effected people. It's quite the miracle. Made up of particles! I was really scared about 2012 and all the prophecies when I wrote that. It was like my prayer to myself that it was all going to be ok. I sat down in my friend's studio in Portland Oregon and recorded that piano version with no idea it would be picked up by a stranger and made a video to it that went viral. It really is wild. I also think the Hawaiian language is also a powerful component to its potency. The words aloha ke akua mean the breath of life and the love of God -- that's a lose translation. I believe (and so do Hawaiians) when you speak this language with intention it has mana or big power to it. So I think this song in its most raw prayer form and said by the masses has a lot of power and courage to it.
11) If you could dream or envision anything for Medicine for the People as a movement what would it be?
To be a catalyst for big environmental and social change in all kinds of communities. We're already seeing that, so I think that's destiny.
12) If you could give me a three-part prescription for all us living a better and more enlightened life what would it be?
-- Take care of yourself (like seriously, in your health, walk in spirit, and in your integrity)
-- Take care of your family (which is globally reaching and washing away ego for an equal span)
-- Care take the earth (I mean, who do you think your mother is, really?)
If you follow these three, all else will fall into perfect place. Oh yeah, and take your medicine. :)
13) If you could perform on any late night show, which one would it be and why?
I've always been a huge fan of Conan Obrien and SNL. SNL has been a dream because I would want to be IN it I'm such a clown it would be a dream come true. Although, we were surprised and stoked when Shaeline Woodley got on Jimmy Fallon and gave us a huge plug after seeing us in New York this summer -- so I guess it would be proper to full circle it and rock Fallon for our first late night show. We'll just have to wait and see!
Support HuffPost
The Stakes Have Never Been Higher
Popular in the Community