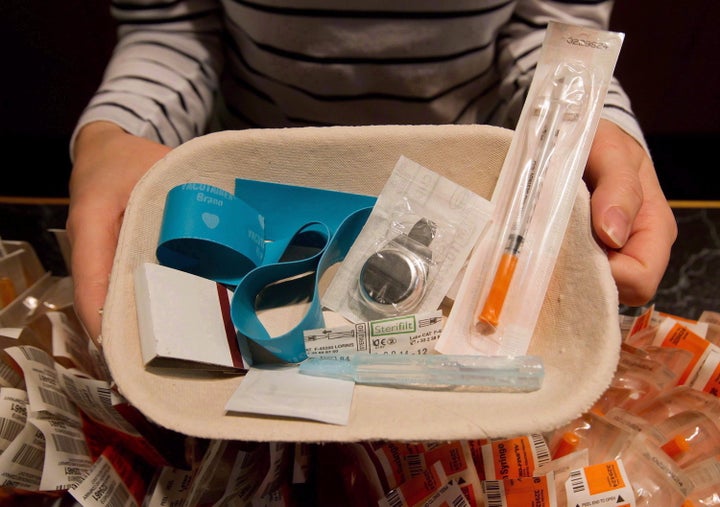 As drug overdose deaths in the United States soar and life expectancy drops, researchers are looking to unconventional approaches to help stem the nation's opioid crisis ― including making heroin available by prescription.
A report released by the nonprofit Rand Corporation this week analyzed the literature on two interventions ― prescription heroin and supervised consumption sites ― that already exist in Europe, Canada and Australia, but are still highly controversial in the United States.
While prescribing one of the drugs at the center of the opioid crisis might seem unthinkable to the uninitiated, Beau Kilmer, lead author of the new report and the co-director of Rand's Drug Policy Research Center, explained that it can be an effective way to keep drug users safe if traditional treatments haven't worked for them.
"This isn't just legalizing heroin or giving it out," he said, stressing that prescription heroin isn't a first-line treatment. Instead, heroin-assisted therapy involves offering pharmaceutical-grade heroin to people who have tried other treatments, such as methadone, and continued to inject. That dose of heroin would be used under medical supervision in a clinic, often with the option of taking methadone home to ward off potential withdrawal.
The researchers analyzed randomized controlled trials on prescription heroin in Canada, the Netherlands and the United Kingdom and found strong evidence to support that drug users who were prescribed heroin were less likely to use illicit street heroin. Unlike prescription heroin, street heroin carries the risk of being adulterated with other substances, such as fentanyl, the highly potent synthetic opioid implicated as a driving force in the nearly 50,000 opioid deaths the U.S. logged in 2017.
There's also evidence that people who received prescription heroin had better social and mental health outcomes and were less likely to engage in criminal activity than those who received methadone.
"For these individuals, not only does it reduce their use of street-source heroin, but it also helps stabilize their lives," said Kilmer, who explained many people who have been using drugs for an extended period of time spend a significant portion of the day trying to get money to pay for heroin, potentially putting themselves in dangerous situations.
The report concluded that it's time for the U.S. to pilot prescription heroin.
"Given the success of these programs in other countries, and given where we are in the United States with fentanyl poisoning, we definitely think that there should be randomized controlled trials of heroin-assisted treatment in the United States," Kilmer said.
The new report found less robust evidence behind supervised consumption sites ― where people bring their own street drugs to inject, using clean supplies in a hygienic clinical setting under medical supervision.
Although previous research on existing supervised consumption sites outside of the U.S. found that these sites reduced disease transmission and drove down emergency calls and fatal overdoses, the new report concluded that there were too few studies, from a limited number of locations, to draw rigorous conclusions from.
On the other hand, Kilmer pointed out that those supervised consumption sites have been in existence for between 15 and 30 years, and have withstood multiple changes in national and local government. That doesn't necessarily mean the sites are effective, but it does suggest that if they have negative effects, they're minor ones.
"If there really was a significant downside for the individuals or the communities, you wouldn't have expected them to have such longevity," Kilmer said.
Cultural and legal obstacles stand in the way.
Heroin is a Schedule I drug under the Controlled Substances Act, meaning there's no accepted medical use for it and doctors can't prescribe it. Human research on Schedule I drugs is permitted, but similar to the obstacles medical marijuana researchers run up against, prescription heroin researchers would encounter barriers, such as having to get research approval from the Drug Enforcement Administration.
The new report suggests a workaround. It would be easier to start a pilot program on injectable hydromorphone, a Schedule II opioid used for pain in the United States. There's less research on injectable hydromorphone than there is on prescription heroin. Still, the limited research that does exist suggests that like prescription heroin, supervised injectable hydromorphone could have physical and mental health benefits and reduce illicit street drug use, potentially making it a viable ― and less stigmatized ― alternative to prescription heroin, with far fewer regulatory hoops.
"This is a drug already being widely used [in medical settings] in the U.S., so would be simply an incremental adjustment," said Leo Beletsky, an associate professor of law and health science at Northeastern University. (Although Beletsky was not involved in the report, he did give the authors feedback on it.)
"It's much more realistic to call for that approach," he added.
Supervised consumption pilot sites face their own legal obstacles. Although the sites are being considered in more than a dozen U.S. cities, including San Francisco, New York and Philadelphia, a federal law known as the "crack house statute" makes it illegal to use or distribute a controlled substance, and the Justice Department has threatened to crack down on any site that does open.
"I think people are going to have to be willing to stick their necks out like they were with needle exchanges in the 1980s."
Many jurisdictions seem skittish about the potential pilots. In October, California Gov. Jerry Brown vetoed legislation that would have authorized the nation's first pilot program in San Francisco, although it remains to be seen what will happen when Democratic Gov.-elect Gavin Newsom is sworn in next year.
"I think people are going to have to be willing to stick their necks out like they were with needle exchanges in the 1980s, and take some risks," said Robert Heimer, a professor of epidemiology at the Yale School of Public Health, who was not involved in the new report.
"These are as much practical implementations as they are scientific. Sometimes waiting for the science to provide conclusive evidence of anything really means missed opportunities," he said.
"If there's no compelling evidence against, and there's logical reasons why these things might be expected to work, then just go with it," Heimer added.
But prescription heroin and supervised consumption sites were never intended to work in isolation. Instead, they are potential pieces of a much larger, multipronged approach to addressing the crisis.
While a handful of big cities eye supervised consumption sites as an additional tool in their opioid crisis toolbox, much of the country lacks more basic harm reduction services. There are still few needle exchange programs in the U.S., particularly in rural areas of the country, and large gaps in access to addiction treatment.
As it stands, only 12 percent of people with substance use disorder received speciality treatment, according to a 2016 surgeon general report, despite decades of evidence showing that treatments like methadone and buprenorphine are effective. And even less controversial harm reduction strategies, like needle exchanges and the opioid overdose antidote naloxone, still aren't as widely available as they should be.
"Rural counties are at high risk for problems," but they need more fundamental harm reduction strategies in place before trying to create supervised consumption sites, Heimer said. "Let's start with the cities that are more practical first."
"Increasing access to methadone and buprenorphine must remain a top priority," Kilmer said. "If you are talking about places that don't have methadone or don't have syringe exchange programs, I don't think it would make much sense to argue for these other types of interventions, which could be even more controversial."
"But in some places," he said, "I think it will be useful to start thinking: What are the other options that are available?"
Popular in the Community