Why did the Skirball Cultural Center decide to organize the exhibition "Bill Graham and the Rock & Roll Revolution," opening at the museum on May 7?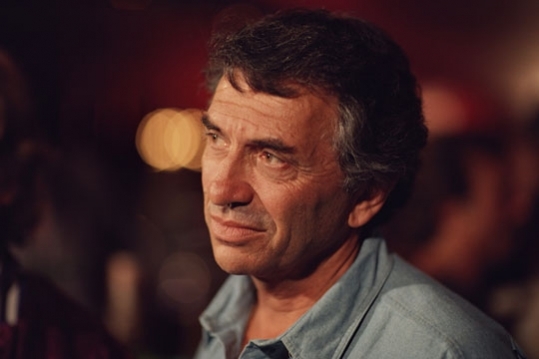 Photo courtesy of Ken Friedman
The legendary rock impresario Bill Graham was not a particularly observant Jew. There is nothing specifically Jewish about the bands he worked with, such as the Grateful Dead or the Rolling Stones, or the venues in which he produced concerts, such as at the Fillmore (East and West) and Winterland arenas. There is nothing Jewish about the concert posters for which the Fillmore was famous, and which are included in the exhibition, or the artist's memorabilia, such as Jerry Garcia's "Wolf" guitar, or Janis Joplin's tambourine, Duane Allman's Les Paul guitar, Keith Richards' leather boots or a shard of a Jimi Hendrix guitar. So, what's Skirball got to do with Graham?
Turns out there is a story behind this show worth telling:
Graham was killed in a helicopter crash on Oct. 25, 1991, along with his girlfriend, Melissa Gold, and the pilot, Steve Kahn. Graham was 60.
His death was reported immediately on radio and TV. Robert Kirschner, then the rabbi at San Francisco's Temple Emanu-El, one of the oldest congregations in California, recalls hearing the news on the radio and that, a few minutes later, his phone rang. It was novelist Herbert Gold, Melissa's ex-husband, asking whether Kirschner would preside over the funerals of Gold, Graham and Kahn, which he did over three successive days.
Kirschner did not know Graham personally, he said in a recent interview, but one couldn't live in San Francisco and not know of Graham, whose career stretched back to the late 1960s, to his benefit concerts for the San Francisco Mime Troupe, known as Acid Tests, to the early performances of Jefferson Airplane and the Grateful Dead, through the shows at the original Fillmore and its successors, Fillmore West and Fillmore East, to concert tours for Bob Dylan and The Band and the Stones.
In short order and in accordance with Jewish custom, a funeral for Graham was hastily arranged at Temple Emanu-El. Kirschner was amazed by the turnout. An estimated 2,000 mourners filled every seat, while more stood at the door. Among the attendees were many of the musicians Graham had worked with (and on occasion fought with). Paul Kantner of Jefferson Airplane and Mickey Hart of the Grateful Dead spoke. Carlos Santana played an instrumental version of "I Love You Much Too Much," a Yiddish song Graham had taught him.
In preparing for the funeral, Kirschner got a glimpse into Graham's life that was not always on display -- its essential Jewish elements, such as Graham's childhood escape from Nazi Germany and Nazi-occupied France, his Bronx upbringing, his work in the Catskills, his identification with the social idealism of the 1960s in general, but more specifically, with bands such as the Grateful Dead. Kirschner was aware that Graham underwrote the annual two-story menorah in San Francisco's Union Square, and he knew about Graham's very public protest against President Ronald Reagan's trip to the cemetery in Bitburg, Germany, where members of the Nazi SS were buried, followed by the firebombing of Graham's office by neo-Nazis several days later.
A few days after the funeral, on Nov. 3, 1991, a concert in Graham's memory called "Laughter, Love and Music" took place on the Polo Fields of Golden Gate Park, where an audience of more than 300,000 listened to stand-up comedy by Robin Williams and performances by Aaron Neville, Carlos Santana, the Grateful Dead, Jackson Browne and Crosby, Stills, Nash & Young.
Kirschner was struck by how many lives Graham -- who played no instruments, wrote no songs and gave no performances himself -- had touched. So now, Kirschner, in his current position as Skirball's museum director, is fulfilling his long-held intention to tell Graham's full story. About three years ago, Kirschner reached out to Graham's biographer, Bob Greenfield, who put him in touch with the Bill Graham Memorial Foundation and with Graham's two sons, David Graham and Alex Graham-Sult. Turns out they, too, were interested in showcasing, as Kirschner put it, "the Jewish dimension of Bill's identity formation and his values." The Graham sons' vast collection of memorabilia and ephemera forms the substance of the exhibition, which toggles between Graham's own life and the concerts he produced.
The exhibition opens with keepsakes from Graham's Dickensian childhood; he was born Wolfgang Grajonca in Berlin in 1931, his father died right after he was born, and when his mother could not support him and his five sisters, she put him in an orphanage, which sent him on a kindertransport to France when the Nazis came to power. He eventually arrived in New York at age 11, then had to wait to be chosen by a Jewish foster family in the Bronx. He attended DeWitt Clinton High School and Anglicized his own name (there is a yearbook with a photo of "William Graham"); he would later serve in the Korean War and work in the Catskills. In the meantime, Graham helped two of his five sisters, Rita and Ester Grajonca, immigrate to the United States and settle in San Francisco (his mother and his youngest sister, Tolla, died at Auschwitz; Ester also was sent to Auschwitz but survived; Evelyn and Sonia survived via Shanghai and remained in Europe). He traveled to San Francisco to see his sisters and to try his hand at acting. However, when a performance of the San Francisco Mime Troupe in Lafayette Park was busted for being "obscene," Graham discovered his calling: concert promoter.
After the initial biographical component, the exhibition shifts to an impressive and detailed display of more than 400 artifacts from all over the country that illustrate Graham's professional career. As organized by Skirball curator Erin Clancey, the show includes concert posters, a re-creation of the famous Joshua White Light Show, which turned concerts at the Fillmore into multimedia experiences; there also are concert photos and rock portraits by Baron Wolman, Ken Regan and Jim Marshall, as well as Graham's personal scrapbooks from the American portion of the Live Aid concert, costumes from the Grateful Dead New Year's Eve shows, and some charred remains from Graham's firebombed office. There also are archival concert footage and audio interviews from Jerry Garcia, Wavy Gravy and Carlos Santana. Even better, the show's audio tour features a reincarnation of Graham himself, an effect created by stitching together his archived interviews.
Threading throughout the exhibit is a leitmotif of how Graham's own experience informed his vision for popular culture. The way Graham protected his childhood friend Ralph Moratz in the orphanage is reflected in his fiercely protective stance toward his performers and the high standards he had for the concerts he produced, both for the artists' sake and the audience's experience. That the apple barrel that greeted you at the entrance to the Fillmore (and which also greets visitors to the exhibition) was inspired by the apples he ate to survive when he and Ralph were in France; that the artists who meant the most to Graham, including the Grateful Dead and Bob Dylan, were anti-establishment in ways that created community; that Graham's social activism was instrumental in the many benefit concerts he organized and produced, such as SF SNACK, to supplement arts education and athletics in public schools; Live Aid -- to provide relief from the Ethiopian famine; the peace concert in Moscow; Human Rights Now!; and the benefits he staged for Amnesty International. That is why "Bill Graham and the Rock & Roll Revolution" was organized by, and exhibited at, the Skirball.
"We're always looking at the multiplicity of the Jewish experience, the complexity, the nuance," Kirschner said. "The Skirball seeks to understand Judaism as a cultural as well as a religious phenomenon. It has singular ancestry, but it's plural in expression. When I look at people like Bill Graham, or others who are not religiously observant, their Jewish identity is still formative for them ... [and] relevant to what he accomplished and the impact that he had."
"Bill Graham and the Rock & Roll Revolution" is on view at the Skirball Cultural Center May 7-Oct. 11.
This article appeared orignially in print in The Jewish Journal of Los Angeles
Calling all HuffPost superfans!
Sign up for membership to become a founding member and help shape HuffPost's next chapter