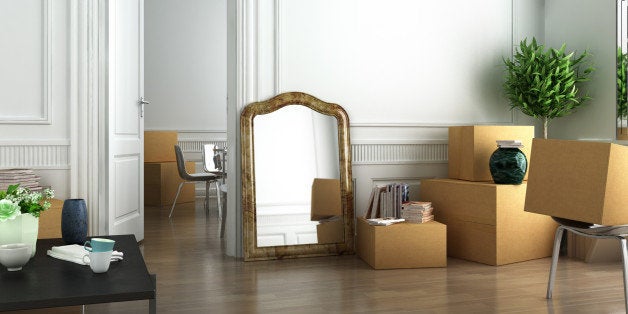 Moving is exhausting - it sucks your time, energy and money. In the words of former real estate broker Tara-Nicholle Nelson in Business Insider, "Moving is a universal experience. It is also universally ranked as one of the most stressful experiences we humans...put ourselves through...only the death of a family member, divorce, job loss and buying a home rank higher on the list of modern human stressors."
Consider a moving concierge. It's 2015. Things like free online moving concierges actually exist! You compare and contrast flight prices for your vacation on big sites like Travelocity, Expedia and Kayak -- why not do the same when you move? A personal moving concierge takes hours off of your homework load. No more calling up moving companies for rental quotes, chasing them down when they don't send them to you or calling them back for follow-up questions. You simply enter your information online, wherever you're moving to, and they do the work for you, including helping you set up your utilities, finding a handyman and more.
Shop ahead of time. Laundry detergent, sponges, and shower curtains, oh my! Cleaning supplies, sheets, towels, kitchen and bathroom items are just some example of things you can shop for online at major retailers like Bed Bath & Beyond, Target and The Container Store, and arrange to do an in-store pickup at a location near you. This will save you precious time and energy browsing the aisles. Even if you have to add a few items, it's far easier than starting from scratch (and will likely save your tired back, feet and possibly your relationship with your spouse/child/significant other/self).
Label, label, label. Whether you packed yourself up or you're getting the white glove treatment, nothing's sadder in a move than an unlabeled box. Label the box you pack with the name of the room in the new place you've slated the items to go into (and then in smaller letters, feel free to do a short list of specifics). This also helps your movers, be they friends or strangers, not to have to stop and ask you, "Which room?" every time they carry in a load. It also saves you a lot of confusion when unpacking. One extra tip: bubble wrap is expensive. You can save money on bubble wrap by using clothing to wrap fragile items.
Purge in advance. If you can get rid of the stuff you no longer want ahead of time before the move, it will save you time, energy and money later. Keep only the items you use. If you haven't looked at it in five years, why would you need it all of a sudden?
Grocery delivery. If you live in an environment that offers grocery delivery, such as Fresh Direct or another major grocery store, arrange for a food delivery of at least those few items you'll need to get started -- such as snacks while you're unpacking and breakfast the morning after you collapse in your bed, exhausted.
Get that renter's insurance. If you haven't purchased a home, where you'll be required to arrange for your homeowner's insurance in advance, get renter's insurance. You can compare and contrast various quotes to see what will best meet your needs. And if you have any fine jewelry, read the fine print - it's not always covered in renter's insurance.
Unpack kid bedrooms, your bedroom and the kitchen first. All of the other rooms can wait, but your children, your stomach and your weary body can't. Focus on getting the kid bedroom(s) 100% completed -- it will make their transition easier as they will immediately have a safe and familiar environment, and if their lives are easier, your life is automatically easier. (They will have somewhere to play while you frolic in the middle of your self-created island of bubble wrap, newspaper and cardboard.) Then set up your bed in the bedroom and start on the kitchen. Don't worry about closets, clothes and dressers when it comes to your bedroom, but get that bed in order!
Set up Internet, phone and cable installation. Arrange for your technology needs ahead of time, ideally no less than two weeks in advance. Sometimes they take time to schedule and the service companies can't do an installation at the last minute. Use a moving concierge or research the providers in your area and have them come the day you are moving in. It's a fast-paced world -- no one likes to wait for email or TV!

Take care of all those wires and electronics. If you're able to move precious electronics such as computers, expensive stereos and speakers, iPads and cameras yourself, do it. Be sure to put relevant wires into Ziploc bags or plastic containers and label things so you know what goes with what and you're not desperately searching for a wire later. Investing time in planning out this aspect of your move will save you time and frustration on the other end.

Use that cell phone camera. If you are moving into an apartment, take detailed photos before you move in so you have photographic evidence of the state of the apartment before you take it over. If an item breaks in your move, be sure to photograph it in good light immediately upon discovery (shine a flashlight if you have to) and from multiple angles in order to increase the odds the moving company will pay for the damage inflicted.