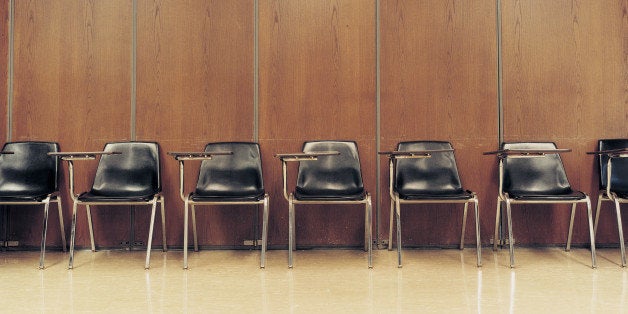 Ever since Townsend Harris established The Free Academy, the precursor to The City College of New York, in 1847, access to affordable public higher education has been a pathway to upward mobility for millions of Americans. I happen to be one of them.
My grandparents came to the United States from Italy. One of my grandmothers signed her name with an "x." It wasn't until years later that I realized she was functionally illiterate. My other grandmother was sent to work in a factory at seven. Their lack of education left them vulnerable to the same issues that affect some of our immigrants who today live at the margins of poverty.
But Brooklyn College, which was still free when I attended, provided me access to an excellent education. There, I discovered my passion for biology and research. After earning a PhD from Cornell, I embarked upon a career as a teacher, scientist and college administrator, ultimately becoming City College's 12th president in 2010. Who could have imagined that my grandmother signed her name with an "x," and I sign my name Lisa S. Coico, President, The City College of New York?
Access to affordable higher education has enabled people like me to take their lives on a different trajectory than would have otherwise been possible. Many have attained higher living standards; a few changed the world through their contributions. At City College, we claim such illustrious alumni as Gen. Colin L. Powell, Andrew Grove, Jonas Salk and nine Nobel laureates.
Clearly, public colleges and universities have been a win-win for both the students who attend them and the states and cities that support them. The higher tax revenues resulting from increased lifetime earnings and the economic development supported by entrepreneurship and university-based research offer one of the highest returns to be found on public investment.
Today, however, the pathway faces challenges at both the point that students enter college and after they graduate. States have slashed support for their colleges and universities, forcing them to raise tuition to unaffordable levels. New graduates often have to take unpaid internships to gain entry to their chosen fields. That's a huge barrier for those who need to work to support themselves and pay off student loans.
At a time when, according to the Organization for Economic Co-operation and Development, the United States has the worst income inequality in the developed world, these challenges cannot and must not go ignored. Otherwise, our society risks creating an expanding permanent underclass. Such a situation would weaken our competitiveness, retard our growth, threaten democracy and reduce the number of people with the skills needed to confront societal challenges.
All of us, including government, academic institutions and employers, have a proactive role to play in preserving and strengthening the pathway to upward mobility that access to affordable, quality higher education offers. At City College, several initiatives are underway to achieve that objective.
Shortly after I arrived in 2010, City College established the President's Community Scholars Program to recruit high-achieving students of limited means from Harlem and other communities in Upper Manhattan and the Bronx. One of the program's goals is to strengthen ties between City College and these communities by requiring scholars to engage in community service projects as a condition for renewal.
To date, we have awarded 35 full scholarships through this program. Many of the recipients come from immigrant households. Many are the first in their families to attend college. Overwhelmingly, they say they would not have been able to come to City College without the scholarships.
City College undergraduates received more than $7 million in scholarships for 2012-2013, and 76 percent of those who applied for need-based aid last year were able to have their needs met without borrowing. Across the City University of New York system, of which City College is a part, only 15 percent of undergraduates attending four-year colleges have federal education loans, one of the lowest rates among public university systems.
Employers need to lean in, too, to help students cross over from the classroom to the business world. In the advertising and communications world, Young & Rubicam has demonstrated an unmatched commitment to do just that by immersing our students in the culture of the agency.
Through a relationship with City College's advertising and public relations program that dates to 2005, Y&R has provided our students with mentoring, professional and portfolio development and internships. More than 200 City College students have interned there and approximately three dozen have been hired.
This is not altruism on Y&R's part. It is smart business, because having access to diverse perspectives helps companies compete in a marketplace that is increasingly global and multicultural.
Access enables people from all backgrounds to find their passion and reach for their potential. We need to do more than pay it lip service. An entire generation is depending on us to preserve and strengthen access, so they will be prepared to confront the challenges that await them. And, if we get it right, we will produce a lot more successful graduates and a lot more proud grandmothers.
Calling all HuffPost superfans!
Sign up for membership to become a founding member and help shape HuffPost's next chapter