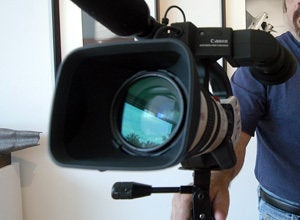 Cass Warner Sperling is the granddaughter of Harry Warner, one of the four founding brothers of the Warner Brothers movie studio.
Harry Warner and his brothers, Albert, Sam and Jack, strove to make films of social conscience and relevance. "The brother's credo upon founding the studio was 'to educate, to entertain and enlighten," Cass says.
Through many mergers and corporate takeovers, Warner Brothers has morphed into part of the largest existing entertainment conglomerate. It is rare to find anyone who remembers the origins of Warner Brothers as a family business. Additionally, a large part of the Warner family story had been lost due to a painful family rift.
Nearly three decades ago, Cass set out to learn more about Harry Warner and his brothers. She calls herself "the Warner family private investigator."
Her investigation has culminated in part with a fascinating documentary, The Brothers Warner. The film is as much a compelling family saga as it is a must see for anyone interested in Hollywood history.
Although Cass did not begin exploring her family's past until her early twenties, her inspiration stemmed from a memory of the last time she saw her grandfather.
As Harry Warner lay dying and unable to speak after repercussions of a debilitating stroke, ten-year-old Cass was brought to see him. Harry took Cass's hand and held it tight. A powerful and silent exchange took place between the two, but Cass did not fully understand or grasp its significance at the time.
Years later, Cass sensed that her Grandpa Harry passed something on to her in their last moments together. As an adult, she came to view the interaction as Harry's way of asking her to keep a promise, much like one she learned he'd made to his own father.
In the early 1900s, Harry and his brothers swore an oath to their father Benjamin. The promise was that nothing would ever break the bonds of their family.
Benjamin particularly held Harry accountable for the family mandate. "Harry," Benjamin would say, "you are the oldest of my sons and it is your responsibility to keep your brothers together. As long as you stand together, you will be strong."
Sadly, the brothers' promise to their father was broken when an unfathomable betrayal fractured the Warner family for decades. The family rift and the reasons for it were rarely discussed. If the situation was talked about, it was only in hushed tones.
In fact, in the mid-1970s, Cass's cousin, Jack Warner, Jr., was thwarted by his own father when he attempted to publish a fictionalized account of the family events. Cass says, "Jack Warner, Sr. was so powerful that there was no way Jack Jr. could publish the story using real names. He had to fictionalize." The book was called Bijou Dream, and names were changed to protect the innocent (or the guilty).
"Regardless of precautions Jack Jr. took," Cass continues, "Jack Sr. soon realized that Bijou Dream was a veiled attempt to expose the family secrets. Jack, Sr. issued an edict and the book was yanked from shelves."
The family history, even euphemistically told, was once again buried.
Cass viewed her promise to her grandfather as a responsibility to tell the truth of the Warner family, especially Harry's story. "The purpose was to correct history, honor my grandfather and all of his brothers and carry forward a legacy I am very proud of," she says.
As years went by and many of the "original players" were dying off, Cass was free to investigate without any roadblocks. After 11 years of research, her book Hollywood, Be Thy Name: The Warner Brothers Story was published in 1993. It is now in its eighth printing and has been re-titled the same as The Brothers Warner documentary.
Following the book's publication, it was planned that the Warner family story would be turned into a television mini-series. Cass found that the scripts were "too focused on the dirt and the scandals. They were tawdry. That was not the story I wanted to tell. I realized my family's story would be better served if I did this as a documentary before any fictionalized accounts were put together."
Cass was very inspired by a young filmmaker at a seminar who had purchased a reasonably priced camera and shot his own film. Quoting a Yiddish anecdote Norman Lear mentions during her documentary, she says, "I decided to put my tuchas (ass) on the table and do the film myself."
Determined to tell the family story as she envisioned, she mortgaged her home and started actively fundraising, which raised a few eyebrows. "People couldn't imagine why I would need to raise money to do this, being a Warner and all," Cass says.
Once she decided to make the film, the challenge was how to streamline key elements of the family tale into a 90-minute documentary.
In that respect, Cass gives a great deal of credit to her editor, Kate Amend, who edited both the Academy Award winning The Long Way Home and Into the Arms of Strangers: Stories of the Kindertransport. "Kate was invaluable to me, particularly in terms of zeroing in on the brothers' social conscience during the '30s and '40s."
Indeed, one of the strongest and most interesting segments of The Brothers Warner deals with Harry Warner's foresight in predicting the horror of Adolf Hitler.
In 1934, Harry chose to stop doing business with Germany after Hitler was named Chancellor and his first act was to order a boycott of all Jewish owned business. Warner Bros. was the first studio to stop doing business with Nazi Germany, years before any other Hollywood studio followed suit. At the time, Germany was quite a lucrative market and the majority of people thought the Warners were crazy to cut off a major source of revenue.
The Warner brothers also tried to make a film called Concentration Camp that same year. It was prevented from being made due to the Hollywood Production Code and fear that the studio would offend foreign governments or interest groups.
Had they been able to release the film they wanted in 1934, it is reasonable to conclude that the history of the ensuing ten years may have been altered. After all, just a few short years earlier, the brothers produced a film called I'm a Fugitive from a Chain Gang. The film caused such outcry from the American public that prison reforms were put into place.
The Brothers Warner also features insightful commentary from film experts, history professors, and Warner family members, in addition to Hollywood figures like Samuel Goldwyn, Jr., Debbie Reynolds and Dennis Hopper, to name a few. Hopper, in particular, contributes an anecdote involving Jack Warner and James Dean that adds to the reason why Dean is one of the quintessential American icons.
Fifteen years after the initial idea for a dramatized version of the family tale, Cass' book has been optioned and will be made into a big budget feature film. She will co-produce with Oscar-winning producer, Alain Goldman (La Vie en Rose). She adds, "I'm honored to have a very talented writer, Nick Pileggi (Casino and Goodfellas) writing the script. We expect to see the first draft of a script in a few months. It is my dream come true!"
Speaking of dreams coming true, despite all of Cass's research, there was one important element of the Warner family history that had remained elusive.
A serendipitous event is seen towards the end of the documentary. Cass was lucky to capture it on film as she happened to have a camera crew in her office the day it occurred.
"Out of the blue, I got an email from a second or third cousin who had plugged Warner Bros. into the Google search engine and noticed information on my company, Warner Sisters. On a mere hunch, she wondered if I might like to know an important piece of information. It was a mystery I had been trying to solve for over thirty years, so for this to happen was beyond thrilling!"
The information received seems a fitting reward for Cass Warner Sperling and the promise she kept to her grandfather.
For more information on The Brothers Warner documentary and book please click this link.
Popular in the Community