Partnering with a data-driven dairy helps one family farm thrive
written by Alison Bolen, SAS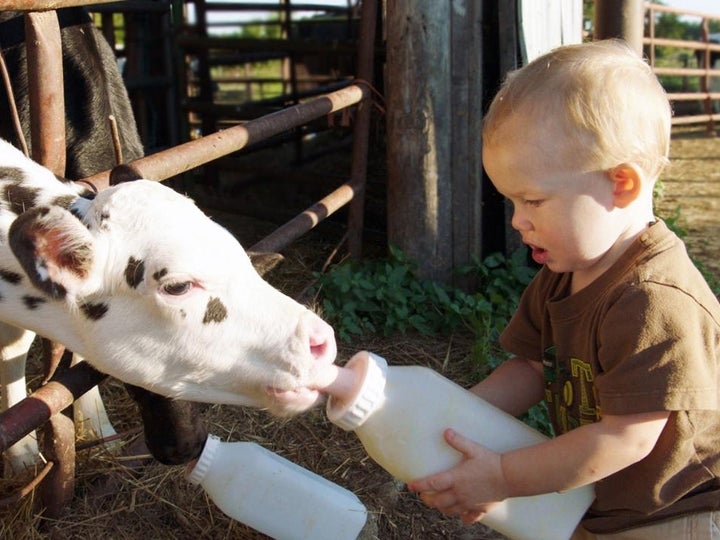 Dan Lauderdale, a fourth-generation dairy farmer from Elkhorn, WI, wakes before sunrise, puts on rubber boots and a baseball hat, and heads out to the milking parlor, where his father Gene is already setting up to milk the cows.
"I get a couple of cups of coffee, and then I go out and scrape the barn," Dan says about a typical morning on the farm. "It's my time just to think about what's going to happen today or what happened yesterday. I get in the skid loader and listen to some music and do my chores. I'm at peace most mornings when I wake up. So I'm happy with that."
There was a time when Dan thought he might be an elementary school teacher. But he switched his major to agriculture his sophomore year, told his dad he wanted to carry on the family farm, and never looked back.
Today, Dan is co-owner of Lauderdale Farms along with his father Gene, his uncle Ken and his grandfather George. "Everybody that grew up on a farm lives to see the farm go on," says George. "I was so happy that our two sons came home to farm, took it over and now my grandson Dan is here, and he's taken it over. It's just wonderful. You really, really can't express how happy I feel about this."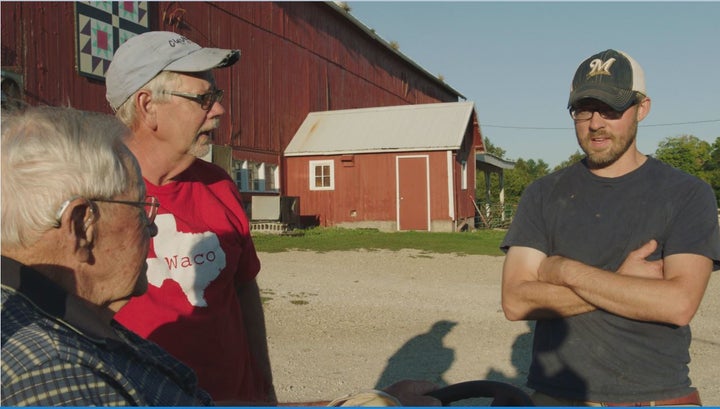 Dan, his father and his grandfather all tell stories about growing up on the family farm, running around the fields with cousins and playing ball in the barn. Living here now as an adult with his own four sons makes Dan see his childhood with fresh eyes.
"We get 40 tons of sand delivered every week, so they like to go play in the sand pile or go in the milking parlor. They want to ride in the skid loader with me. It makes you just appreciate the way we grew up, and I realize that not many people had that opportunity. Even less have that now, seeing as we have less and less farms overall."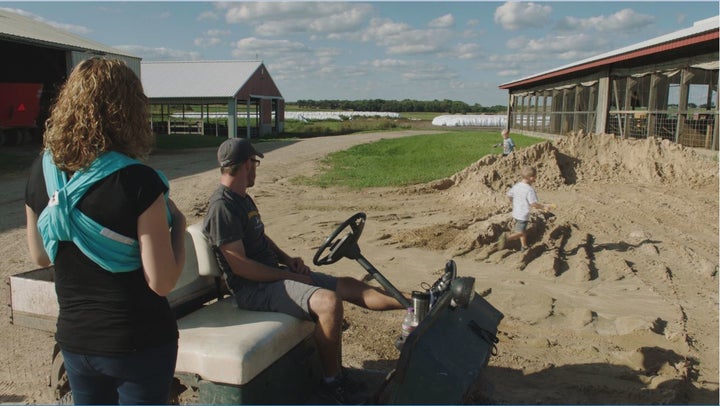 The challenges of running a family farm
For the past two decades, most agricultural sectors have seen a shift away from family farming to larger corporate farms, and the dairy industry is no exception. Even as total milk production increases in Wisconsin, there are fewer farms overall.
"Nationwide and especially here in Wisconsin, there's just less farms than there were," explains Dan. "You know, in all likelihood, once a family farm is gone, it's not going to start back up again."
In the dairy business, the market price for fresh cow's milk is an important factor in a farm's success. "If there's a lot of milk on the market, it can drive the price of milk down, and it makes it really tough for us," says Dan. "When it's bad, it forces people out of the industry."
Like any small business, the Lauderdales balance their income with their expenses, and save money during the good times to prepare for the bad. "The challenges of running a family farm are like a lot of businesses," explains Dan. "We need to find a way to be profitable. We have our bills to pay and our loans to cover, and you have employees that you have to take care of. You have to provide for your family. On top of that, you're trying to raise the healthiest cows you can that can produce the most milk possible."
The Lauderdale farm sits on almost 300 acres, with the two-story farmhouse right off the road and a bright-red milking barn behind it down a short drive. Visitors driving past the farm or pulling into the stone driveway are welcomed by two large yard signs:
1. "Lauderdale Farms, Sylvandale 1908."
2. "We proudly provide milk for Oberweis Dairy."
Oberweis is a family-run dairy based in Aurora, IL, that operates ice-cream shops and wholesale grocery stores, and delivers milk in glass bottles to homes across the Midwest.
In partnering with Oberweis, the Lauderdales are committed to treating their cows humanely, never using artificial growth hormones and providing milk that is antibiotic-free. As a result, Oberweis pays a premium for the milk, and Oberweis farmers have a consistent source of income.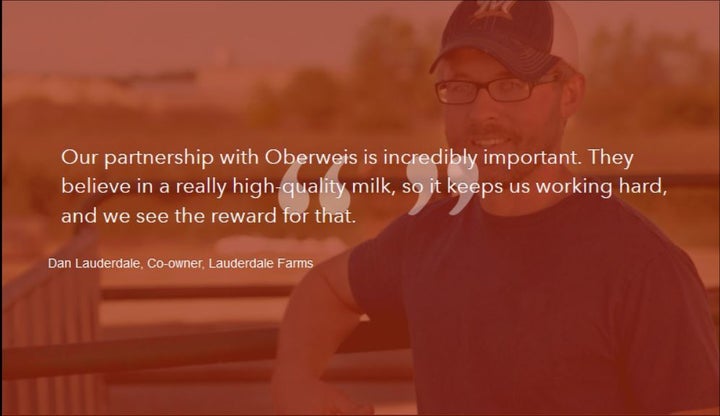 Like Dan, CEO Joe Oberweis is the fourth generation to work for his family business. "My great-grandfather Peter was a dairy farmer," he says. "For a long time he delivered milk to his neighbors. He ladled it out of a can into whatever jar they brought out. In the 1920s, he started to make a business of it. Today, all of our milk still comes from family-owned farms that are much smaller than large commercial operations."
Every day, Oberweis trucks pick up milk from family farms in the middle of the night and take it to the bottling plant in Aurora. There, the milk is tested and gently handled using a slow pasteurization process that makes it safe to drink while retaining its flavor and nutrients. It is bottled immediately and put on trucks for home delivery, so families often receive their milk 24-36 hours after it comes from the cow.
"Our partnership with Oberweis is incredibly important," says Dan. "They believe in a really high-quality milk. If we can meet their standards, they do pay us more for the milk we produce. Every penny helps in our industry."
Why Oberweis needs analytics
At the turn of the century, receiving milk on your doorstep was often the only way to get milk at home. Then, as grocery stores and modern appliances became the norm, home milk delivery became more of a novelty or a niche business model. Today, as more businesses deliver products directly to our homes for convenience, the home delivery market is becoming competitive again.
"We've always been committed to building and growing our home delivery business," says Joe Oberweis. "At different times, that goal has been really difficult. The skills and strategies needed to build and grow this traditional business now require modern tools like analytics."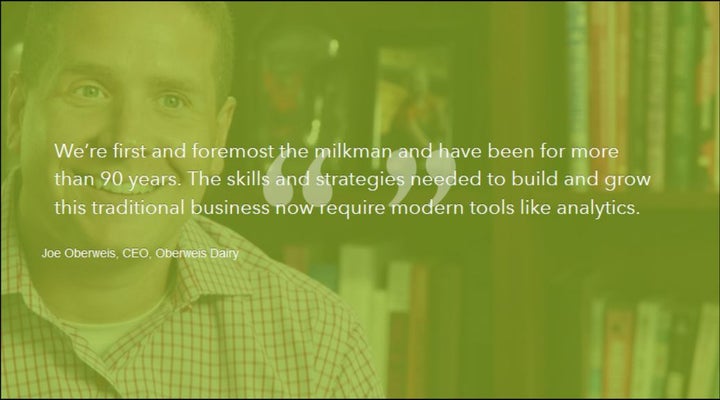 Not that long ago, when the company was experiencing a retention problem with home milk delivery customers, Oberweis turned to Bruce Bedford, Vice President of Marketing Analytics, to help tackle the problem.
"When looking at the wide range of variables that impact our home delivery business, we discovered that the way we positioned the service right up front with the customer through our promotional activities has a really strong impact on the retention that we observed."
After testing and analyzing a number of promotional offers, Bedford and his team discovered that customers who receive free delivery service upfront are less likely to continue with the service after they start getting charged for delivery. Comparatively, customers who receive a discounted delivery rate for a short period of time are more likely to continue as long-term customers. As a result, Oberweis changed its promotional offers and retained more customers. Then, to take the analysis a step further, the company began targeting new customers based on loyalty and retention.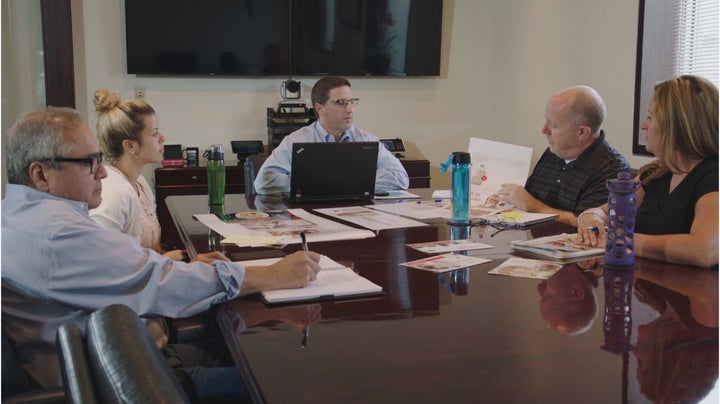 "We do this a little bit differently than most people," explains Bedford. "We don't target on response rate. We target on retention rate. So we build models that give us an indication as to whether this group in six months or a year from now is still going to be with the service. In that way, we're able to get not just into the hands of responders, but into the hands of responders for whom the service naturally fits their lifestyle."
CEO Joe Oberweis echoes Bedford on the importance of analytics: "SAS has been absolutely integral to us understanding the right types of customers to target, how to find them and then to study buying habits of our best customers so that we can go try and find more just like them."
But Oberweis doesn't just use analytics for retention. It also uses analytics in almost every aspect of the business, from optimizing ice-cream shop menus to identifying new markets for Oberweis – and discovering completely unpredictable insights.
"You would think that the customers who buy the most are going to be your best customers," says Oberweis. "Well, that's not quite true. What we see in the data is that our best customers actually start buying from us in smaller amounts and then they slowly increase over time. The customers that buy a lot from the beginning don't necessarily turn out to be our best customers. That's certainly counterintuitive, but something we discovered with analytics."
Plus, analytics is helping the company continue to grow. "SAS is allowing us to be a lot more strategic in the way that we enter new markets," says Bedford. "We can take the same machine learning approach that we've been using for targeting customers and apply it to targeting geographies."
A partnership based on similar values
The Oberweis partnership helps give the Lauderdales confidence that their farm can continue on for generations to come. "If we didn't have our partnership with Oberweis, it would definitely be more difficult to continue on the way we are," says Dan.
Dan's father Gene agrees. "Because we get a premium for our milk, it helps us quite a bit. Over the long haul, some years that's the difference in breaking even or making a profit. That alone might be all the difference there is."
And Oberweis is equally committed to the farmers. "From farm to table, we are 100 percent a family-centric brand," says Joe. "Family farms tend to produce the best milk, and we focus on high-quality raw ingredients starting with raw milk."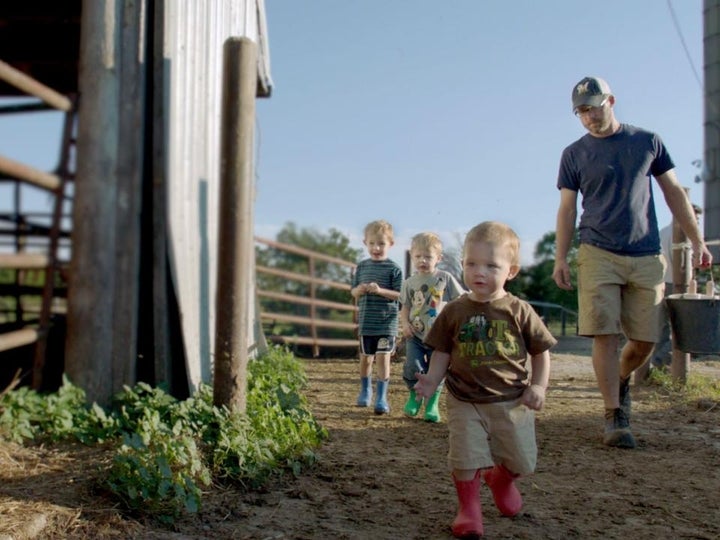 "Our farmers are great people, and we think about that as we market for customers, realizing that our success means their success," explains Bedford. "We want them to continue to live the lifestyle and continue to produce a great milk. It's the fabric of America, really, if you think about it, and we need that small family farm to help us deliver the highest quality milk that can possibly be delivered in the marketplace that we serve."
Back at the Lauderdale farm, Dan agrees. "It's neat to carry on that tradition and carry on a legacy," he says. "This place is bigger than who you are as an individual. I mean, that's what dairy farming is. It's not just a job, it's not just where you live. It's a way of life."
Watch a video of the Lauderdale farm and the Oberweis bottling plant.
Popular in the Community