The Privilege of a Lifetime!
Last night, as many did, I was glued to the set, to see and hear President Barack Obama, for his final speech. "My Fellow Americans", he would say, thank you.
And Mr. President, let me thank YOU -- for your leadership, your love, your legacy.
Thank you for giving me the outstanding privilege of being in your Administration, serving you and the American people, as a USS Ambassador, a Diplomat, I'm Dorothy's Daughter, from a small town outside of Charlotte, North Carolina, and you blessed me with an amazing opportunity and gift, to be the US Ambassador at Large for International Religious Freedom. Here are some reflections of that marvelous, life-changing journey, (some excerpts will also be in a book, Mr. President, to be released tomorrow at the National Press Club in Washington DC).
President Barack Obama: The Privilege of a Lifetime!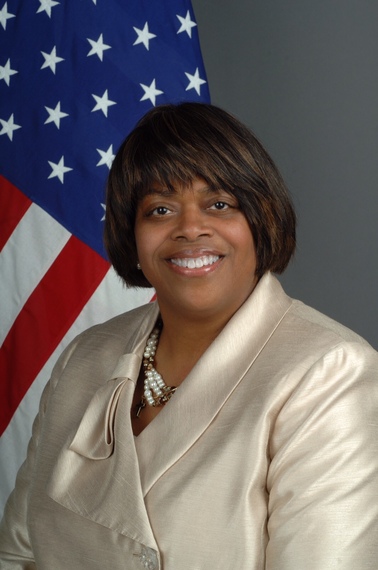 THE CONVENTION:
I was there, for that moment in history. I remember, so well, the excitement in Denver, at the 2008 Democratic Convention when the first African American accepted the Democratic nomination for the Presidency of the United States. The Black clergy had met a few days earlier, and those who had been with Hillary, sat with the faith advisors for Barack, and we became ONE in the SPIRIT. This was a moment in time, an Ecclesiastical Kairos moment, that demanded that we would Walk together, Talk together, Pray together, and Stay as ONE!
ELECTION DAY:
Then that November, Election Day, I was back home in Harlem, when the roar erupted and folks were dancing in the streets. From the Apollo Theater, to as far as the eye could see and ear could hear, as Barack Obama would be the President of the United States of America.
OMG! This was what and who we had been waiting for: Strong, Black, Family intact, Brilliant, Resilient, Formidable and Filled with Faith.
THE PHONE CALLS:
Then, when I was asked, on a phone call of the National African American clergy advisory team, to deliver one of the readings/prayers for the President on his first day in office, I leaped with joy, actually cried like a baby is more accurately descriptive.
INAUGURATION DAY:
With the coveted purple, gold and orange passes, we rushed, trying to be as orderly as possible, but knowing that unless we moved strategically and quickly, we would miss the moment. We were held back for a few minutes, just as we were about to enter the area for our purple ticket pass holders, and his motorcade went by. We caught a glimpse of OUR President. Cheering, tearing, we were standing out in the cold, with pleasure, and baited breath, for hours. As Barack took the oath of office on the steps that had been built with the hands of our slave ancestors. Every Moment was a "WOW ", "Thank you Jesus," "Praise God from whom all blessings flow,", We've come this far by faith, moment. Anyone we were near, hugged us, and we hugged them. I was so glad to be sharing the moment with the three men in my life, my family: two African American young men, and one African American dad, witnessing an African American family getting ready to occupy the White House. Our ancestors, who could not see or imagine this day, were there with us, in SPIRIT, as thousands upon thousands flew in by plane, rode in by train, bus, car service, or walked in through tunnels, stood out on the mall, sat near the stage, or stayed glued to the TV. No one moved. Everyone around me was crying. And then, collectively, Blacks, whites, Asians, Native Americas, Latinos, all around me, joined together and began to recite the Lord's prayer.
Heaven was on earth, and earth was touching heaven. This was a pre-ordained, predetermined, pre-anointed, divinely appointed and assigned moment in history.
GOD WAS UP TO SOMETHING:
Yes, he had run a great campaign, but there was something more happening. God was kissing us, and offering heavenly reparations, for ALL the years of racism, neglect, rapes, rudeness and insensitivity and inhumanity that we, as a people, had experienced.
THE WORSHIP SERVICE ON HIS FIRST DAY IN OFFICE:
At the CATHEDRAL, we robed and lined up, awaiting our instructions for rehearsal, when we were asked if we would mind taking a photo. We of course were thrilled to have been asked, and one by one, all the program participants, not only had the privilege of meeting and posing with President and First Lady Michelle, we were also joined by Vice President and Mrs. Biden, and then later, in the sanctuary, entered the Clintons.
The service was the highlight of my life. I knew the Clintons personally, but I made eye contact with our new First Lady as soon as she sat down. I KNEW everything was going to be alright-- that America had, at its helm, the right man, with the right woman and team for the job.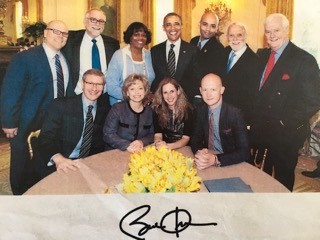 THE OTHER PHONE CALL:
There was so much going on, excitement, energy, but after an Inaugural Ball, and festivities ended, it was time to get to work. I was absolutely FLOORED to have received the phone call and nomination by Secretary of State Hillary Clinton, who invited me to join the Obama Administration. I was APPOINTED by President Barack H.
Obama, to be the first African-American and first woman to serve as the United States Ambassador at Large for International Religious Freedom, representing our President in more than 25 nations as his lead diplomat, attending and speaking at the United Nations General Assembly, as the President's Ambassador, and representing my parents: the late Wilbert T. and Dorothy C. Johnson, who started in the deep South as Sharecroppers, but who were able to escape the cruel fields, and build wealth in America. As their family business still is the longest running Black-owned business in the Bronx, New York. I, their daughter, the descendant of those who had to use an OUT HOUSE, now could walk in the front door where a Mighty Man,
President Barack Obama, lived in the WHITE HOUSE.
A PRIVILEGE:
I never forgot, each day, to thank God for my blessings. But on the days I was in the country, and not overseas on a Diplomatic mission, I walked past the White House each day, and offered a prayer for the entire Obama family, by name. I also felt like one of his "Aarons and Hurs" to do such a good job in my role, that it would hold up his arms, as he led our nation. Systemic racism is deep, and deeply entrenched in all of our institutions, even government. Moreover I heard and experienced some things as well. Specifically aimed at him, but received by whomever were his appointees. From the Senate Confirmation Hearings, all the way through my tenure, But I would not waver, nor sleep on my assignment. For this was OUR President. What a privilege. And tonight, just as it happened eight years ago, as President Obama spoke, for what would be his last time addressing the American people as President, tears flowed, tears of joy. And as he ran down the list of accomplishments, I realized, I had worked with two great Presidents in my lifetime: a man from HOPE, and a man who gave America HOPE.
What a Mighty God we serve. Thank you, awesome God, for the Privilege to stand with BLACK ROYALTY., and to serve our nation during his administration. And thank you, President Obama, First Lady Michelle, and family, for your service, sacrifice and soul May you be blessed, and May God Bless America!
Ambassador Suzan Johnson Cook was nominated by Secretary Clinton and appointed by President Barack Obama, as the 3rd US Ambassador at Large for International Religious Freedom. Owner of Charisma Speakers, a cross-cultural communications firm and speakers' bureau, she is a political and success strategist, a professional speaker, and an ordained Baptist minister, who the NYT described as "Billy Graham and Oprah Winfrey rolled into one". Her dynamic speakers can be found and she may be contacted at www.CharismaSpeakers.com. Author of 13 books, she is a HuffPost columnist and frequent contributor to CNN, NBC and other media. She is also the founder of the ProVoice/ProVoz Movement for women.
Calling all HuffPost superfans!
Sign up for membership to become a founding member and help shape HuffPost's next chapter