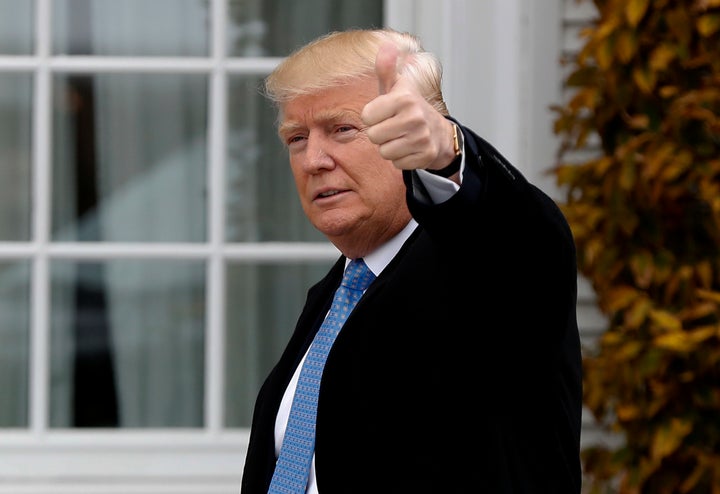 In a phone call with Argentine President Mauricio Macri, President-elect Donald Trump asked for help with permits for an office tower that bears his name, an Argentine journalist alleged Sunday. Spokespeople for Macri and Trump subsequently denied that allegation on Monday. But the episode raises further questions about how the incoming U.S. president will separate his business interests and his new political powers — if at all.
During his show "Periodismo Para Todos," journalist Jorge Lanata said Sunday that Trump raised the permit issues during a congratulatory call with Macri.
"This still hasn't emerged, but Trump asked for [Macri] to authorize a building he's constructing in Buenos Aires," Lanata said. "It wasn't just a geopolitical chat."
Jason Miller, a spokesperson for Trump, vehemently denied Lanata's report: "Not true. Argentina's president said not true also."
A spokesman for Macri did also deny the allegation.
"That issue was not part of the conversation between president Mauricio Macri and President-elect Donald Trump," Argentinian embassy spokesman Iván Pavlovsky told The Huffington Post. "The subject both leaders talked about was the institutional relationship, and they briefly mentioned the personal relationship they have had for years." (Macri's father, Franco, was a construction magnate and worked with Trump in New York in the 1980s.)
Macri, however, told Japanese newspaper Asahi Shimbun on Monday that Trump's daughter (presumably Ivanka) was also on his congratulatory call.
"I have known her since her infant days," he said.
The claim that Trump asked for help moving forward with the tower deal first arose during Lanata's opening monologue, which was peppered with one-liners, leading some to suspect that it was intended as a joke.
But Lanata based his comments on reporting by journalist Romina Manguel, who joined a roundtable discussion later on the show. Manguel also said that some members of the Buenos Aires city council are rethinking whether to renew YY Development Group's permits to build the tower due to concerns over the president-elect's stake in the deal.
"They talked about the little details of the [Buenos Aires] city council, capitalism and the tower they want to build," Manguel said on the Canal 13 program.
"It's a scandal that Trump, when Macri makes a phone call on state business, that Trump, the president-elect of the United States, asks about a private business," journalist Maxi Montenegro added, after Manguel detailed her reporting.
Trump has said that he will resolve the massive conflicts of interest created by his sprawling business organization by establishing what he describes as a blind trust run by his children. But such an arrangement fits no definition of a blind trust, which holds unknown assets and is run by neutral third-party administrators.
Further, Trump has named his children to the executive committee of his presidential transition. Trump knows his business interests well, as does anyone looking to curry favor with him ― his name, after all, is stamped on the side of his buildings ― and his children are tied to their father's success.
Indeed, there is already alarming evidence that Trump's children are too involved in his business and official presidential responsibilities to provide any meaningful separation of the family business from state duties. On Nov. 17, Trump met with Japanese Prime Minister Shinzo Abe. Ivanka Trump also attended the meeting, photos distributed by the Japanese press show. Ivanka's presence at the meeting came after Trump's transition team said she, along with her two brothers, would run the family business in a "blind trust."
Since his shock victory, Trump also met with Indian real estate developers who are licensing his name on a number of buildings in the country. Before his win, Trump's business partner in the Philippines was named as the country's trade envoy to the United States.
Trump and his children maintained very close contact with his South American business partners during the campaign. Both Felipe Yaryura and Moses Yellati of the YY Development Group attended Trump's election night victory party at the Hilton in midtown Manhattan at the invitation of Trump's children. Yaryura told La Nación that he was able to congratulate Trump on his victory.
In other interviews, Yaryura and Yellati detailed other special access they were granted throughout the campaign. Both attended the debates between Trump and Democratic presidential nominee Hillary Clinton.
The YY Development Group provides the Trump Organization's main foothold into South America. The company licenses the Trump name for projects in both Uruguay and Argentina. Trump Punta del Este is a luxury residential property featuring 129 residences on Uruguay's Atlantic coastline; it is slated to open in 2018. According to local reports, 60 percent of the Punta del Este homes are sold, mostly to Argentine businessmen, with a few going to wealthy Uruguayans and Americans. The commercial tower set for development in Buenos Aires, Argentina, is awaiting the appropriate permits from the city council. Trump's business partners are hoping to open it in 2020.
"This is a historic moment and I have faith that it's going to be spectacular for Argentina," Yaryura told La Nación. "You know when you feel like the planets are aligning?"
"If we take advantage of this, we've got very good years coming," he added. "With a lot of work, this is going to be very good."
A spokeswoman for YY did not immediately respond to a request for comment.
In April, Trump formed a new company, TC Marks Buenos Aires LLC. Among Trump's hundreds of business ventures listed in his financial disclosure to the Federal Election Commission, "marks" often refers to deals where Trump licenses his brand to a building or product without a controlling ownership stake in the building or company itself.
This article was updated with a report from Asahi Shimbun.
Popular in the Community