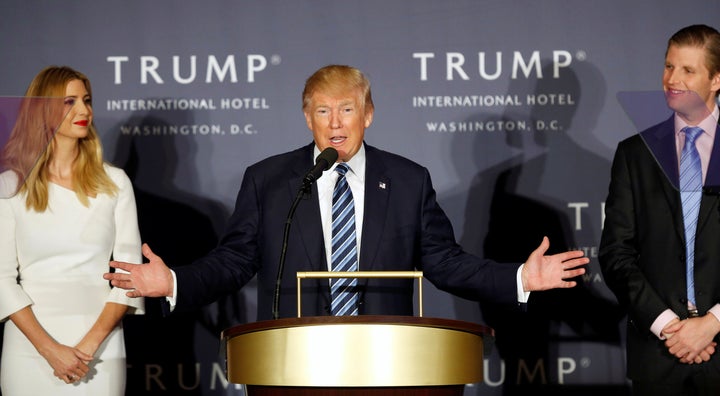 People of faith, regardless of their faith tradition, should expect the same things from our government: democratically elected representatives who are honest, have integrity, and are free of inappropriate influences that are in conflict with what's in the best interest of the public. Many of us turn to our nation's founding document, the Constitution, and some of us turn to sacred texts as guiding lights on public and private morality. Of course, in our belief in the separation of church and state, we clearly understand that no one religion can be imposed on the rest of society. But we also recognize our own moral belief systems undergird any discussion of public concern.
It is for this reason that people of faith must call on President-elect Donald Trump to serve his country before himself by resolving in earnest any potential conflicts of interest.
Nationally renowned attorneys, editorialists, and constitutional scholars from both sides of the U.S. political divide have already commented at great length on the potential conflicts of interest and ethical dilemmas surrounding President-elect Trump and proposed members of his administration. The fact that Trump, an extremely wealthy business person, owns a very large, family-held international business is unique in American history. As such, the ethical and constitutional hurdles this administration may face warrants a full airing in public.
Every time a lobbyist, foreign official, or head of state buys a Trump tie, rents an apartment in Trump Tower, invests in a Trump property, or plays golf at a Trump golf course, the president-elect profits from this transaction.
America has historically had many wealthy presidents. And although not required by law, presidents have long put their personal wealth in blind trusts to ensure political decisions aren't clouded by personal financial gain, and to comply ethically and morally with the spirit of federal law. Unlike the wealth of other previous presidents, however, the Trump international business empire is mostly privately held – which presents unique challenges. Much of his real estate and golf empire, for example, is internationally funded and located in at least 18 countries. Many of his investors are banks under foreign government control, sovereign equity funds, or with strong ties to foreign government officials.
Every time a lobbyist, foreign official, or head of state buys a Trump tie, rents an apartment in Trump Tower, invests in a Trump property, or plays golf at a Trump golf course, the president-elect profits from this transaction. Clearly, the nature of Trump's holdings presents a specific challenge that previous presidents did not face, and may violate the Constitution.
Just before the election, Pope Francis said: "Anyone who is too attached to material things or the mirror, who likes money, lush banquets, sumptuous mansions, refined suits, luxury cars, should avoid going into politics." While Donald Trump, as a private citizen, has been free to accept gifts and investments up to this point, that all changes the day he is sworn in as President of the United States of America. For the protection of the American public and the office of the president, President-elect Trump needs to be totally transparent with all of his family business dealings. They should be placed in a blind trust where neither he nor any of his immediate family members have any control.
Without having even taken the oath of office yet, Trump's questionable financial dealings are already creating cause for concern. In fact, the media has recently reported on several examples of questionable ethical practices that, after taking office, would be in violation of the U.S. Constitution. For instance, several news outlets reported on several lobbying firms and foreign countries booking their holiday parties at the new Trump Hotel in Washington, D.C., which sits just blocks from the White House. This building is leased from The General Services Administration, a department of the government responsible to the president with its department head appointed by the president. In other words, this essentially means that President Trump will be both landlord of and tenant in his D.C. hotel.
The president-elect publically professes to share my Christian faith, so I would offer as guidance the following biblical passage to help Mr. Trump understand the necessity of separating himself as president from his career as an international business person. As it says in the Gospel of Matthew 6:24: "No one is able to serve two masters. Either he will hate the one, and love the other, or he will persevere with the one, and despise the other. You cannot serve both God and money." Hopefully this quote will come into the president-elect's mind and heart when he places his hand on the Bible come Inauguration Day. With Trump's oath of office, he should truly serve the United States, one nation, under God, indivisible, with liberty and justice for all.
Patrick Carolan is the executive director of the Franciscan Action Network and co-founder of the Global Catholic Climate Movement. www.franciscanaction.org
REAL LIFE. REAL NEWS. REAL VOICES.
Help us tell more of the stories that matter from voices that too often remain unheard.