An open letter from Christopher J. Loeak, President of the Republic of the Marshall Islands, following yesterday's France-Oceania Summit in Paris and ahead of next week's COP21 climate change conference.
Cher Monsieur le Président et le peuple de la République,
Sometimes, a crisis strikes without warning. Two weeks ago, your country's fabric and way of life were tested by a wave of terror here on the streets of Paris. I was inspired to see you respond by staying true to the Republic's founding principles -- liberté, égalité, fraternité -- the very principles the attackers sought to destroy. Your strength and courage in this moment of adversity reminds us of the very finest aspects of humanity.
Sometimes, however, a crisis gathers more slowly and incrementally. Climate change is already a daily reality for my people, but without urgent global action to curb emissions, this growing crisis will spiral out of control. The violence of nature will be driven to even more powerful, unprecedented extremes, destroying the homes and livelihoods of millions. For those of us on the frontline, the very existence of our countries is in jeopardy.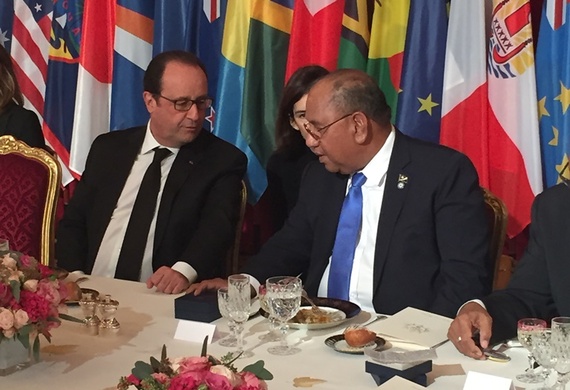 Next week, more than 130 world leaders will join us here in Paris. At a time when some would seek to terrorize, we will stand together and demonstrate to the world that we remain fiercely and resolutely committed to cooperation, civility and progress.
But words alone will not save us from the climate crisis. We need to work together to deliver an ambitious Paris Agreement. It won't be easy, and it will require late nights and hard work. But ultimately, this is our moment to secure a peaceful climate for generations to come.
Monsieur le Président, COP21 is our chance for climate peace. I look forward to working with you and our colleagues to achieve it. This conference means the world to us. We will not soon forget that in these trying times, the people of France welcomed us so graciously.
Christopher J. Loeak President of the Republic of the Marshall Islands
This post is part of a "Voices from Small Island Developing States" series produced by The Huffington Post, in conjunction with the U.N.'s 21st Conference of the Parties (COP21) in Paris (Nov. 30-Dec. 11), aka the climate-change conference. The series will put a spotlight on the SIDS countries, which are located in the Pacific, the Caribbean and the Indian Ocean, and is part of HuffPost's What's Working editorial initiative. To view the entire series, visit here.
Related
Popular in the Community