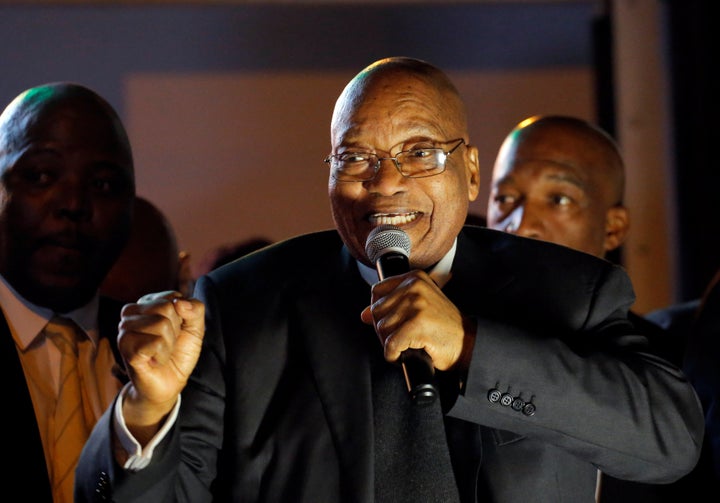 JOHANNESBURG ― South Africa's young democracy has gone from being led by someone revered as a saint to being run by a man many consider a hustler. And the country doesn't seem to mind.
President Jacob Zuma, in an administration of eight short years, has survived nine political scandals and six motions of no confidence in Parliament. 
On Tuesday, he defeated the sixth motion of no confidence on his leadership ability. The governing African National Congress defeated the motion brought by a coalition of opposition parties.
Zuma is South Africa's ultimate survivor. This former freedom fighter and intelligence operative is known as the country's "Teflon man" for his ability to keep scandal from sticking to him.
He does this through shrewdness and an ability to cast himself as a simple man of the people.
In 1994, Nelson Mandela was sworn in as president in a Parliament that had been home to both the colonial administrators and the apartheid government. On that day, South African democracy's first complement of Parliament members of all races and creeds, men and women, took their seats and blew life and civil rights into a place where systemic racial separation and oppression had been crafted. From there came the idea made popular by Archbishop Desmond Tutu that South Africa is a rainbow nation.
Since then, Parliament has been the embodiment of the idea that democracy can replace authoritarianism as much as Mandela symbolized the idea that peaceful transition was possible in a 20th century mired in war and conflict.
The ANC has done well by the people who have voted it back into power in five successive elections ― free, fair and peaceful elections. It has built a significant system of social solidarity, which pays grants to the old and infirm and provides free healthcare to the poor.
Mandela's party has extended electricity to areas left destitute by apartheid's planners and put in water connections for millions who had had to draw their water from distant dams or rivers.
The pace of credible and free elections is an unusual track record in postcolonial Africa, as is the fact that South Africa has changed its head of state four times since Mandela, who left office after a single term to spend time with a family who had sacrificed him to the struggle against apartheid and also to end the South African pattern of leaders for life.
By changing its heads of state regularly, South Africa is bucking the trend of African leaders turning their backs on term limits to stay on for decades.
But in other ways, we are sticking to type in modern emerging market economies. If there is one phrase on the lips of most South Africans, it is "state capture," shorthand for the grip that one family has on key parts of the economy.
The Gupta family is like the Corleones of "The Godfather" films: émigrés who have built an empire from connections with politicians. They are extraordinarily close to Zuma and are business partners with his son, Duduzane Zuma, who is like South Africa's version of Ivanka Trump. He's a young man who has benefited from his father's power.
The Gupta family wanted to expand out of India and first chose Singapore and China, where they did not meet with great success. Then they sent one of the four brothers to South Africa to see if it might serve as a base for expansion into the rest of the continent.
Atul Gupta befriended Zuma before he became president, and it turned out to be a fruitful relationship.
Now, 17 years later, the Gupta family owns holdings wherever the state has influence or a substantial budget. Atul Gupta is one of South Africa's richest men.
A set of leaked emails as seismic as the Panama Papers appear to reveal how this fortune was built by corrupt means, although Gupta disputes their authenticity.
The story is long and complex, and it found its way into Parliament on Tuesday. Zuma's victory over the no-confidence motion tells another story. Mandela's rainbow nation has been replaced by Zuma's crony nation.
Ferial Haffajee is the editor-at-large for HuffPost South Africa.
REAL LIFE. REAL NEWS. REAL VOICES.
Help us tell more of the stories that matter from voices that too often remain unheard.