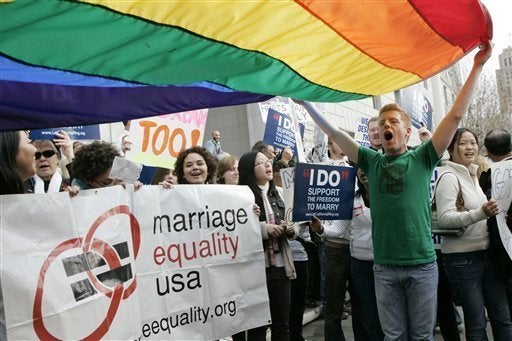 I didn't bother writing a story on President Obama's first 100 Days. Other than a few appointments, there wasn't much to write about from an LGBT perspective.
So my heart quickened when I heard him talk about picking a replacement for Supreme Court Justice Souter who was empathic to gays. Did he suddenly remember that we exist? But when I looked up from my laptop, I realized MSNBC was running a clip from Obama's July 17, 2007 campaign appearance before Planned Parenthood. The old cynicism ensued.
I'm not the only one who's been waiting for Obama to fulfill his campaign promises to the LGBT community.
On Friday, for instance, there was a flurry in the LGBT community after the language was changed on the White House website that suggested Obama would "change" rather than "repeal" the horrendous antigay "Don't Ask, Don't Tell" policy. A spokesperson later told blogger John Aravosis that the President was still committed to a repeal and the language was re-instated.
But the incident indicates how similar the LGBT community is to an unrecovered abused partner who scrutinizes every word for hidden meanings of betrayal. And we have a right to our suspicions: if Ronald Reagan had not believed that AIDS was God's "punishment" visited on gays, would he have treated the outbreak of HIV as he treated the mysterious outbreak of Legionaire's disease - stopping in its tracks the disease that has since killed millions?
If homophobia was not as accepted and pervasive as it continues to be, wouldn't all Americans stand up and protest school bullying that results in a suicide by 11 year old and a high drop out rate? Brown v. Board of Education doesn't apply when you're too scared to go to school in the first place.
Richard Socarides, the openly gay former special assistant to President Bill Clinton, wrote an excellent op-ed in the Washington Post May 2 that underscores the point of our seemingly deliberate exclusion from policy matters since Obama's election.
Socarides wrote in "Where's Our 'Fierce Advocate'?"
"In December, while trying to quiet the furor over his invitation of Rick Warren to take part in his inauguration, Barack Obama reminded us that he had been a "consistent" and "fierce advocate of equality for gay and lesbian Americans." But at the end of its first 100 days, his administration has been neither.

What makes this especially disappointing is that it comes during a crisis-driven "change moment" in our country's history that not only cries out for leadership but presents a particularly good climate for making substantial progress on gay equality."
And Socarides thinks he knows why Obama is gay-shy:
"As an adviser on gay rights to President Bill Clinton during his second term, I know how hard it is to achieve real progress. We learned that lesson acutely during Clinton's abortive first-term attempt to allow gays to serve in the military, an outcome for which he is still paying a steep legacy price....

It is the memory of 1993's gays-in-the-military debacle (and a desire never to repeat it) that has both the president's advisers and policy advocates holding back, waiting for some magical "right time" to move boldly."
But, Socarides says, that's a "bad stragey:"
"President Obama will never have more political capital than he has now, and there will never be a better political environment to capitalize on. People are distracted by the economy and war, and they are unlikely to get stirred up by the right-wing rhetoric that has doomed efforts in the past.

And people are willing to try new approaches. The court ruling legalizing gay marriage in Iowa represents a real opening, an opportunity to get "undecideds" to take another look not only at gay marriage but at gay rights in general. As Iowa Sen. Tom Harkin remarked, many Americans may be asking themselves, "If the [Iowa] Supreme Court said this, maybe I have to think anew.""
In his chapter "Hope, Fear, and the Culture of Caution" Lux writes:
"[The Democrats] have been so beaten down by the conservative attack machine that they have allowed themselves to get into the habit of being cautious....Since the tumultuous change decade of the 1960s, and the ugly backlash that followed it, Democrats have often been too scared to think big about progressive change, and it has hurt them."
Caution has become a habit of mind, let alone a habit of politics - something Lux argues should be smashed in favor of "bold" action and change.
And yet "equal rights," while always counted in the litany of core liberal and progressive principles and "values," always is set aside or thrown under the bus in favor of some real or imagined political expediency.

As Lux told me during an interview - "either we believe in equal rights for all - or we don't." And "we should be able to multi-task."
Socarides offered Obama some suggestions such as talking about gay rights as he did during the campaign; help secure passage of the Matthew Shepard Hate Crimes Act; and champion comprehensive, omnibus federal gay civil rights legislation, similar to the Civil Rights Act of 1964.
But with apparently no openly gay friends in his inner circle - blogger Pam Spaulding asks, "Where are the gays in the Obama White House?" - Socarides' call for an LGBT liaison is important.
"[Obama] should appoint a high-ranking, respected, openly gay policy advocate to oversee government efforts toward lesbian, gay, bisexual and transgender equality. Give this person access to policymakers, similar to what has been done on urban policy and for people with disabilities. This is especially important because, unlike Clinton, who had gay friends such as David Mixner, Roberta Achtenberg and Bob Hattoy around to nudge him, Obama has no high-profile gay senior aides with a history in the gay rights movement."
We'll give him names. Here are just three:
-- Constitutional scholar Tobias Wolff who flew around the country on his own dime trying to tamp down the furor over Obama's choice of antigay gospel singer Donnie McClurkin to headline a southern campaign tour.
-- West Hollywood City Councilmember John Duran, an openly gay Latino, openly HIV-positive elected official who just retired from his longtime post as chair of California's lobbying organization, Equality California.
-- New York City's first openly gay Council Speaker Christine Quinn who was once the Executive Director of the New York City Anti-Violence Project.
"Gay voters who supported Barack Obama remain positive about him, and most are prepared to be patient. It's still early on gay rights for the Obama administration -- but now is the time to act boldly."
Maybe it's time for Obama to practice the empathy he would wish to see in others.
Popular in the Community