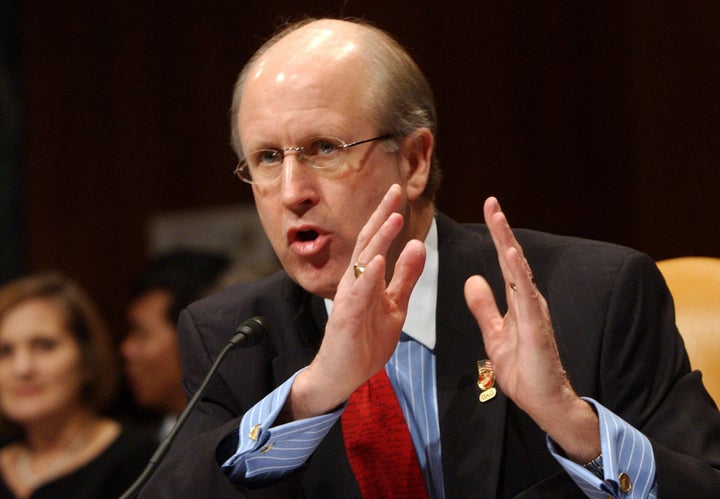 WASHINGTON -- One of the experts who attended President Obama's Rose Garden deficit speech is hammering the White House Tuesday, saying the president is using a bogus standard to show savings when really his plan leaves the deficit in worse shape.
The White House strongly denies the contention.
David Walker, former U.S. Comptroller General, is a noted budget hawk who ran the Peter Peterson Foundation, funded by Peterson, a private equity billionaire who has invested heavily in campaigns to slash the budget. Now he heads the Peterson-backed Comeback America Initiative. He initially released a positive statement, praising Obama for focusing on some pressing deficit drivers.
But that was before he had a chance to read the fine print, and see where the numbers were coming from, he said.
"I was shocked and saddened to find out that they have created their own baseline for determining savings," Walker told The Huffington Post. "If you enacted all of their proposals, you would be significantly worse off in 2021 than if the Congress and the president just went on a 10-year vacation."
Walker said the problem is that rather than use the baseline for future spending determined by the Congressional Budget Office, the Obama administration used its own figures. Where the CBO bases its figures on current law -- which says the Bush tax cuts expire next year and Medicare will soon cut payments to doctors -- the White House estimates at least some of the tax cuts will be kept, and Congress will fix the doctor payments.
A White House spokeswoman countered that the White House's benchmark is in fact more realistic, because Congress indeed is unlikely to let the Bush-era tax cuts expire or let Medicare payments to doctors be slashed.
"The adjusted baseline we've used is the most accurate reflection of current policy and the most illuminating way to demonstrate to the American people what actual savings will be created by these proposals," said White House spokeswoman Meg Reilly. "It's consistent with not only standard administration budget practice, but also with the Fiscal Commission, Gang of Six and others. And we've been transparent in all budget documents about precisely how the adjusted baseline is calculated."
But Walker says the different numbers only serve to confuse people, and since the Obama administration's baseline estimate is about $6 trillion worse over 10 years than the CBO's, it is easier to show savings. When Obama says he cuts $3 trillion to $4 trillion, it's at least $2 trillion short of what would happen if nothing is done, according to Walker.
"[The White House's] debt-to-GDP [ratio] is 74 percent in 2021, versus the current law CBO baseline of 61 percent," Walker said. "The way they're keeping score is worse than doing nothing."
He contended that ignoring the current law is politically palatable, but makes it harder to deal with the structural problems the actual laws present.
An administration economics official echoing Reilly pointed to a recent article by White House National Economic Council director Gene Sperling, which argued that other baselines are more accurate and that the deficit-slashing super committee can use different baselines as well.
Walker agrees that the committee can do that, but he thinks it's just as bad and confusing.
"What I'm concerned about is the Joint Committee on Deficit Reduction has the ability to decide what they're going to use as the basis for determining savings," Walker said. "They can end up creating some kind of thing like this, too, to make it look like they are doing more than they are."
"Both the president as well as this joint committee needs to use the latest CBO current law baseline, because if they don't, they're not credible and they're not consistent," he added.
The administration official countered that the White House at least has been consistent in its assumptions, and details where they differ from CBO.
"No one expects current law to happen," the economics official said. "We have done this in every one of our budgets."
Walker also noted that while the White House assumes the changes in law when it comes to tax cuts and paying doctors, it does not assume the expected draw-down from the wars in Iraq and Afghanistan. Instead, it counts the withdrawals as new policies that save money.
"It's time to quit playing games with the numbers," Walker said, referring to Congress and the White House. "They need to be honest with the American people."
Reilly said the White House is doing so, and that the war savings are properly counted as new.
"While the overseas contingency funding savings included in the proposal are consistent with the president's policies for troop levels in Iraq and Afghanistan, constraining discretionary spending with the cap we've proposed is new," Reilly said. "And counting this savings is consistent with House budget proposal and others."
CLARIFICATION: A previous version of this article phrased Pete Peterson's relationship with David Walker in such a way that Peterson's connection to the Comeback America Initiative might have been misconstrued. We have updated to clarify those relationships.
Popular in the Community