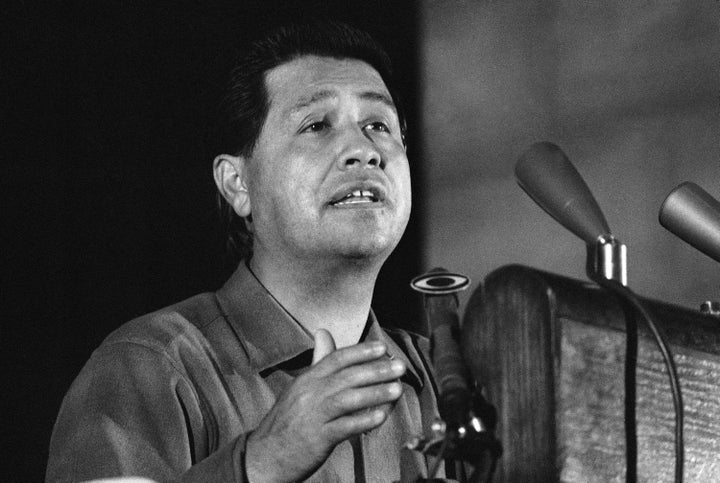 When President Obama travels to Keene, California on Monday, October 8th, to establish the César E. Chávez National Monument, I hope he publicly recalls the Arizona native's towering legacy in civil rights and immigration showdowns in Arizona today.
Cesar Chavez's "si se puede" spirit is alive and well in Arizona today -- the other Arizona -- in the fight against SB 1070's "show me your papers" provision, the outlawing of Mexican American Studies in Tucson, the rights of DREAM ACT students, and the growing electoral campaigns to take down Sheriff Joe Arpaio and reclaim the state from its rightwing interlopers.
And rightly so: Forty years ago, Arizona was once again the national "showdown" over immigration, and Chavez -- a native of Yuma, Arizona -- and Dolores Huerta and the United Farm Workers gave birth to the "si se puede" movement to help Republicans "realize that there is nothing to fear from treating their workers as fellow human beings."
As the first arrests under SB 1070 take place week, never has Chavez's movement seemed more relevant to Arizona and the nation today.
A pullquote from BusinessWeek in the summer of 1972 testified to the state's key role in influencing the rest of the nation on immigration policy: "Arizona-type legislation is spreading to many other farm states, despite protests." Chavez returned to his native Arizona on May 11, 1972, to hammer out a compromise over labor rights with Governor John "Jack" Williams, who signed a bill that banned secondary boycotts and strikes during harvest time, cracked down on collective bargaining rights and union membership procedures, and made it a crime to make "misleading" speeches about boycotted products. Williams didn't pull any punches about his view of migrant workers: "For me, those people don't even exist."
Chavez launched a boycott of Arizona's lettuce, and a "fast for love," he announced, "in the spirit of social justice in Arizona and to try by our efforts through the fast and our sacrifices to erase the fears that the growers and the Republican legislators and the Republican governor have of the Union. The fast is to try to reach the hearts of those men, so that they will understand that we too have rights and we're not here to destroy, because we're not destroyers, we're builders."
For Chavez, whose grandfather had built the family's first home in Arizona three years before it became a state in 1912, Williams's act was subversive and "un-American." He declared the bill was "discriminatory" and aimed at "farmworkers who are Black, Brown and Indian." He added: "No other labor force is asked to live with these repressive measures."
Chavez recognized the underlining focus of this bill -- not unlike SB 1070, it was intended to keep the cheap labor of largely Mexican and Mexican American migrant workers in a state of fear. "When 70 percent of the labor force lives in fear of being deported," declared the UFW El Macriado, "there are no cries to end child labor, no demands for drinking water, no petitions for toilets, no protests against the foul conditions of the labor camps." By effectively outlawing the United Farm Workers' efforts to unionize, the newspaper went on, the state of Arizona "does not admit that 100,000 illegal aliens enter each year to slave in the fields, live in the squalor and be thrown out of the country penniless when the crops are harvested."
Launching a recall effort, Chavez and his organizers gathered 176,000 petition signatures, and reminded Arizona of the state's changing electoral demographics. In the process, they reinvigorated the demoralized Democratic Party. For Chavez, the recall campaign had the effect of "waking up" the people. "It had never happened before in Arizona," he noted in his memoir, "or anywhere."
While the recall and legislation would both be caught up in the courts, the impact of Chavez's work in Arizona was irreversible: In 1974, thanks to the thousands of new voters signed up by the "si se puede" movement, Raul Castro was elected governor of Arizona -- the first and only Latino governor.
Speaking at the Commonwealth Club in San Francisco in 1984, Chavez foretold the connections between his work and today's historic demographic shift in California, Arizona and the nation:
"The consciousness and pride that were raised by our union are alive and thriving inside millions of young Hispanics who will never work on a farm," Chavez had concluded. "Like the other immigrant groups, the day will come when we win the economic and political rewards which are in keeping with our numbers in society. The day will come when the politicians do the right thing by our people out of political necessity and not out of charity or idealism.
That day may not come this year. That day may not come during this decade. But it will come, someday!"
That day is now, in Arizona, President Obama, as you go to California on Monday.
A new generation of Latino activists and their allies will be organizing across the state against SB 1070, the Mexican American Studies ban, Sheriff Arpaio and on behalf of Dream Activists and progressive candidates.

Follow Jeff Biggers on Twitter @JeffRBiggers

Popular in the Community