 WASHINGTON -- A new report from House GOP documenting instances in which President Barack Obama's White House conducted business with an eye towards secrecy has exposed the president to charges that he has failed to meet his own ethical standards.
On Tuesday evening, House Energy and Commerce Committee Republicans released a report showing emails sent from top administration officials -- including Jim Messina, the former deputy chief of staff who is now Obama's campaign manager -- to pharmaceutical industry officials from private email accounts. In addition, the report highlighted instances in which those same officials held meetings away from the White House so that they wouldn't be recorded in the official visitor logs.
"These are stunning revelations," Reince Priebus, the Republican National Committee chairman, said in a conference call for reporters on Wednesday. "The Obama White House is actively deceiving the American people and they are doing it over a Caribou latte."
The image of White House aides kibitzing over lattes (as opposed to regular coffee) with lobbyists is politically rich. But while the names involved were new, the news itself was old. The Caribou meetings had been reported in June 2010. And when the story first surfaced, the RNC was just as critical.
The use of private emails to conduct official business by Obama administration officials was a fresh revelation. But that too had a complicating context. The Bush administration was infamous for using private and RNC email addresses to conduct business (it was discovered during investigations into the firing of U.S. Attorneys). By 2009, it was reported that as many as 22 million Bush administration emails may have been deleted.
And so, for good government advocates, Tuesday's report raised philosophical questions: Can a White House still lay claim to the title of "most transparent in history" while stumbling on occasion? And how much criticism does Obama get for his ethical lapses, when the main points of comparison -- Bush and Mitt Romney -- feign little interest in the topic of government ethics?
"The lawyer in me says you can say you are the most transparent in history, even if you are not totally transparent. It's comparative," said Larry Noble, a campaign finance and ethics expert at the law firm Skadden Arps. "I do, however, think there is a time for comparison and there is a time to say that regardless of what anyone else is doing, there are certain standards you should meet. It's not just about whether you are better or worse than anyone else. It is whether or not you are meeting your own standard."
The White House argued that its standards have, in fact, been met. Spokesman Eric Schultz told The Huffington Post that Messina and others complied with the Presidential Records Act by making sure that their work email address was copied on all professional correspondence directed to their private accounts.
"All emails on the White House email system are archived; access to personal email and social networks from the White House network is blocked; and staff is instructed to use official accounts for official communications," Schultz said in an email. "Of course, White House staff cannot prevent others from sending emails to their personal accounts. It shouldn't be surprising that there will be some misdirected emails when people have pre-existing professional or personal relationships with White House staff. In those circumstances, staff is instructed to take steps to preserve any such work-related messages that are not already on the White House system."
But when pressed on Wednesday about the previously reported Caribou coffee house meetings, White House press secretary Jay Carney stonewalled. "I don't have anything on this specific issue," he said.
The conduct of the Obama and Bush administrations are far from identical. There has been neither evidence nor allegations that aides to the current president deleted emails. And on a variety of other transparency fronts, demonstrable progress has been made. The Obama administration voluntarily publishes the name of visitors, for example.
When Priebus was pressed to do a side-by-side comparison, he, too, clammed up.
"It is the Obama hypocrisy that I want to highlight, that he said I'm going to be different than everyone else," Priebus said. As for the presumptive GOP nominee, who has not yet outlined a government ethics platform, the RNC chair would only say: "I'm going to let Governor Romney set the standards for his own White House when he's there."
Interest groups and lawmakers who were critical of the Bush administration email controversy also were mum on the Obama revelations. The office of Sen. Patrick Leahy (D-Vt.), who criticized the Bush administration on the Senate floor for hiding emails, did not return a request for comment on Wednesday. Nor did the group Citizens for Responsibility and Ethics in Washington, which produced a report on the Bush email controversy.
Rep. Henry Waxmann (D-Calif.), who had demanded that Bush aides preserve emails after the controversy surfaced, did offer a statement.
"The Presidential Records Act was enacted to ensure that White House records are preserved for history and are owned by the American people," Waxman said in a statement. "Everyone who is covered by the law should follow it, regardless of which party controls the White House."
But the California Democrat was more the exception than the norm. Debates over government ethics often result in role reversals.
"That's politics," said Noble. "Especially on these types of issues which are, in some ways, soft issues, in the sense that you are dealing with judgments of what should be done and not an issue that is clearly black and white."
Full disclosure: my wife works for the administration on issues that include congressional oversight.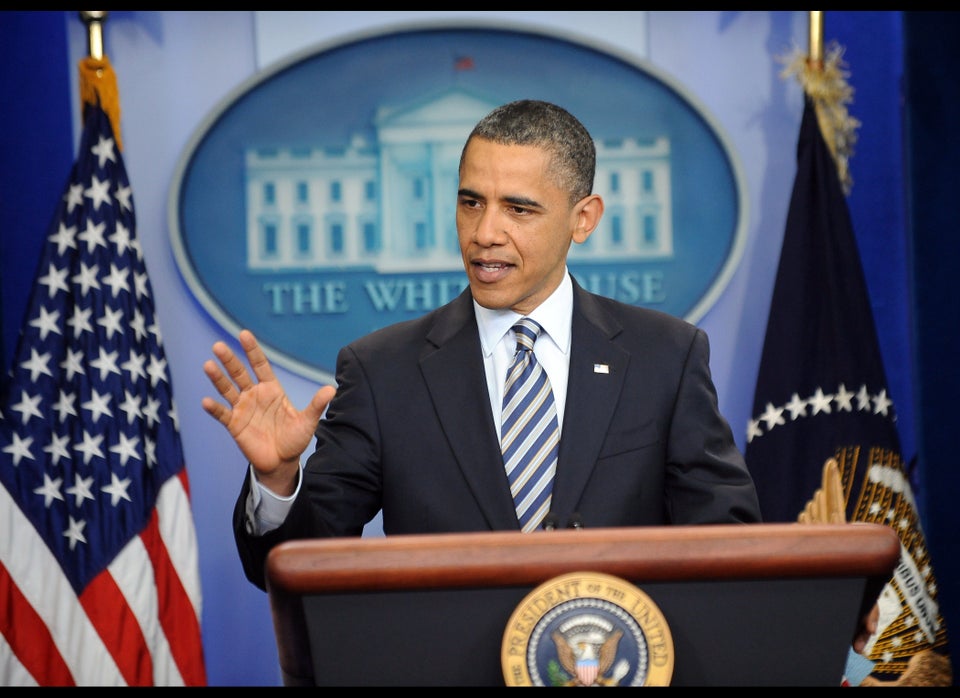 Barack Obama's Greatest Hits