President Obama may have sported a commander-in-chief first while in Hawaii, the New York Post reports: flip flops. He stepped out in the footwear to grab shave ice on the last day of his vacation (check out an image HERE) and various historians told the newspaper that they couldn't recall other leading men making the style same statement while in office.
Presidential historian Doug Wead remarked, "In public, no. I haven't seen the president's toes," adding, "It makes him look like a man of the people, and they [his advisers] probably like that it's an informal and inexpensive shoe."
Wead said once, a group of youngsters hit Jimmy Carter's White House for an event wearing sneakers, and "I remember Mrs. Carter looking down at their feet, horrified."
However Kathleen Hall Jamieson of the University of Pennsylvania's Annenberg Center for Public Policy best summed up the President's fashion decision, explaining, "If you were born in Hawaii, if you grew up in Hawaii, if you vacation in Hawaii and you don't wear flip-flops, then there is something seriously wrong with you. You don't wear wingtips to the beach in Hawaii."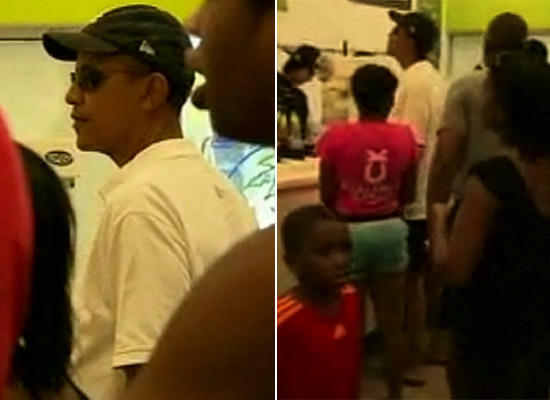 Obama in his mandals (man sandals) later in the day at the Honolulu Zoo on January 3: