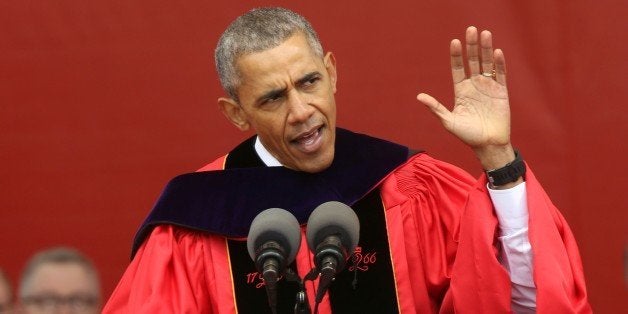 Dr. Rice was invited two years in a row to speak at commencement. If she would've stayed the course, she'd have received an Honorary Doctor of Laws and a $35,000 speaking fee from the university. Both years, the administration's selection process was cast aside. An OPRA request of emails between administrators provided us with this information.
President Obama contradicted his emphasis of democratic values in his comments about the #NoRice protests. He encouraged activism then noted the protests were "misguided" without providing any context. He went on to say:
If you disagree with somebody, bring them in and ask them tough questions. Hold their feet to the fire, make them defend their positions. ... Don't be scared to take somebody on. Don't feel like you got to shut your ears off because you're too fragile and somebody might offend your sensibilities. Go at them if they're not making any sense.

A commencement speech provides no space for direct, democratic engagement. The speaker arrives, receives an honorary degree, delivers their remarks, and leaves. There is no room for free speech since the event is one-directional. The speaker delivers their remarks, the crowd listens, and that is all. Had Dr. Rice delivered the speech this would've been the case.
The university attempted to silence us for months by meeting with students to block resolutions and actions. We had no administrative or university spaces to question who the university encourages students to emulate. There was no "democracy." Chancellor Dick Edwards wrote in the Daily Targum that Dr. Rice's commencement speech was "written in stone."
Ironically, President Obama mentioned we should hold the feet of those we disagree with "to the fire." And that's exactly what we did. The only mediums available to us were the ones we created for ourselves in alliance with faculty and staff, who were also shut out of the selection process and silenced by administration. As organizers we set up a debate in the student government to discuss the invitation followed by teach-ins, forums, resolutions, articles, social media campaigns and eventually, protest. It was because of us that conversation about Dr. Rice started, unlike how President Obama insinuated we silenced others. We actually educated students about the Iraq War, and gave everyone a voice in the spaces we created. Many perspectives were represented, but none were exempt from critique.
Had Dr. Rice come to speak with students at an open event that centered engagement, students would've welcomed her. And yes, Dr. Rice has an accomplished career. But the values President Obama mentioned which include loyalty, justice, truth, and compassion are not endemic in propagating the necessity of an unnecessary war that upended millions of lives. Iraq is destroyed, and that fact is a result of the Bush Administration's actions. That is truth. And we believed we had more to aspire towards for our world than reifying and honoring death and destruction.
And President Obama's utilization of drone strikes have killed thousands of innocent civilians too. Commencement speeches as a platform for any politician at the national level, be they a democrat or republican, are not valid by the merit of their positions. Between Barack Obama and Condoleezza Rice, we've endorsed the Iraq War, drone strikes, the deportation of millions of undocumented immigrants, and state violence against Black and Brown bodies. Barack Obama has done great things, but he's inadvertently emblematic of what is wrong with our political system as well. Other speakers such as Toni Morrison and Junot Diaz may be better options since, you know, they aren't complicit in human rights violations.
A commencement speech is more than a platform. It's a symbol of what we believe in, perpetuate, and envision for society. Its power is immense, outweighing all other actions and words in its space. The message of a commencement speech is directed not only to graduating students but to the entire world, especially in the case of powerful political figures. And again, it's one-directional.
We weren't satisfied with that and did what we could to challenge the university and Dr. Rice on her record. We didn't remain silent and we certainly weren't scared. We drove forward until our voices were heard, as many did before us. We "held their feet to the fire" against all odds. We believed in our right to question what didn't make sense to us. We flyered campus and spoke up in classes, put up signs and refused to be silenced. We tirelessly organized day in and day out. We uplifted democracy when it was virtually nonexistent.
We weren't wrong for doing so then, and we aren't now. Believe that.
Popular in the Community