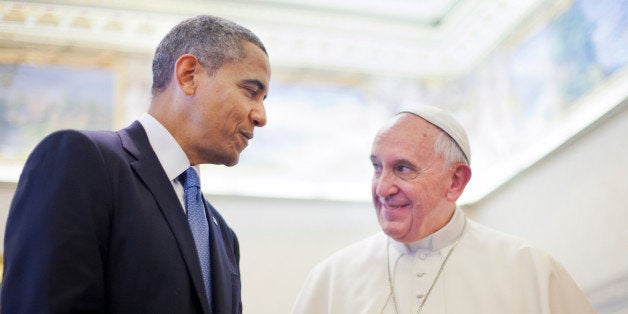 President Barack Obama is slated to meet with Pope Francis in Washington, D.C., on Sept. 23, and Obama already has a list of topics he hopes to discuss. In a press release Thursday, the White House laid out some of the president's ideal subjects for the talk, and said that Obama "looks forward to continuing" conversations he and Pope Francis began during their initial meeting at the Vatican in March 2014.
The topics on Obama's agenda are ones that both leaders have made top priorities in their careers thus far. Here's what he hopes to chat about with the pope:
Poor And Marginalized Populations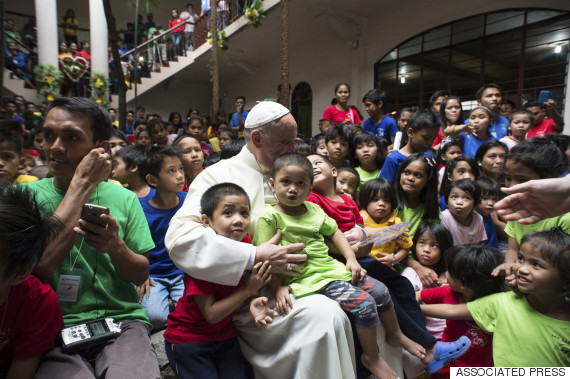 Pope Francis sits with children from the Anak-Tnk Foundation, a group that works to help homeless children and those living in the slums, in Manila's Intramuros district on Jan. 16, 2015.
"Each individual Christian and every community is called to be an instrument of God for the liberation and promotion of the poor, and for enabling them to be fully a part of society. This demands that we be docile and attentive to the cry of the poor and to come to their aid."
Obama in a 2007 speech to the Town Hall Education Arts Recreation Campus in Washington, D.C.:
"If poverty is a disease that infects an entire community in the form of unemployment and violence; failing schools and broken homes, then we can't just treat those symptoms in isolation. We have to heal that entire community. And we have to focus on what actually works."
Environmental Stewardship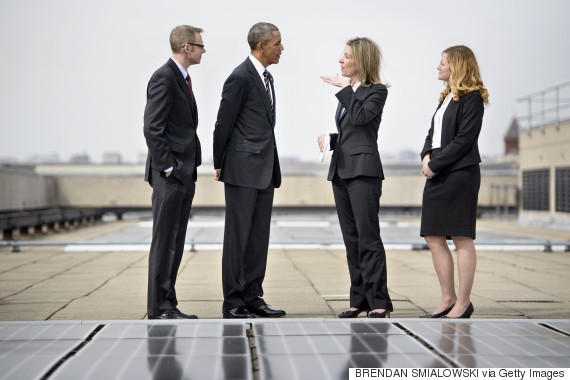 Obama and Deputy Energy Secretary Liz Sherwood-Randall talk about solar panels on the roof of the Department of Energy on March 19, 2015.
Pope Francis in his Feb. 9, 2015, homily:
"A Christian who does not protect creation, who does not let it grow, is a Christian who does not care about the work of God; that work that was born from the love of God for us. And this is the first response to the first creation: Protect creation, make it grow."
"No challenge poses a greater threat to future generations than climate change. ... The best scientists in the world are all telling us that our activities are changing the climate, and if we do not act forcefully, we'll continue to see rising oceans, longer, hotter heat waves, dangerous droughts and floods and massive disruptions that can trigger greater migration, conflict and hunger around the globe."
Religious Freedom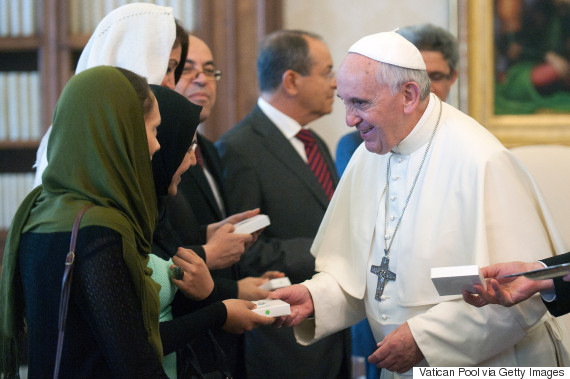 Pope Francis exchanges gifts with members of a delegation accompanying the Tunisian president during a private audience on Sept. 11, 2014, in Vatican City. Attendees discussed religious liberty and the rejection of all forms of violence and extremism.
"The concern for the protection of [religious freedom] rights calls for each of us to exercise civility and restraint and judgment, and if in fact we defend the legal right of a person to insult another's religion, we're equally obligated to use our free speech to condemn such insults and stand shoulder-to-shoulder with religious communities, particularly religious minorities who are targets of such attacks."
Pope Francis at the 2014 "International Religious Liberty and the Global Clash of Values" conference in Rome:
"Religious freedom is not just a matter of thought or private devotion. It is the freedom to live -- both privately and publicly -- according to the ethical principles that are a consequence of the truth found."
Economic Opportunity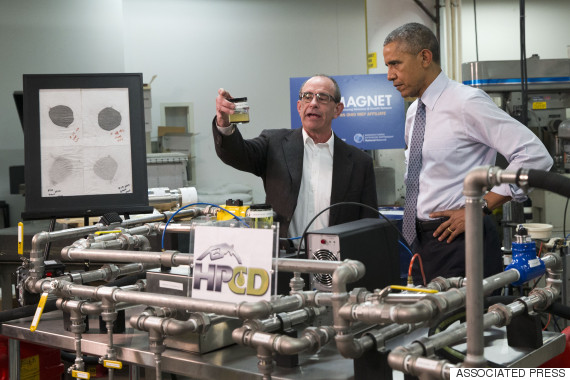 Obama tours the Manufacturing Advocacy & Growth Network on March 18, 2015.
Obama in a Jan. 8, 2014, statement about the war on poverty:
"We must redouble our efforts to make sure our economy works for every working American. It means helping our businesses create new jobs with stronger wages and benefits, expanding access to education and health care, rebuilding those communities on the outskirts of hope and constructing new ladders of opportunity for our people to climb."
"Just as the commandment 'Thou shalt not kill' sets a clear limit in order to safeguard the value of human life, today we also have to say 'thou shalt not' to an economy of exclusion and inequality. Such an economy kills."
Immigration Reform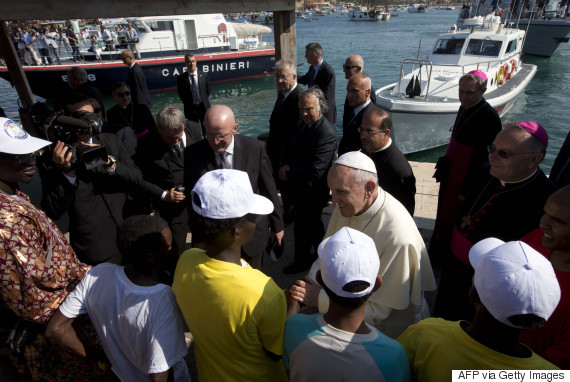 Pope Francis greets migrants during his visit to the island of Lampedusa, Italy, on July 8, 2013. The island is a key destination for tens of thousands of would-be immigrants from Africa.
Obama in a speech on November 21, 2014:
"We didn't raise the Statue of Liberty with her back to the world, we did it with her light shining as a beacon to the world. And whether we were Irish or Italians or Germans crossing the Atlantic, or Japanese or Chinese crossing the Pacific; whether we crossed the Rio Grande or flew here from all over the world -- generations of immigrants have made this country into what it is. It's what makes us special."
"These our brothers and sisters seek to leave difficult situations in order to find a little serenity and peace, they seek a better place for themselves and for their families -- but they found death. How many times to those who seek this not find understanding, do not find welcome, do not find solidarity! And their voices rise up even to God!"
Related
Before You Go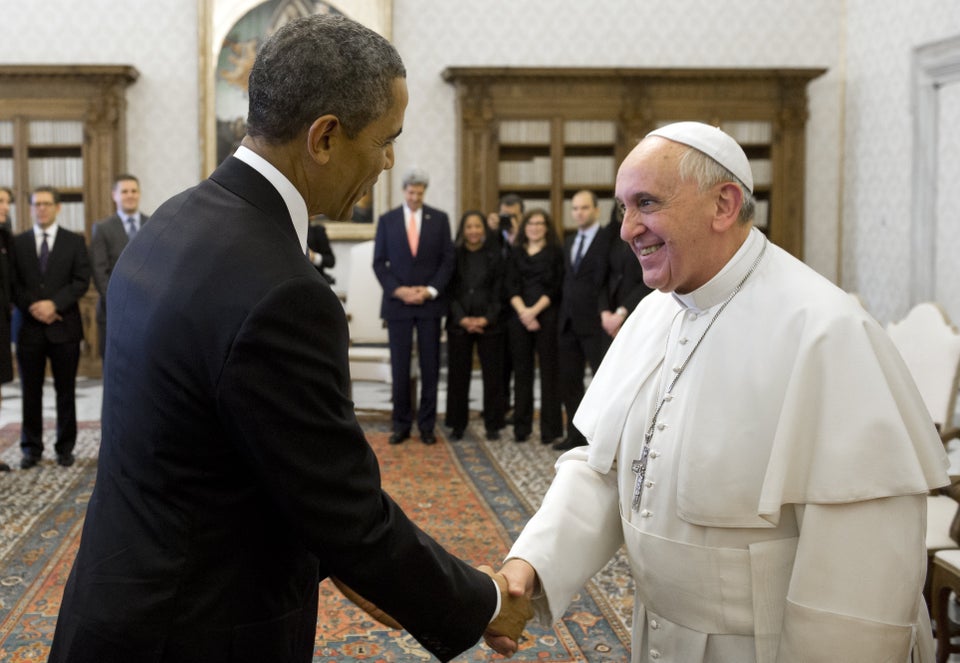 Pope Francis Meets President Obama
Popular in the Community