A quiet Friday morning at the White House was interrupted with an urgent statement by the President, that he was going to reject the Keystone Pipeline Deal.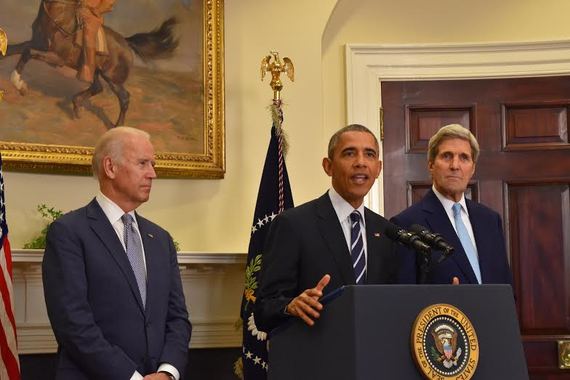 ©2015 Anna WIlding, Carpe Diem FIlms, LLC.
The President announced, "This morning, Secretary Kerry informed me that, after extensive public outreach and consultation with other Cabinet agencies, the State Department has decided that the Keystone XL Pipeline would not serve the national interest of the United States. I agree with that decision." The Keystone Pipeline matter has become a highly charged debate in the United States in both political and public spheres and the President pointed out the matter has become an, "Over-inflated role in our political discourse. It became a symbol too often used as a campaign cudgel by both parties rather than a serious policy matter. And all of this obscured the fact that this pipeline would neither be a silver bullet for the economy, as was promised by some, nor the express lane to climate disaster proclaimed by others." One of the key reasons the administration rejected the deal was that the United States has become a leader on fighting climate change and, essentially it would be hypocritical or perhaps irresponsible to build such a pipeline, and undermine efforts for America to keep inspiring other countries to achieve goals to combat and deal with climate change. Press Secretary Josh Earnest said, "The most significant impact and the net effect of this project moving forward is to undermine our ability to persuade other countries to follow our lead when it comes to fighting climate change. And the consequences for that are significant. Mr. Earnest went on to add that, "Our critics have suggested that this was a key part of the strategy for fighting climate change, and that for the United States to try to pursue this on our own would be an exercise in futility. The fact is we have built an important international effort in this regard, and so the determination is consistent with the standard that the President had set." It would seem to those critiquing the President decision that the President was putting America's role in climate change ahead of jobs for the American people. But in his remarks the President point out this was not so. "The pipeline would not make a meaningful long-term contribution to our economy. So if Congress is serious about wanting to create jobs, this was not the way to do it. If they want to do it, what we should be doing is passing a bipartisan infrastructure plan that, in the short term, could create more than 30 times as many jobs per year as the pipeline would, and in the long run would benefit our economy and our workers for decades to come. Our businesses created 268,000 new jobs last month. They've created 13.5 million new jobs over the past 68 straight months -- the longest streak on record. The unemployment rate fell to 5 percent. This Congress should pass a serious infrastructure plan, and keep those jobs coming. That would make a difference. The pipeline would not have made a serious impact on those numbers and on the American people's prospects for the future."
This was previously published in Herald de Paris. Full story at: http://www.heralddeparis.com/keystone-pipeline-deal-rejected-by-president-obama/#sthash.aSySy4qP.dpuf
REAL LIFE. REAL NEWS. REAL VOICES.
Help us tell more of the stories that matter from voices that too often remain unheard.