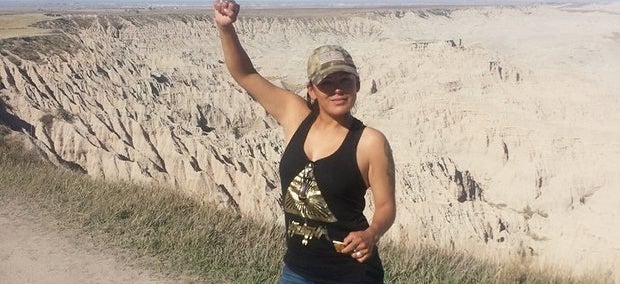 American history was written at Standing Rock during the past year, and future generations will learn about Sophia Wilansky and Vanessa Dundon. The Standing Rock Sioux's battle against the Dakota Access Pipeline is reminiscent of America's past: a history of oppression against Native Americans involving broken treaties and widespread violence. Students will learn about the hundreds injured from North Dakota's security forces firing rubber bullets, tear gas canisters, and high pressure water cannons (in freezing cold temperatures) at water protectors. I documented one of the most brutal standoffs here.
Future generations will also learn about Red Fawn Fallis. While the United Nations has accused "U.S. security forces of using excessive force against" Standing Rock water protectors, Red Fawn awaits possible federal charges. The following Denver Post article highlights why President Obama should pardon Red Fawn, especially since her family and thousands of other defenders have stated her innocence:
Family says Denver woman is innocent of charges she shot at deputies during Dakota pipeline protest
The family of a Denver woman accused of shooting at officers during Dakota Access Pipeline demonstrations said she didn't have a gun and the officers, who considered her an instigator, unjustly targeted her for arrest.
"There is no evidence there was a gun," said Glenn Morris, a leader in the American Indian Movement of Colorado during a Monday morning news conference.
Fallis, 37, is being held at the Morton County jail after she allegedly fired shots at deputies from the Pennington County S.D. sheriff's department on Oct. 27 when they were attempting to force pipeline protesters off private land in North Dakota.
According to her arrest affidavit, the deputies were going to arrest Fallis because she was "being an instigator and acting disorderly."
She struggled and they brought her to the ground. While they were trying to cuff her, two shots were fired.
A deputy saw the gun in Fallis' left hand and wrestled the gun away from her, according to the affidavit.
An Oglala Lakota Sioux and American Indian Movement member with roots in the organization, Fallis faces attempted murder and other charges.
Fallis' family members appeared at a news conference held Monday at the Four Winds American Indian Council in Denver.
In the madness of police and security forces converging upon water protectors, it's difficult to accuse Red Fawn of shooting at anyone after being tackled to the ground by numerous law enforcement officials.
Furthermore, this Daily Mail video of Red Fawn being surrounded and slammed to the ground by a group of heavily armed men hardly shows a woman trying to shoot anyone. If anything, the militarized pipeline security officials have complete control of the scene.
Native Americans facing excessive force in North Dakota pipeline protests – UN expert
GENEVA (15 November 2016) – A United Nations human rights expert has accused US security forces of using excessive force against protesters trying to stop an oil pipeline project which runs through land sacred to indigenous people.
Law enforcement officials, private security firms and the North Dakota National Guard have used unjustified force to deal with opponents of the Dakota Access pipeline, according to Maina Kiai, the UN Special Rapporteur on the rights to freedom of peaceful assembly and association.
Some of the 400 people held during the demonstrations had suffered "inhuman and degrading conditions in detention," Mr. Kiai added.
Protesters say they have faced rubber bullets, teargas, mace, compression grenades and bean-bag rounds while expressing concerns over environmental impact and trying to protect burial grounds and other sacred sites of the Standing Rock Sioux Tribe.
"Tensions have escalated in the past two weeks, with local security forces employing an increasingly militarized response to protests and forcibly moving encampments located near the construction site," the rights expert said.
"This is a troubling response to people who are taking action to protect natural resources and ancestral territory in the face of profit-seeking activity," he noted. "The excessive use of State security apparatus to suppress protest against corporate activities that are alleged to violate human rights is wrong and contrary to the UN Guiding Principles on Business and Human Rights."
…The Special Rapporteur said he was concerned at the scale of arrests and the conditions in which people were being held: "Marking people with numbers and detaining them in overcrowded cages, on the bare concrete floor, without being provided with medical care, amounts to inhuman and degrading treatment."
After experiencing inhumane and degrading treatment, President Obama pardoning Red Fawn would be an acknowledgment of everything faced by water protectors. President Obama might have stood silent when Sophia Wilansky had her arm blown off and when Vanessa Dundon lost an eye from a tear gas canister being shot at her face, but pardoning Red Fawn would speak volumes. It would acknowledge the immense sacrifice made by so many peaceful and non-violent water protectors who risked their lives.
Unarmed human beings were attacked in defense of an oil pipeline and a great many were detained and placed in dog cages. Ultimately, this modern-day David vs. Goliath ended in a Standing Rock Sioux victory. However, President Obama did nothing while hundreds were injured and maimed, stopping the pipeline construction only when veterans joined the fight. Standing Rock Sioux water protectors, including thousands of veterans from Iraq, Afghanistan, Vietnam and other wars voyaged to North Dakota in order to prevent a pipeline running through Standing Rock Sioux land.
While Iraq War veteran Tulsi Gabbard joined America's warriors to defend the Standing Rock Sioux, Elizabeth Warren and Hillary Clinton remained silent and far away from the battle. The Democratic establishment was too busy painting Trump as a white nationalist to concern itself with the white nationalists in the current administration. Before pardoning Hillary Clinton (which will likely happen), President Obama should pardon Red Fawn and heal an open wound named the Dakota Access Pipeline. Simply passing the pipeline issue to President Elect Trump will not alleviate the tension and animosity faced by so many Americans regarding this story.
Red Fawn is a woman who risked her life to protect future generations from drinking contaminated water. She also came to the assistance of people wounded by North Dakota's security forces, as quoted by Red Fawn's father in the The Denver Channel:
"At the same time that she was arrested, she was helping people who had been pepper sprayed in their face, taking them back and helping them clean the pepper spray out of their eyes," said Rick Williams, a Lakota elder and Red Fawn's father.
President Obama, while pardoning Red Fawn, should also inquire as to why she had to clean pepper spray from the eyes of unarmed water protectors.
Ultimately, there's immense political utility in pardoning Red Fawn for President Obama. The Democratic Party is currently experiencing a civil war of ideas. Establishment Democrats still haven't realized that progressives who championed Bernie Sanders and Jill Stein aren't planning to vote for another establishment candidate in 2020. By pardoning Red Fawn, President Obama will help unite both sides of the Democratic Party. Progressives would view the pardon as a major victory, while establishment Democrats would benefit from a less hostile progressive base. Red Fawn, in many ways, would serve as a symbol of unity. For the future of the Democratic Party, and America's future, let's hope President Obama shows compassion for a woman viewed to be a hero by so many Americans.
Popular in the Community