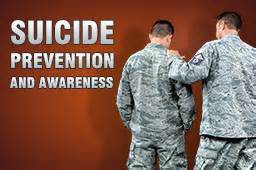 A bill aimed at reducing military and veteran suicides and improving their access to quality mental health care that was doggedly opposed and blocked by a lone, "support-the-troops" senator was finally signed into law by President Obama on Thursday.
The bill, the Clay Hunt Suicide Prevention for American Veterans Act, or SAV Act, is named after Clay Hunt, a decorated Marine veteran who, upon his return from combat in Iraq and Afghanistan, struggled with post-traumatic stress. Hunt was wounded in Anbar Province and witnessed the combat deaths of close friends.
"Two years after his discharge and after repeated setbacks in his medical care, Hunt took his own life," the U.S. Department of Defense explains.
During the signing ceremony, President Obama recalled the bravery and the suffering of Clay:
Today, we honor a young man who isn't here, but should be here. Clay Hunt was a proud Texan. As a boy, I understand, he collected turtles -- which was ironic for a kid who, by all accounts, never sat still. He loved the outdoors, he knew every inch of his grandparents' ranch, where he fished and hunted all year long. A decorated Marine, he served with distinction in Iraq and Afghanistan. He suffered physical injuries that healed, and he suffered invisible wounds that stayed with him. And, by all accounts, he was selfless and he was brave. And when he died in 2011, it was a heartbreaking loss for his family, his fellow Marines, and our nation. Because Clay had already done a great deal of good in the world -- and the truth is, he was just getting started.
Through unimaginable grief, Hunt's family, friends and fellow veterans made it their mission to spare other families the pain they endured, the president said.

"So they shared Clay's story far and wide," Obama said. "And they reached out to members of Congress. And they lobbied and they testified and made personal appeals. And thanks to their tireless efforts -- and we are particularly grateful to Clay's family, being able to transform grief into action -- today, I will sign the Clay Hunt SAV Act into law."

The president said the best way to honor Hunt "is to make sure that more veterans like him are here for all the years to come and able to make extraordinary contributions, building on what they've already done for our safety and our security."

[...]

"This law will not bring Clay back, as much as we wish it would," Obama said, "but the reforms that it puts in place would've helped, and they'll help others who are going through the same challenging process that he went through."

It's time to eliminate the stigma and barriers that face those who seek help, the president said. Asking for help is hard enough, he said, particularly when you are used to helping others.

"Today, we say again to every person in uniform, every veteran who has ever served, we thank you for your service. We honor your sacrifice. But sometimes, you know, talk is cheap. And sometimes, you know, particularly at a time when we've got an all-volunteer force and so often we can celebrate them at a ball game, but too many are insulated from the impacts," the president said.

"We've got to also act," Obama said. "We can't just talk. So we're ready to help you begin the next chapter of your lives. And if you are hurting, know this: You are not forgotten. You are not alone. You are never alone. We are here for you. America is here for you. All of us. And we will not stop doing everything in our power to get you the care and support you need to stay strong and keep serving this country we love.

"We need you. We need you. You make our country better," the president said.
One of the more poignant parts of the president's remarks was his recall of a letter he received from a college student on Chirstmas Day:
She talked about her father, who's a retired Marine, and told me about how her dad used to love to hunt and fish, and spend time with her and her little brother. But gripped with post-traumatic stress, he became less and less like himself, and withdrew from the family. And yet, despite these struggles, she wrote, "I knew that my dad was still in there somewhere...He is still my father. And I am still his little girl." And she was writing, she said, to ask for help -- help her father find his way back -- "not for my family, Mr. President," she said. "I'm asking you to help the others" -- other families like hers. And she said, "Don't forget about them."
The president thanked the Hunt family, all those who served with him, all the veterans service organizations that fought for the Clay Hunt law, all those who "have advocated so passionately for those who have served," all the military families "who have lost a loved one, families here today who channeled their grief into helping others." He added, "They believe, as we all do, that we have to end this tragedy of suicide among our troops and veterans."
The president also thanked "the members of Congress, Republican and Democrat, who worked to get this done." He gave a special acknowledgment to John McCain, Dick Blumenthal, Jeff Miller, Tammy Duckworth, Tim Walz and others.
Conspicuously absent from the ceremony and clearly not included in the presidential thanks was former Senator Tom Coburn (R-Oklahoma), who placed a hold on the bill last year after it had passed the House, preventing the Senate from holding a vote.
Coburn claimed the bill duplicated existing Veterans Affairs Department programs and that its $22 million price tag was not offset by cuts in other programs.

Veterans groups and military associations condemned the lawmaker's action and vowed to see the bill reintroduced as soon as the new Congress convened earlier this month.
And this time, with Coburn gone, the bill passed the Senate with flying (American) colors.
Again, according to Military.com:
There was no opposition to the bill this time around. The only reason the final tally was not 100-0 is because Sen. Mark Kirk, R-Illinois, was delayed by weather from getting back to Washington in time for the vote.
Sen. Johnny Isakson (R-Georgia), the chairman of the Senate Veterans Affairs Committee, said Monday that the Senate addressed the cost issue by taking internally generated funds and rejected Coburn's contention that the bill duplicated existing programs, according to Military.com.

According to DoD, the Clay Hunt Suicide Prevention for American Veterans Act builds on efforts still in progress to improve Veterans Affairs mental-healthcare access by:
Requiring annual third-party evaluations of VA's mental-healthcare and suicide-prevention programs
Creating a centralized website with resources and information about the range of mental-health services available from the VA
Conducting a three-year pilot program using peer support to assist veterans transitioning from active duty
Encouraging collaborative suicide-prevention efforts between the VA and non-profit mental-health organizations
Read all of president's remarks here, and listen to his remarks below:
Calling all HuffPost superfans!
Sign up for membership to become a founding member and help shape HuffPost's next chapter