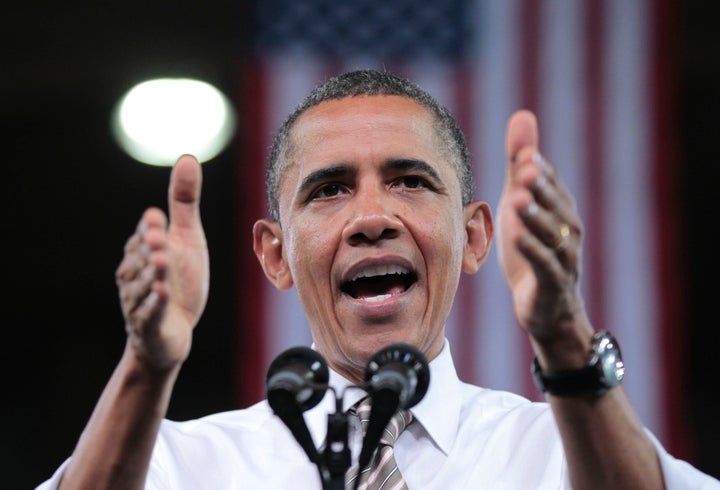 WASHINGTON -- President Barack Obama's campaign is reconfiguring its approach to powerful super PACs, worried the president's re-election prospects could be overwhelmed by conservative groups raising and spending unlimited amounts of money.
The president's advisers have signaled to donors that he will soften, for the time being, his long-standing opposition to the outside groups, in hopes of assisting their fundraising efforts and leveling the campaign finance field heading into the general election. Obama's campaign staff will go so far as to appear at super PAC events -- though they will not be explicitly raising money. The president will not attend those events, a source confirmed.
The new posture is a reversal for the president, and one likely to trouble some in the progressive universe (see: Feingold, Russ). Obama was staunchly anti-outside money during his pre-White House political career, and first ran for the White House encouraging deep-pocketed Democrats to send checks only through his campaign. He wanted a consistently coordinated message and his advisers were willing to starve non-campaign organizations of cash in order to achieve it.
When the Supreme Court issued its Citizens United opinion allowing the creation of super PACs, the president and his staff offered sharp denunciations.
"I don't think American elections should be bankrolled by America's most powerful interests," Obama said at the time. He called super PACs a "threat to our democracy."
Politics eventually collided with ideology. In 2010, a wave of conservative money helped Republicans re-take the House of Representatives. The president and his advisers have watched in some horror, meanwhile, as super PACs have helped Mitt Romney submarine challenger after challenger (most notably Newt Gingrich) during the Republican primary this year. The determination was made that they could not unilaterally disarm.
As campaign manager Jim Messina said in a blog post late Monday:
With so much at stake, we can't allow for two sets of rules in this election whereby the Republican nominee is the beneficiary of unlimited spending and Democrats unilaterally disarm.

Therefore, the campaign has decided to do what we can, consistent with the law, to support Priorities USA in its effort to counter the weight of the GOP Super PAC. We will do so only in the knowledge and with the expectation that all of its donations will be fully disclosed as required by law to the Federal Election Commission.
Currently, two former Obama aides -- Sean Sweeney and Bill Burton -- run the most prominent Democratic super PAC, Priorities USA Action. But that group has been vastly outraised by its conservative counterparts. And the notion that it could bring in the $100 million once projected now seems quaint. Burton was quick to take advantage of the Monday evening news with a well-timed tweet.
"As has become evident in the past month, the only enthusiasm in the Republican Party is among oil company billionaires and investment bankers on Wall Street looking to defeat President Obama," Burton said in a statement. "We're committed to providing a balance to Karl Rove and the Koch brothers, who have pledged more than half a billion dollars to their effort."
The Obama campaign itself has done fine with fundraising. But as recently as last week, top donors fretted that one well-financed GOP donor could level the playing field if he or she desired.
"The money for the campaign side they will do fine, ultimately," a party fundraiser told The Huffington Post. "I think the problem is on the super PAC side ... If I were on the campaign, I would be waking up and saying this is a big f--ing problem, we are going to get buried by these super PACs. And our side, the Democratic side, is not on a level playing field here."
Popular in the Community