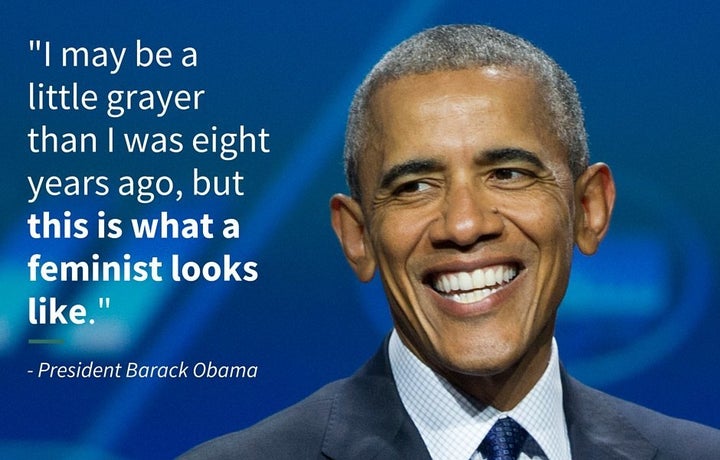 Obama began his speech with a nod to the remarkable women in the room, including the First Lady, joking "I know you're really here to see Michelle… or Oprah." "I cannot compete with them," he quickly added.
A particular moment of levity during Obama's speech made for one of the highlights of the day-long event. "I did want to stop by and make one thing very clear," he said. "I may be a little grayer than I was eight years ago, but this is what a feminist looks like."
The room, of course, erupted in applause. "Of course in my household there's no choice," he added to a room full of laughter.
Addressing practical matters from pay equality to the impact of gun control on women, Obama told the audience of young activists, seasoned politicians, celebrities and more that we need to guarantee paid maternity and paternity leave to all working parents. "If we were truly a nation of family values, we wouldn't put up with the fact that a woman cannot even get a day off to give birth," he said.
At one point he added that America isn't just about the Benjamins, "it's about the Tubmans, too."
He gave a passionate plea for the U.S. to not only change our policies around gender equality, but also our culture that perpetuates sexism:
If we are going to truly change our policies and our politics, then we're also going to have to change something else. We're going to have to change the way we see ourselves and this is happening already, but I want us to be more intentional about it... The emotional, sexual and psychological stereotyping of females begin when the doctor says it's a girl… and that has consequences for all of us -- whether we're men or women, black, white, straight gay, transgender or otherwise.
He listed "modern-day heroes" such as Sonya Sotomayor, Laverne Cox and Michelle Obama who are changing the conversation on gender equality.
"The countless ordinary people every day who are bringing us closer to our highest ideas," he said. "That's the story we're going to keep on telling, so our girls see that they, too, are America. Confident and courageous. And in the words of Audre Lorde: 'Deliberate and afraid of nothing.'"
Watch the full live stream below.
Support HuffPost
The Stakes Have Never Been Higher
Related
Popular in the Community