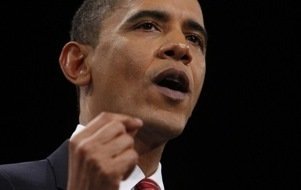 ABC News has more details from Obama's meeting with top banking executives on Monday -- according to their White House source, the President told the bankers that they were like "overpaid pitchers on a team doing poorly." The subject was executive compensation. "The concern is less when your team is successful," Obama added, "but you guys didn't win the World Series this year."
Those aren't the only harsh words Obama has had for bankers recently. In his 60 Minutes interview which aired last Sunday, the President called them "fat cats," as in: "I did not run for office to be helping out a bunch of fat cat bankers on Wall Street."
Obama's lecture to bankers on Monday had, in his words, a simple message: "America's banks received extraordinary assistance from American taxpayers to rebuild their industry, and now that they're back on their feet, we expect an extraordinary commitment from them to help rebuild our economy."
The bankers said that they got it.
REAL LIFE. REAL NEWS. REAL VOICES.
Help us tell more of the stories that matter from voices that too often remain unheard.