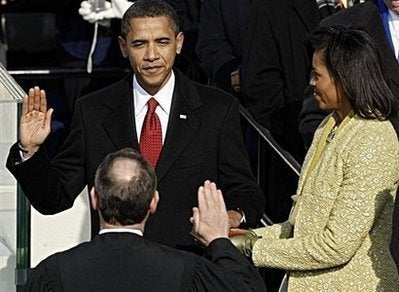 Barack Obama's been in office less than a week and already people are bitching he hasn't done anything. But he's achieved something that the older generation in power hasn't been able to do since I've been alive: make the younger generation give a shit. That's big!
If you need proof all you had to do was flick on CNN and look at the streets of DC on Inauguration Day. I was there. It was bone crushing cold, but to me and about two million other people it didn't matter. There was a strong wind blowing that had nothing to do with the weather. We witnessed a new beginning. And it felt good.
Yeah, some people thought it was too much show biz. Maybe so. I know they gotta sell it for the cameras. But looking beyond all the hype I saw something I ain't ever seen before.
Barack Obama has done what none of the other Presidents has been able to do. Not Clinton. Not Reagan. Not no one. He instilled caring into the bodies of people like me who used to think it didn't matter either way who was in charge.
I think that's why y'all reacted so strongly to my last blog. I get it now. People are so politically engaged with this new president we have a nation of backstreet drivers and it's always gonna be that way. They've got something to say every time Obama does something. They still need to let him have his lane, but I guess it's healthy to make some noise if it comes from a place of caring. I've never heard so much conversation about a president in my lifetime. Haa! Least of all from me!
Ima keep it real with you - I never even watched an inauguration before, much less got on a plane to attend one. And it wasn't just me. TI, Wyclef Jean and Bow Wow were all excited to be there. I raised Bow Wow for most of his life and he never so much as thought to watch something dealing with politics, but there he was, the only rapper to perform at the kids inaugural concert. He had on an Obama tee shirt and he couldn't wait to meet the First Lady and her daughters! He was genuinely touched!
Beyonce is another one who was never very political. She voted, but she never cared until now. But she was dying to be part of this whole scene. You could see in her face how much that moment in history meant to her when she sang for first dance at the Inaugural Ball. Etta James' "At Last."
On the streets, you could feel the vibe. It was like the Superbowl, the NBA Allstar Weekend and Disneyworld all rolled into one. I wasn't interested in going to all the events. I already met the President when he was campaigning so I wasn't all gaa gaa to get in a glimpse of him. I just wanted to be in the crowds, watching the reaction of the people. Everybody was buying all the Obama paraphernalia: skull caps, sweaters and scarves. I never saw a black person in a George Bush tee shirt!
But it wasn't just a look. They were also talking about bringing the troops home, closing Gitmo and fixing the economy. I was walking along Pennsylvania Avenue taking pictures and you could really feel the intensity. Of course, I was all covered up like Saddam with a hood and scarf so people wouldn't recognize me, but I was right there in the crowds of millions watching and listening to people. The streets were going crazy. You can check it out on YouTube under JD1472.
What gets me is that I think this is going to change the way all future Presidents are seen. They're going to have to do more than make promises. They're going to have to get the same people involved who Barack caught. I'm sure both teams are already getting their consultants and advisors and speech writers together to try to find the right buzz words and slogans to reach the right demographics. But it ain't gonna work unless the message is real and they show the next generation of voters they care about what they think. Barack spoke the language of the young. He seemed genuinely interested. You can't fake that.
Rappers have been tellin' it for a long time. No one paid attention back then. Now they're listening. Even Bill O'Reilly had something to say about Jay-Z's rhyme, "No more white lies, my president is black now." Young, old, black, white, people are listening to each other now and caring about the same things. It's like Obama finally connected America. He's the bridge.
We needed a man who could understand the young community. But it wasn't going to come from someone who spoke ONLY for the black community. It needed someone with great communication skills - someone who could cross boundaries. That's what I was saying in my last blog. The President's no fool. He knows you need people from all sides to get things done. He's not gonna follow one group's agenda. But at least we know that he knows how we feel.
So when y'all start asking what Obama's gonna do next, remember, he's already tackled one of the hardest jobs yet. He made people care. And because they're paying attention, the kids are gonna be a part of the process.
I saw this change in action when I went to the D.C. mayor's party the night before Inauguration Day. This guy is black and 38 years old - just two years older than me. It's already happening. Young people of America are now running America and feels like it's gonna make a better America.
And the rest is history... in the making.
Jermaine Dupri, who was named the most successful R&B producer of all time by the Guinness World Records 2007, is a Grammy-award winning music producer, president of Island Urban Records and author of Young, Rich and Dangerous: The Making of a Music Mogul (Atria, October 2007). For more information about this blogger, click here.
Popular in the Community