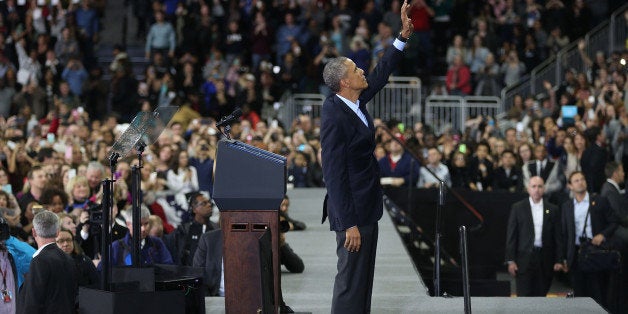 For a successful two-term president, the last State of the Union must be a time of a great joy. You are able to reflect on your accomplishments aware that the country is better off than when you assumed office and are well-positioned to influence the ongoing search for your successor as well as the nation's future direction.

President Barack Obama has yet to win over many Republican or conservative admirers. Yet, there can be little doubt that most of his detractors are doing better today than they were on January 20, 2009 when he was first sworn into office. Perhaps in an alternative universe which elected Senator John McCain in 2008, economic growth would be more robust, jobs would be better paying and more plentiful, and the country would be more secure but that is an argument over degree and not direction.
Just consider the evidence.
A Stronger Economy: By almost every objective measure, the U.S. economy has improved since President Obama's inauguration in January 2009. The unemployment rate reached 10% in October 2009 amidst the Great Recession but declined to 5% in December 2015. Economic growth (measured by GDP) increased from -0.92% in 2008 to 3.1% in 2015. The S&P 500, an indicator of stock market performance, has increased 137% since January 2009. Consumer sentiment has increased as well, suggesting that U.S. consumers are more optimistic about the future of the U.S. economy.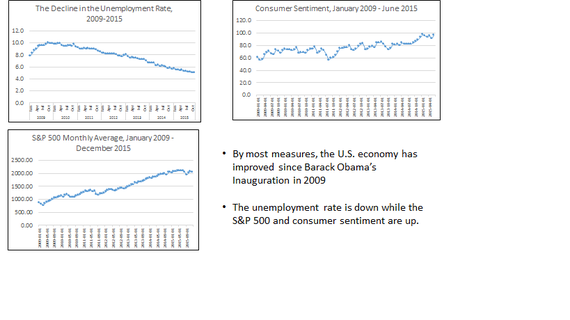 In fairness, wages and household income have stagnated, too many Americans have opted out of the job market and are no longer counted in the "official" unemployment numbers, and 3% economic growth is hardly robust. We could (and perhaps should) be doing better. But if you are a business owner or a worker, the economy in 2016 is far better than in 2009.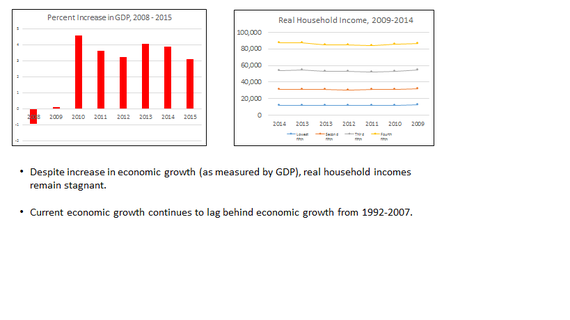 Decreasing Deficits (But Not Debt) : The improvement in the economy has come at a cost. The U.S. debt has risen over the course of the Obama Presidency. The reason, however, is not unprecedented growth in spending but shrinking revenue due to the Great Recession. Government spending continues to increase every year under President Obama but the year-to-year spending growth during the Obama Administration is the lowest since President Dwight Eisenhower. Perhaps stated differently, government spending under Ronald Reagan, George H.W. Bush, Bill Clinton, and George W. Bush increased at faster rate than under Barack Obama. Moreover, deficit spending has decreased over the course of President Obama's second term as the economy has recovered. As result, compared to other recent presidents, the "percent change" in the national debt has been relatively small.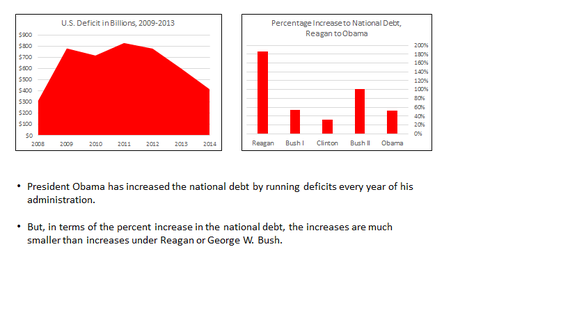 Reducing the Uninsured: President Obama's signature achievement, the Affordable Care Act remains highly controversial and may one day be overturned but it has reduced the uninsured rate with the steepest declines for young adults (18-24). The reductions would have been much larger if not for Republican governors - mostly in the Deep South - who opted out of the Medicaid expansion. While health care spending continues to grow in the U.S. and greatly outpaces spending in other advanced industrial democracies, the rate of increase in per capita health care spending has slowed since the adoption of the Affordable Care Act in 2010.
Failed Politics: When President Obama was first elected, conservative commentators and politicians made dire predictions about the American future: skyrocketing gas prices, a crashing stock market, rising unemployment rates, and a larger economic collapse. Almost all have been woefully, embarrassingly, and/or laughingly off the mark. They have, however, exerted a toll on public opinion. President Obama's approval rating remains the most politicized in recent history and has remained largely unchanged in light of an improving economy. After his presidential honeymoon, President Obama's approval ratings have ranged between 45% - 50% regardless of changes in real economic conditions. Perhaps even more to the point, less than a third of Americans currently believe the country is heading in the right direction.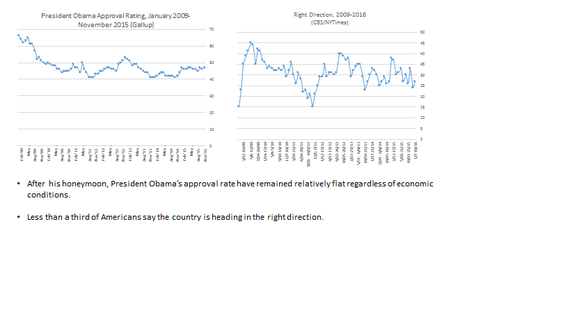 President Obama is hardly faultless. Too often, he has failed to make an affirmative case for his administration. That said, the performance-approval gap mostly reflects a polarized political environment in which candidates and parties instill fear and anger to mobilize political support (or opposition) and a media environment in which hyperbolic predictions and moral outrage are tools of the trade for rising above the noise and capturing attention. As a result, our politics are largely untethered from a political, social, and economic reality that by all indicators suggest that we are better off today than we believe and that our future is far brighter than we imagine. Perhaps ironically, our failure to accurately understand where we are and where we likely headed makes it more likely that the doomsayers will eventually be right.
Calling all HuffPost superfans!
Sign up for membership to become a founding member and help shape HuffPost's next chapter