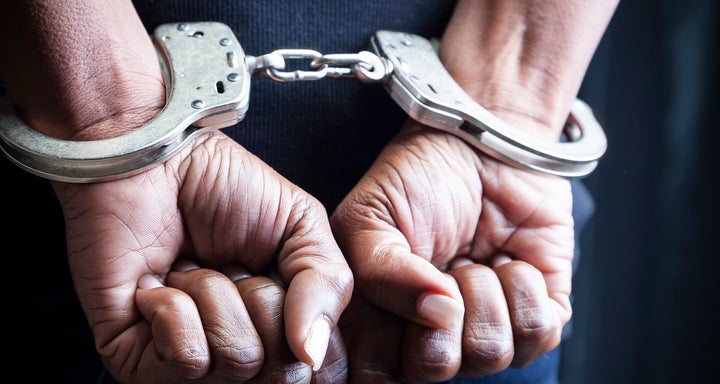 Barack Obama was the first sitting president to tour a federal prison. It was one of many moves he and his administration made to raise awareness of incarceration and the need for criminal justice reform.
Six inmates at El Reno prison, outside Oklahoma City, had an unprecedented visit with the former commander-in-chief in 2015. As chronicled in a special from HBO and Vice, Obama sat down with Tyrone, a young man serving a 15-year sentence for a nonviolent drug charge, and they talked about how the prison's college program would help him be a better father upon release. The former president was transparent about what it was like to grow up without his dad, and forthcoming about his own transgressions.
"I did a lot of stupid stuff when I was young, but I've said this before — I was just in an environment where you could afford to make some mistakes,'' Obama said. "I had more of a margin for error than a lot of kids do."
More than any other president, Obama took a broad look at the multi-dimensional problems in our criminal justice system through a personal lens. He doubled down on criminal justice reform; the incarceration rate fell an estimated 5 percent after climbing for decades. He issued clemency to over 1,000 inmates, more than his last three predecessors combined. He argued passionately against laws that mandate lengthy sentences for nonviolent drug offenders, who are disproportionately black and Latino. He managed to get all sides the table—even opposing sides—to address ballooning incarceration rates, high recidivism, and the $80 billion taxpayer burden of keeping more than 2 million Americans behind bars every year.
As President Donald J. Trump begins his term and his administration takes shape, it is important for us to reflect on all of the criminal justice reforms of the past eight years.
The Fair Sentencing Act of 2010 reduced the disparity between the amount of crack cocaine and powder cocaine needed to trigger federal criminal penalties. It also eliminates the five-year mandatory minimum sentence for simple possession. With Obama's 2013 "Smart on Crime Initiative," the focus turned to serious, violent offenses and a punishment that fit the crime. As a result, people who commit low-level, nonviolent drug crimes no longer face minimum sentences.
To reduce barriers to reentry and employment, Obama formed cross-disciplinary councils and task forces, introduced and enacted legislation and introduced programming to increase access to education and training.
Obama founded the Federal Interagency Reentry Council in January 2011 to tackle reentry through collaboration among federal agencies. Five years later, the council issued a report outlining its life-changing efforts in the areas of education, employment housing and healthcare.
In 2015, the Second Chance Pell Pilot Program was established. The program offers Pell grants to incarcerated students set to be released within five years of beginning coursework. It is expected to enroll 12,000 prisoners at 67 colleges and universities. To further expand opportunities for inmates after release, the White House Fair Chance Business Pledge initiated in the spring of last year includes a "ban the box" initiative that delays questions about criminal history during the job application process.
Obama took a holistic view of prison life, refusing to tolerate conditions that, he believes, "have no place in any civilized country"—such as overcrowding, gang activity, or overuse of solitary confinement. In a Washington Post op-ed last year, he described the story of Kalief Browder, a 16-year-old who was held in solitary confinement for two years as he awaited trial for allegedly stealing a backpack.
"There are as many as 100,000 people held in solitary confinement in U.S. prisons—including juveniles and people with mental illnesses," Obama wrote. "As many as 25,000 inmates are serving months, even years of their sentences alone in a tiny cell, with almost no human contact."
Browder was released from jail—without charges—and killed himself. In his name, Obama announced a series of executive actions to limit the amount of time offenders can be put in isolation, imposing a 60-day limit for a first offense, a drastic change from the former 365-day maximum. He also requested $24 million to help vulnerable individuals in federal prisons, as those with mental illness are often put in solitary because they can't survive in the general prison population.
Obama's bold view on the decades-long "war on drugs" shifted the focus on addiction from that of a criminal act to a mental health issue. He proposed $1.1 billion in new funding to address the prescription opioid abuse and heroin use epidemic with improved access to substance abuse treatment and coverage for mental health treatment. He increased funding for naloxone, the opioid reversal drug, and upped physicians' buprenorphine prescription limit from 100 to 200 patients.
The Affordable Care Act (ACA), commonly known as Obamacare, revolutionized healthcare for inmates and ex-prisoners when it was enacted in 2010 by extending Medicaid eligibility to all adults whose income is less than 138 percent of the poverty line. Under the ACA umbrella, both prisoners and newly released inmates who could not get health insurance through an employer were covered.
In addition, Obama called for the formation of a Mental Health and Substance Use Disorder Parity Task Force in 2016. It aims to ensure that Americans are benefiting from the Mental Health Parity and Addiction Equity Act of 2008, which demands health insurers and group health plans provide the same level of benefits for mental and/or substance use treatment and services that they do for medical/surgical care to better protect vulnerable populations in and out of prison.
While Obama undoubtedly made significant strides in criminal justice reform, some of his policies still require time to take shape. It would be counterproductive to pull back before their true benefit can be measured. In a Harvard Law Review essay Obama shared his hope that the new administration would build on his accomplishments.
"…Those entrusted with influence over the direction of the criminal justice system must also remember that reform is about more than the dollars we spend and the data we collect," Obama wrote. "How we treat those who have made mistakes speaks to who we are as a society and is a statement about our values—about our dedication to fairness, equality, and justice, and about how to protect our families and communities from harm, heal after loss and trauma, and lift back up those among us who have earned a chance at redemption."
Popular in the Community