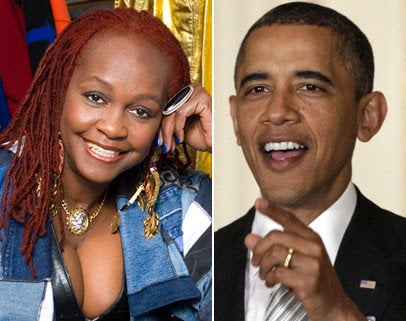 In 2008, many onlookers were surprised to see how quickly Barack Obama went from being a U.S. senator to the president of the United States. While some doubted that the newcomer with idealistic visions for the future could win the election, one Chicago woman placed her bets on the young politician years before.
Jermikko Shoshanna met Obama in 2003. Jermikko, an award-winning fashion designer based in Chicago, headed to Springfield, Ill. with a group of friends to celebrate the swearing-in of Illinois Senator Emil Jones as Senate president. She knew Jones, and after three hours in the car, was anxious to get inside and congratulate him.
But a security guard tried to turn away the group of friends.
"I was giving [the guard] a piece of my mind," Jermikko said, when a "tall, skinny, handsome" young man approached and asked what the trouble was. He ultimately told the guard the women were with him, and the group entered Jones' celebration.
"I wanted to find him while I was there and say 'thank you,' but it was so hectic," Jermikko said. So, the group drove home. A year passed, and she never learned his name.
But a year later, Jermikko received a call from a friend who was hosting a fundraiser for an aspiring U.S. senator. She told HuffPost she begrudgingly attended, mostly to support her friend.
"I show up the day of the fundraiser to help her and there's a photograph, a big poster of the man we're doing the fundraiser for," she said. "I'm like 'Oh shit, that's him!' "
Finally, Jermikko was able to thank the man who helped her out in Springfield, and as she watched him at the fundraiser, something struck her.
"I'm looking at him thinking, 'You know, there is something about this man. He's going to be more than just a senator.' "
As Obama signed books and spoke with supporters, Jermikko decided to make a grand gesture. She took out her checkbook and wrote a check to "President Obama" for $1,000,000. (Scroll down to see it.)
"My grandmother always said I was a strange child," she said, laughing. "I go over to him and I said, 'You know, I think you're going to be a president one day.' And he looked up and said, 'Yeah? From your mouth to God's ear.' I said, 'Okay, well I want you to get used to signing big checks, so sign this. He just took my checkbook and signed it. Then he gave it back and said, 'Now you're not going to try and collect on this, are you?' "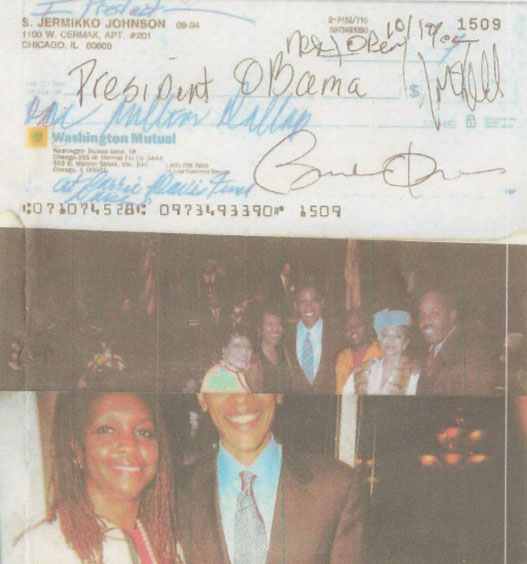 The check and some photographs of Jermikko and her friends with then-Senator Obama.
Jermikko ended up supporting Obama in his bid for president years later and wasn't too surprised that her prediction came true.
"I saw a president. I saw a leader; I saw this in him," she said.
Now, she hopes the check will help her expand her fashion business. After a lot of thought, Jermikko decided to contact Gary Zimet, president of Moments in Time, a company that sells pieces of American and world history. So far, they have sold eight handwritten letters from President Obama, along with the actual Schindler's List and other memorabilia. The check is being sold for $100,000.
Now, they are auctioning off the $1 million check.
"I thought about it and thought about it and felt, if this check can help me create more jobs here, since I'm diversifying my business, and help employ people, then it's time to sell it," Jermikko said.
While her fashion company is known for jackets and outerwear, last summer Jermikko decided to branch out. One day at the grocery store, she realized how sad it was that people don't talk to each other anymore -- and decided to create a simple conversation piece. Her cloth "Status" grocery bags range in price from $2.99 to $18, and say things such as "Single Girl Groceries," "Single Guy Groceries," "Hitched" and "Connected."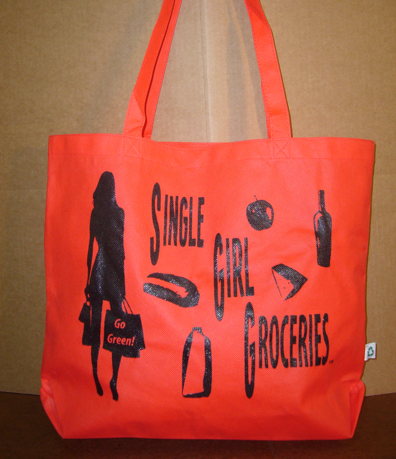 One of Jermikko's "Status" bags

She hopes that her little piece of history will help her keep expanding her business and fashion team. She also said she still supports the President.
"I still believe in him," she said.
Popular in the Community