 President Obama demonstrated that he still has a knack for mobilizing members of the art world this week.
According to The Los Angeles Times, a group of artists led by big names such as John Baldessari, Ed Ruscha, Japer Johns and Ellsworth Kelly have announced they are creating a portfolio of limited edition prints and other works that will be sold to raise money for the president's campaign.
Nineteen artists in total offered up their talents for the portfolio, which was created in collaboration with an LA-based art workshop and publishing collective Gemini G.E.L. The finished portfolio will be sold for $28,000, a sum that will be donated directly to Obama's campaign and the Democratic National Committee. Don't think the team stopped at only one portfolio, however -- 150 are now on sale, amounting to a hefty potential fundraising fete of $4.2 million, reports The LA Times.
Like the president's 2008 campaign, this year's creative initiative will be called "Artists for Obama," and will be unveiled on September 13th at an event hosted by Gemini G.E.L. The money raised from the $300 tickets ($500 for a couple) will also be donated to the president's reelection campaign.
Other artists included in the portfolio are Richard Serra, Frank Gehry, Richard Tuttle, Joel Shapiro, Jonathon Borofsky, Robert Gober, Ann Hamilton, David Hammonds, Brice Marden, Julie Mehretu, James Rosenquist, Susan Rothenburg, Bruce Nauman, Claes Odenburg, and Chris Burden. We echo the sentiments of Gallerist NY when we say we can't wait to see what Burden will have to show, since the artist is famous for being shot in a gallery and later nailed to a Volkswagen.
In case you were wondering, painter Chuck Close has also made clear which presidential candidate he is supporting. The photorealist artist recently created a tapestry based on a giant image of the president that was on view at the Mint Museum in Charlotte, N.C. during the Democratic National Convention. Now Mr. Close has announced plans to sell 10 more tapestries based on various images of the president that will cost $100,000 a pop, reports The New York Times. With the sale of several prints of the works, Close's artistic endeavors could potentially raise around $3 million, all of which will be donated to the 2012 Obama Victory Fund.
Let us know what you think of this year's boost from the arts in the comments section and check out the slideshow of images from the 2008 "Artists for Obama" campaign below.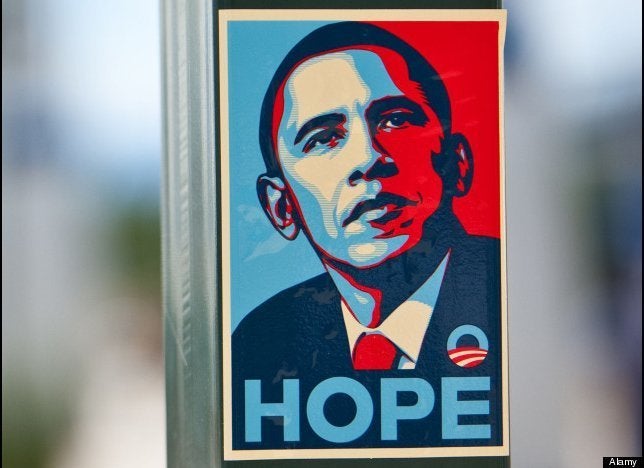 Artists For Obama
Popular in the Community