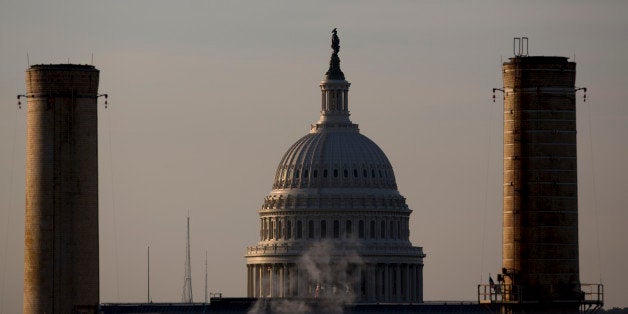 Tomorrow, President Obama will give his last State of the Union address. There are a number of issues he could focus on: a record 70 consecutive months of private-sector employment growth and cutting the unemployment rate in half, an historic healthcare law that brought insurance to millions, huge strides in social justice, like equality for LGBT Americans and steps to reduce gun violence, rescuing the auto industry and putting millions back to work -- an issue we worked on together tirelessly when I was Governor of Michigan. The list goes on.
But when history books are written, many will rightfully note the actions the President took to fight carbon pollution, transition to a clean energy economy with good jobs that can't be shipped overseas, and lead on climate change as one of his top defining legacies. It is credit he rightfully deserves.
And 2015 will stand out as the tipping point when clean and renewable energy solidified its place as a powerful economic driver, despite fierce opposition from Congress, the fossil fuel industry, and other special interests.
To me, that defines leadership. Against strong headwinds of resistance, the President took a stand. He said: "The old rules said we couldn't transition to clean energy without squeezing businesses and consumers. But this is America, and we have come up with new ways and new technologies to break down the old rules."
In just the final four months of last year, we saw three policy milestones that served as powerful market signals, which will accelerate growth, create jobs and propel new investments.
The first was finalizing the Clean Power Plan. Standing in the East Room of the White House, President Obama rightfully called the plan, which allows states to design customized, tailored plans to reduce carbon pollution from the power sector, "the single most important step America has ever taken in the fight against global climate change." A step that will lead to 30 percent more renewable energy generation in 2030, create hundreds of thousands of jobs, and continue to lower the costs of renewable energy while reducing carbon dioxide emissions by 32 percent from 2005 levels by 2030.
The Clean Power Plan also set the stage for a strong, durable and ambitious international agreement at the Paris talks in December. Behind the leadership of the US and major economies like China, India and Brazil, the world came together and pledged to reduce carbon pollution, continuously assess how to make deeper and more aggressive cuts and provide developing countries with the support they need to build their economies with the foundation of clean energy.
Lastly, the most recent success -- the extension of tax credits for wind and solar power for five years, which came as part of the year-end budget deal -- will provide an unprecedented 15+ years of market certainty for the renewables industry when combined with the Clean Power Plan, which ramps down power sector emissions through 2030. This locks in certainty for investors and is a solid bridge to the low-carbon future. Analysis shows the extension could spur the construction of enough wind and solar to power 30 million homes in 2020, getting us closer to realizing the wind industry's potential to support over 600,000 jobs by 2050.
Taken together, these three accomplishments serve as a roadmap for the country's expanding clean energy economy, one that will grow atop the initial foundation laid by important Recovery Act investments early in the Obama Administration and more recently the President's Clean Energy Manufacturing Initiative and National Network for Manufacturing Innovation, which are building a 21st century industrial base so we can make and export the advanced energy projects we are building here. That's why in September of last year, Vice President Biden came to Detroit to announce a new composite manufacturing facility that is expected to create hundreds of new jobs creating the materials needed for more fuel efficient vehicles and other American technology advances.
These successes -- and others such as more fuel efficient cars and trucks, which has led to a huge resurgence in the US auto sector both in Michigan and across the country -- have all come in the face of fierce, but failed, opposition from Republicans in Congress and in numerous states across the country. And this opposition has stayed constant despite the fact that poll and after poll shows increased support for taking action to fight climate change while we grow a clean energy economy.
First we had Senator McConnell's misguided and shortsighted "just say no" strategy, where he advised states not to submit plans under EPA's rule. Few states took the advice, noting that they prefer to design their own plans customized to their own economy and energy mix.
Then we saw multiple attempts by Congress to gut the Clean Power Plan and the broader clean energy agenda. These attempts either failed to pass Congress or, as was the case with legislation to prevent the Clean Power Plan from moving forward, were met with collective shrugs and vetoed with little fanfare.
The GOP also took a long-shot attempt last year to undermine the President overseas and convince other countries they shouldn't work with the US on a global climate agreement. But such steps didn't even register; President Obama's leadership was already cemented and the world unanimously supported the Paris agreement.
It's clear now, and will come into stronger focus as the country moves forward, that in spite of continuous opposition, President Obama has been hugely successful in working to cut carbon pollution and take real steps to fight climate change, all while growing the economy and creating tens of thousands of new jobs. And it's time for the Republicans to hop onboard.
As he prepares to deliver his last State of the Union and the country starts to look back at everything the President's accomplished, his actions on climate and clean energy jobs deserve to top that list.
Calling all HuffPost superfans!
Sign up for membership to become a founding member and help shape HuffPost's next chapter