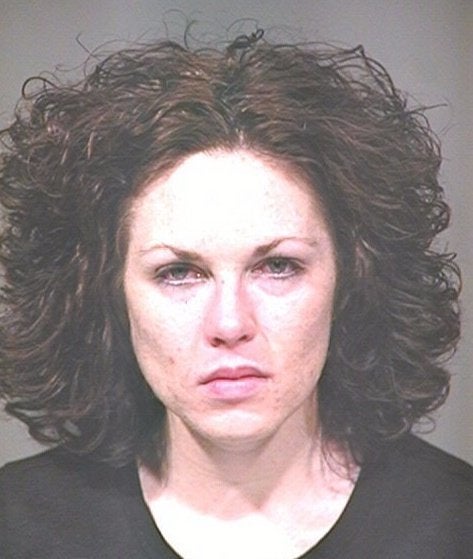 PHOENIX, AZ -- The 26-year-old President of the Maricopa County Community Colleges (MCCC) governing board and staunch Christian conservative activist, Colleen Clark (R), admitted this week that she was arrested for drunken driving in July. According to the police report, Clark was so inebriated that she was only able to recite the alphabet correctly from A to D and then finished her recitation with "L, U, G, A, K, Z, U, P, L, M, N, O, P."
Although Clark admitted to the board on Tuesday during a work-study session that she had, in fact, been arrested on July 11 for drunken driving with a .143 alcohol level (missing an extreme DUI charge by just .007), Clark is refusing to step down from her position as head of the MCCC governing board.
According to the MCCC website, MCCC is one of the largest community
college systems in the world and is the largest provider of health care
workers and job training in the state of Arizona.
The police report details a bizarre incident that begins with Clark meandering in and out of traffic lanes at a very low rate of speed, nearly clipping a curb at one point. The arresting officer noted in the report that one of the first things he noticed after pulling over Clark was that her pants were "unzipped and open."
In addition to being unable to recite the alphabet for the officers, Clark was also unable to pass the standard drunk driving tests administered by the officers. Instead, while trying to convince officers that she only had two glasses of wine, she staggered and nearly fell.
According to Clark's biography on the MCCC website, Clark currently serves as the Women's Ministry Coordinator of the East Valley Bible Church (the same church where Republican Governor Jan Brewer recently preached about the state budget) and previously served as the Director of Prevention for the Crisis Pregnancy Centers of Phoenix (a local anti-contraceptives/anti-abortion counseling center).
While some public officials have already begun calling for Clark's resignation, at least one of her colleagues -- a Democratic rival -- has magnanimously issued a statement saying he does not think her mistake warrants her resignation. Instead, Board Secretary Randolph Lumm (D), who works as a substance abuse counselor, applauded Clark's public admission, saying, "I know that was very hard for her. The fact that she's taken responsibility I totally admire, and it sets a good example for others. And I want it to be used as a learning tool, not a punishing tool."
According to the Arizona Republic, fellow board members Jerry Walker and Donald Campbell are also supporting Clark's decision to remain as president of the MCCC governing board.
Fellow board member Deborah Pearson is not as forgiving. Instead, Pearson says the DUI demonstrates a pattern of "immature behavior." Pearson has been a tough critic of Clark in the past and has a message for her, "Leave the district out of it; we don't need this. Just go and take care of it. And when you get it taken care of, run again, come back a changed woman, a mature, more prepared, capable person."
Arizona Rep. David Schapira (D-17) posted a tweet Friday saying that Clark should resign and that "she sets a bad example for the thousands of young people she serves."
Clark defended her decision to stay on the board, saying, "The punishment for this personal behavior will not have adverse effects on any of my professional commitments and certainly not any effect on my work with the community colleges."
According to the Phoenix New Times, Clark is fighting the charges. Clark did not respond to our requests for a statement.
Calling all HuffPost superfans!
Sign up for membership to become a founding member and help shape HuffPost's next chapter